No Trump Regrets for Voters in Bellwether Pennsylvania County Despite Comey Memo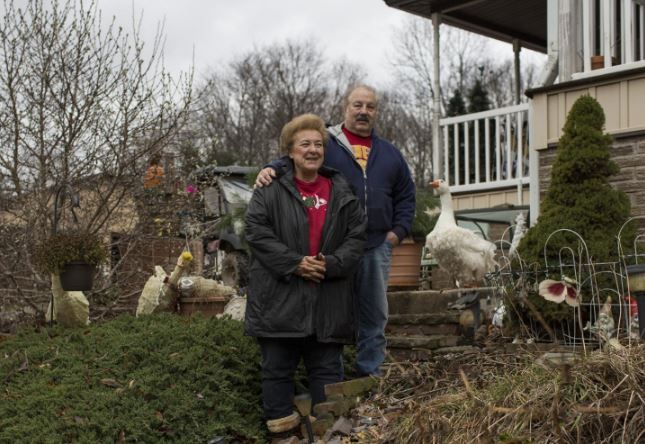 Trump voters in a bellwether Pennsylvania county that helped swing the election to the businessman say news that the president asked the ex-FBI director to shut down an investigation doesn't sway their support.
President Donald Trump asked then-FBI Director James Comey to end the probe into his former national security advisor, Michael Flynn, in an Oval Office meeting on Valentine's Day, reports say.
The request raises the question of whether Trump obstructed justice by attempting to influence federal investigations into connections between Trump campaign staffers and Russian efforts to interfere with the 2016 presidential campaign.
Regardless, voters in Luzerne County, Pennsylvania tell Newsweek they still support the president. Luzerne County sits in Northeastern Pennsylvania, a region that was crucial in the Trump's surprise election victory last year, and is interesting in that it voted for Barack Obama in 2008 and 2012 before swinging heavily to Trump in 2016. A poll taken earlier this month shows that Trump's job performance ratings there have actually improved by five points since February, to 37 percent from 32 percent.
"I believe Trump is doing the right thing," says Paul Visoky, a general contractor in Luzerne County. Visoky admits it would bother him if Trump had tried to end the Flynn probe, but says he wouldn't believe a Comey memo on the issue because that could be political sour grapes from the fired FBI director. He says for him to believe that Trump asked Comey to end the probe, he would have to see a video recording of the request.
"It's all bullshit. I'm just tired of it. I wish the y would just play well with each other instead of all this infighting," he says.
A poll taken during the first week of May by Franklin & Marshall College shows Trump continues to have strong support among Republicans and Conservatives in Pennsylvania. A total of 76 percent of people who call themselves conservative rated Trump's job performance positively, according to the poll.
Richard Sorokas, a retired Procter & Gamble employee who lives in Luzerne County, says it would be "a black mark" against the president if he had asked Comey to drop the Flynn probe—but that's not what he believes happened. Sorokas believes Trump fired Comey over his handling of the investigation into Hillary Clinton's emails.
"Right now the positives are overlaying the negatives with Trump," says Sorokas, who worked on both of President Obama's campaigns, knocking on doors and making phone calls to help him get elected.
Mark Rabo, 40, a heavy-equipment operator in Luzerne County, was disturbed by reports that Trump gave intelligence secrets to Russian officials last week, and says he thought Comey's abrupt firing gave the impression that Trump's decision was connected to the Russia investigation. He wants the investigation into Russian interference in the election to be totally independent and supports the appointment of a special counsel.
Despite wanting a special counsel, Rabo says his support for Trump remains strong.
"I would still say that it hasn't waned," says Rabo, whose father was an immigrant from Jordan. "The guy's only been in office four months. It usually takes over one year of a presidency to judge the direction of the country."
No Trump Regrets for Voters in Bellwether Pennsylvania County Despite Comey Memo | U.S.