Comey Clams Up When Asked If FBI Looked Into Trump Organization Business Overseas
Former FBI director James Comey refused to answer questions about whether or not the FBI had looked into President Donald Trump and his family company's overseas business dealings at a Thursday night taping of The New Yorker Radio Hour in Manhattan.
Host and New Yorker editor David Remnick pointed to his magazine's report from March of last year, and other reports of the Trump Organization's development of a hotel in Azerbaijan. The reports linked it to oligarchs tied to Iran's Revolutionary Guard.
Remnick cited the Foreign Corrupt Services Act, and how Americans conducting business overseas cannot plead ignorance about their foreign partners. Trump's overseas business dealings were "well documented" in the press, Remnick said. Comey responded by saying he was not sure about the matter and that he didn't want to say anything incorrect. Remnick pushed saying the information was public already.
"You said it was public," Comey said, adding he did not want to state what the FBI did or did not know.
Comey also dodged a question about whether or not Trump has an FBI file.
"If I knew I wouldn't tell you," he said amid laughter from the audience.
It was a rare moment during Comey's all-out media blitz for his new book, A Higher Loyalty. The former top law enforcement officer had largely been prepared to answer questions throughout this week. And the crowd's reactions in the packed theater punctuated certain moments.
In particular, groans could be heard quite audibly when Comey stated he did not think he needed to apologize for how he handled the re-opening of the FBI probe into Hillary Clinton's private email server, 11 days before the 2016 election. "I think we always made the least-bad choice and for the right reasons," he said.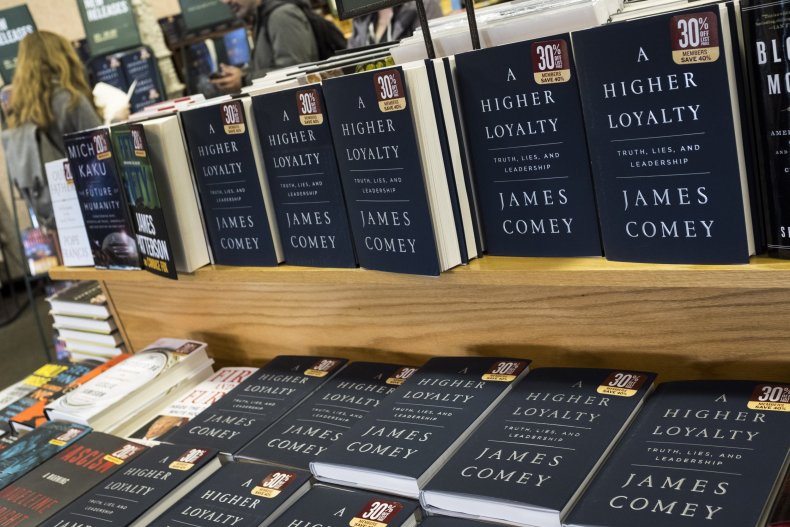 In his book tour over the last week, Comey has compared Trump to a "mob boss," and even stated it was "possible" the contents of the salacious and infamous Trump-Russia dossier were true. Trump has repeatedly denied the dossier's veracity and blasted Comey as a "slimeball." Trump reiterated his accusations that Comey is a "liar" and "leaker."
Comey's also dealt with heavy bipartisan criticism. In particular, Comey's descriptions of Trump as "orange," and his statements about Trump's "smaller" hands, have been described as detrimental to his argument that Trump is unfit to hold the country's highest office.