Former FBI director James Comey explained he thought the most salacious details about the infamous Trump-Russia dossier could possibly be true, a potentially damning inference against a president who has long denied any links to Russia and called the dossier "fake news."
Comey, speaking to ABC News for an interview scheduled to air Sunday, detailed the story of when he first made President Donald Trump aware of the dossier compiled by a former British intelligence officer and its damning contents. Trump, at the time, had yet to be sworn into office and was still president-elect.
Along with claiming Trump and his former campaign were heavily linked with Russia to win the White House, the dossier also said Trump had hired prostitutes to urinate on a bed that his predecessor, Barack Obama, had slept on at the Moscow Ritz Carlton during Trump's trip there for the Miss Universe pageant in 2013.
Trump was defiant about the dossier's most salacious detail and asked Comey if he thought the billionaire real estate mogul needed "hookers."
"I started to tell him about the allegation was that he had been involved with prostitutes in a hotel in Moscow in 2013 during the visit for the Miss Universe pageant and that the Russians had filmed the episode, and he interrupted very defensively and started talking about it, you know, 'Do I look like a guy who needs hookers?'" Comey said. "And I assumed he was asking that rhetorically, I didn't answer that, and I just moved on and explained, 'Sir, I'm not saying that we credit this, I'm not saying we believe it. We just thought it very important that you know.'"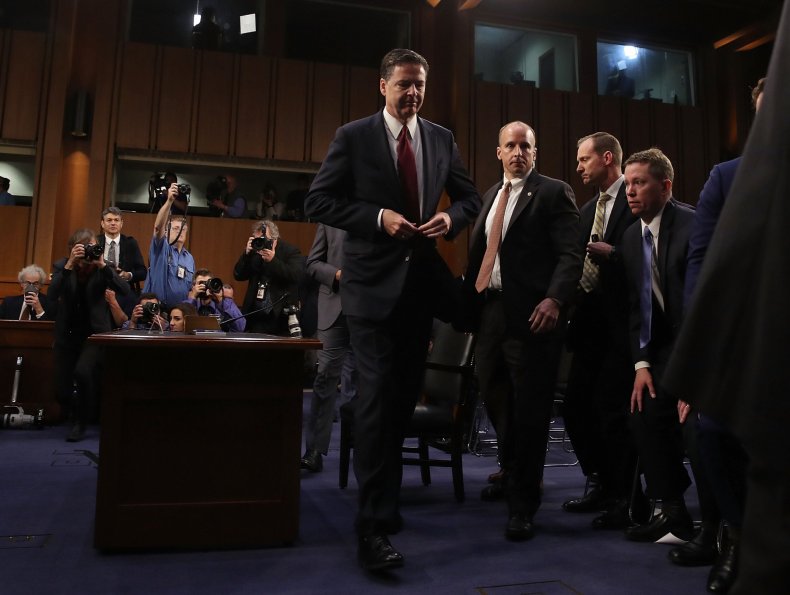 Comey said he told the president that he did not know if the allegations were true, but also explained he could not say for sure if he believed Trump's denials at the time.
"I honestly never thought this words would come out of my mouth, but I don't know whether the current president of the United States was with prostitutes peeing on each other in Moscow in 2013," he said. "It's possible, but I don't know."
Comey, who was fired nearly a year ago by Trump, also stated that Trump had asked him to investigate and prove the allegation wrong for First Lady Melania Trump.
Comey is presently promoting his new book, "A Higher Loyalty," and in the text, he also claims Trump acts like a "mob boss." The book will be released Tuesday.