'The Comey Rule': Did Comey and Trump Private Dinner Really Happen?
The Comey Rule's second episode, which airs on Showtime on Monday, September 28 at 9 p.m. ET / 8 p.m. CT, is built around a private dinner between then-FBI Director James Comey (played by Jeff Daniels) and President Donald Trump (Brendan Gleeson) that seems like the ultimate screenwriter's contrivance.
In the scene, we see the director of the FBI and the President engage in a secret dinner in which Trump raves for minutes about TV ratings, the sexual assault allegations against him and the alleged Russian tape of him engaged in a sex act, before implying that he requires mob-like loyalty from Comey.
The scene seems to sum up everything The Comey Rule wants to say about Trump—that he is vain, corrupt, obsessed with the media and expects loyalty from his employees up to and including having them breaking the law.
This might lead many to think that the scene was invented for the show, but according to Comey's book, it really happened.
In A Higher Loyalty, which The Comey Rule is based on, the FBI director, fired by Trump in April 2017, alleges that this dinner really happened, at it was this meal that gave him the title for the book. In the introduction, for example, he writes: "I spent a lot of time thinking about the title of this book. In one sense, it came out of a bizarre dinner meeting at the White House, where a new president of the United States demanded my loyalty—to him, personally—over my duties as FBI director to the American people."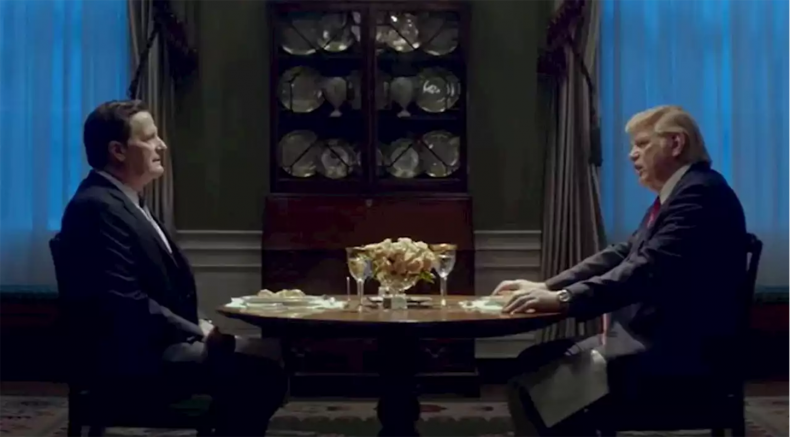 In the book, he even provides a date for this meal—Friday, January 27, 2017. As seen in The Comey Rule, he was asked to have a one-on-one meal with Trump. Comey then canceled his dinner plans with his wife and agreed to the dinner, even if he realized, as he writes, "there was no way a president would be dining alone with the FBI director...The head of the FBI could not be put into the position of meeting and chatting privately with the president of the United States—especially after an election like 2016."
The meal, according to Comey, took place as it does in The Comey Rule, with Trump complimenting Comey for being on time, and the pair eating alone in the middle of the Green Room in The White House. The book, however, provides extra details, including what was on the menu that night, "salad, shrimp scampi, chicken parmesan with pasta, and vanilla ice cream."
Some of the lines in The Comey Rule come straight out of the book, such as a moment when Trump seems confused as to what a calligrapher is, and when Comey says Trump said, "this is luxury. And I know luxury." Comey's memoir, however, makes the dinner seem even more sinister, with Comey noting multiple times that he believes the dinner was entirely set up to create what he calls "a patronage relationship" between him and Trump, featuring the sort of quid pro quos that were later alleged at the time of the attempted impeachment of the President.
Comey says of this, "somebody probably had told him, or maybe it just occurred to him at random, that he'd 'given' me the job for 'free' and that he needed to get something in return." He also quotes the President as saying to him: "I need loyalty. I expect loyalty."
Even the rant that Daniels-as-Comey is subjected to in The Comey Rule plays out almost exactly as Comey said it did in A Higher Loyalty: "He made constant assertions," Comey writes of Trump, "leaving me wondering whether by my silence I had just agreed with "everyone" that he had the biggest inauguration crowd in history, had given a great inauguration speech, had never mistreated women, and so on."
A Higher Loyalty, however, featured one small, sad detail about Trump that was left out of The Comey Rule. The former FBI director notes that he had never seen Trump laugh, except for once in a YouTube video in which he laughs at a joker comparing Hillary Clinton to a dog. He says of this: "I suspect his apparent inability to do so is rooted in deep insecurity, his inability to be vulnerable or to risk himself by appreciating the humor of others, which, on reflection, is really very sad in a leader, and a little scary in a president."
Of course, how true Comey's version of things in is difficult to verify—after all, the only two witnesses to this dinner were Comey and Trump. A few days before the release of the book, Trump tweeted as extracts from the memoir began to be reported on, "James Comey is a proven LEAKER & LIAR. Virtually everyone in Washington thought he should be fired for the terrible job he did-until he was, in fact, fired. He leaked CLASSIFIED information, for which he should be prosecuted. He lied to Congress under OATH."