Comey Running For President? Tweet From Iowa Visit Begins 2020 Speculation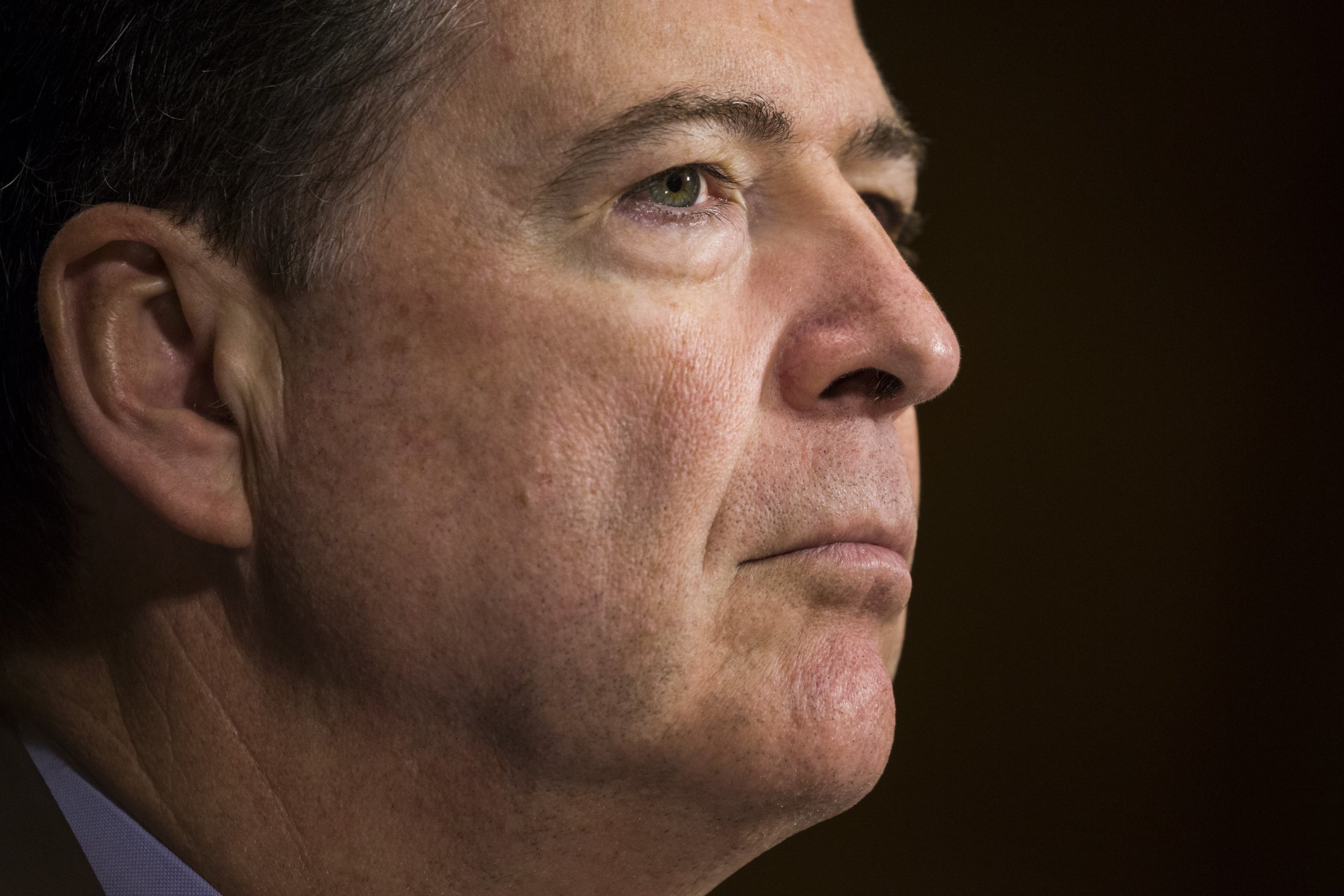 James Comey tweeted about his weekend trip to Iowa—and then the 2020 speculation started.
Comey on Monday confirmed that he owns the once-secret Twitter account, now called @FormerBu, when he tweeted a photo of himself in the state famous for its presidential caucuses. Comey's friend Benjamin Wittes, the editor-in-chief of the blog Lawfare, confirmed the account belongs to the former FBI director.
The photo is simple, showing Comey in running shoes with the message "Goodbye Iowa. On the road home."
But that was enough to set off some talk about Comey eyeing the commander-in-chief post.
Iowa, after all, has held the first presidential nominating contests since 1972. The Iowa caucuses serve as an early barometer for which candidates have the best chance of getting their party's nomination.
Comey has not publicly indicated he's considering a run for president or any other political position. He is, however, writing a book about his FBI career and leadership and ethics, as his tweet plainly states: "Gotta get back to writing. Will try to tweet in useful ways." In August, Flatiron Books announced that it will publish Comey's book.
President Donald Trump fired Comey in May in the midst of the federal probe into Russian interference in the 2016 election.
Speculation that Comey was on Twitter has been building since March. He let slip that he had a secret account and Gizmodoreported it was @projectexile7 with the name Reinhold Niebuhr, a theologian whom Comey wrote a thesis on. The account took a hiatus after linking to the FBI's job site and re-emerged last week with the handle @FormerBu.
Last Thursday, Comey tweeted a picture from Gettysburg, Pennsylvania, with the caption "Good place to think about leadership and values." He also posted a photo from the West Point military academy in New York, a possible swipe at Trump, who at the time was drawing criticism over his condolence call to the widow of a slain soldier.
The real reason Comey appears to have hit the Hawkeye State was his father-in-law's 90th birthday, according to The Des Moines Register.
Comey's wife is Iowa native Patrice Failor, whose brother, Ed Failor Jr., is a senior aide to the state's Republican Senate majority leader. Ed Failor's Facebook page noted a birthday celebration for his father, Ed Failor Sr.
The birthday dinner took place in downtown Des Moines at 801 Chophouse, a steakhouse and popular hangout for politicos. The restaurant's general manager, Darmon Murphy, told the Register that Comey joined the Failor party on Saturday.
"They enjoyed themselves in a semiprivate room," Murphy said. "Just a quick little dinner, in and out."
Comey seems to be simply enjoying some time off.