Comey Says Trump Treats Him Like 'Breakup He Can't Get Over' in Stephen Colbert Appearance
Former FBI director James Comey on Tuesday reiterated his claim that President Donald Trump acted like a "mob boss" in terms of his leadership style. Comey also said there was more to the Trump-Russia investigation that he could not discuss during an interview on Late Night with Stephen Colbert on April 17.
Colbert asked Comey whether he would want to see a former FBI director on national television pushing a book about Trump if he were in the place of Special Counsel Robert Mueller, who is leading the probe into Russia's interference in the 2016 election.
"Probably not," Comey said. "But the only reason I say 'probably' is I'm a witness whose testimony is already locked down… So as long as I'm not making stuff up and departing in a material way from that locked-in testimony, there's nothing about this that's going to make it harder for me to be a witness."
Comey answered "no" when asked if Mueller or the FBI had asked Comey not to write this book.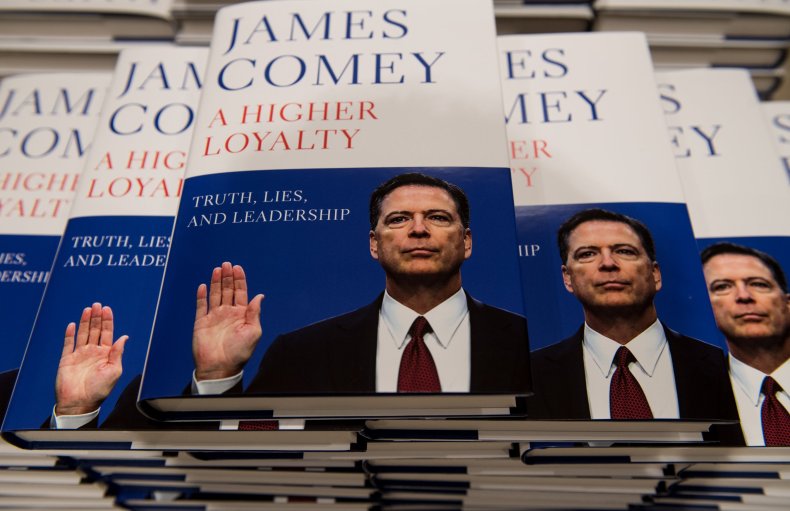 Comey responded to Trump's recent attacks against him about his book. "He's tweeted at me probably 50 times. I've been gone for a year. I'm like a breakup he can't get over," Comey said when asked about the president's recent tweets attacking him. "I'm out there living my best life, he wakes up in the morning and tweets at me."
Comey admitted he was surprised by Trump firing him almost a year ago, and said it was a "crazy" thing for Trump to do. "I actually was quite surprised because I thought, I'm leading the Russia investigation. Even though our relationship is becoming strained, there's no way I'd be fired… that's a crazy thing to do."
Colbert asked if there was any information the public had yet to learn about the Russia investigation; Comey said the FBI had to read his book to determine if it included any classified information.
"I had to have my book reviewed by the FBI to make sure it didn't include classified information or any sensitive investigative information, so if it's not in the book I can't talk about it."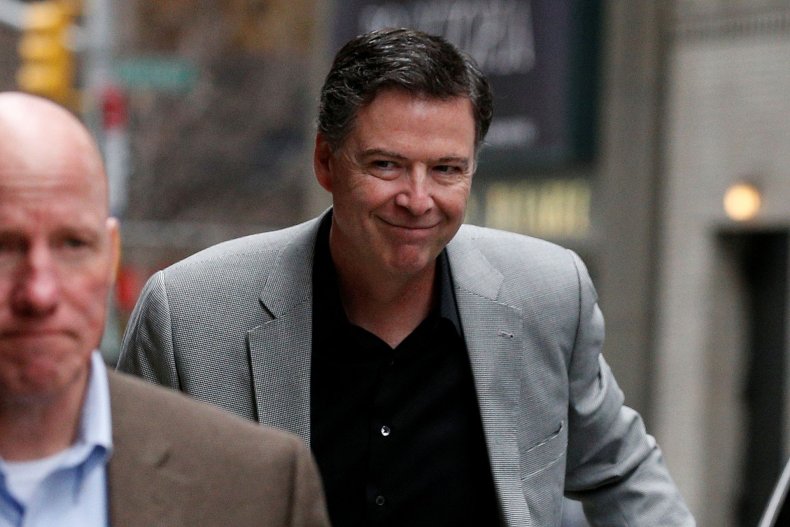 The appearance was the latest in Comey's full-court media blitz promoting his new book A Higher Loyalty: Truth, Lies, and Leadership, in which he claims Trump is unfit to be president. The book was released on Tuesday and rocketed up pre-sales charts.
Comey has been accused of muddling his message by criticizing the president's hair, hands and overall appearance while claiming moral superiority.
Trump has responded to Comey's book by labeling him as a "slimeball" and repeated his claims of Comey being a "leaker" and a "liar" before Congress while saying Comey should be in jail. Comey also reacted to Trump's attacks by claiming it was not "normal" for a president to attack a private citizen.
"James Comey is a proven LEAKER & LIAR. Virtually everyone in Washington thought he should be fired for the terrible job he did-until he was, in fact, fired. He leaked CLASSIFIED information, for which he should be prosecuted. He lied to Congress under OATH. He is a weak and untruthful slime ball who was, as time has proven, a terrible Director of the FBI. His handling of the Crooked Hillary Clinton case, and the events surrounding it, will go down as one of the worst "botch jobs" of history. It was my great honor to fire James Comey!" Trump tweeted on Friday.