Meet the Senate Intelligence Committee Members Questioning James Comey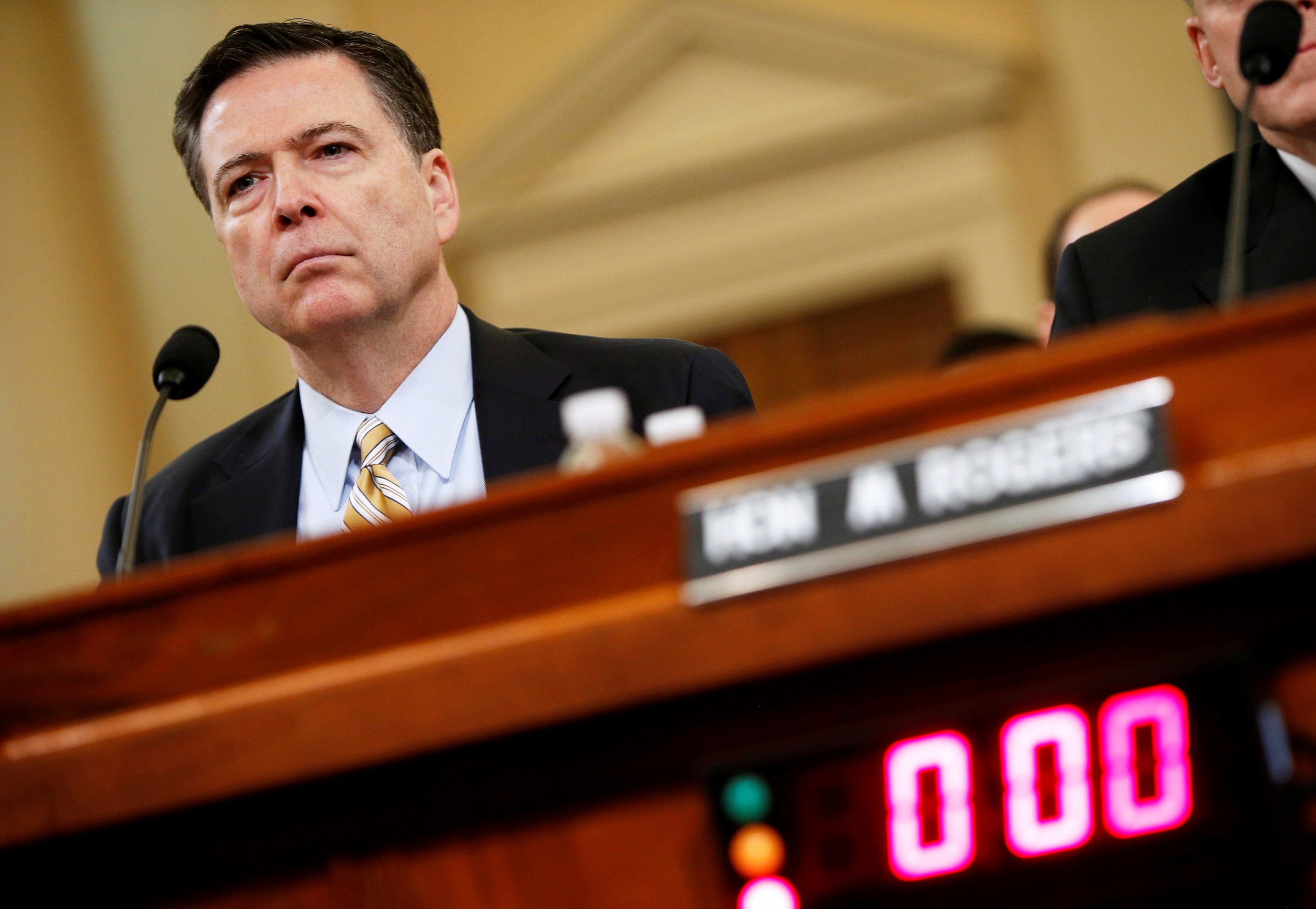 It's finally time for James Comey to talk.
The fired FBI director is scheduled to testify Thursday before the Senate Intelligence Committee, where he's expected to speak about his ex-agency's interactions with President Donald Trump concerning his campaign's possible ties to Russia. Certain also to come up is Hillary Clinton, whom Comey did not indict for her use of a private email server while secretary of state, and whose case was allegedly at the crux of his termination last month.
And, of course, because this is 2017, he may also have to address a host of rumors, including reports that he wrote a series of memos describing his relationship with Trump, that Trump demanded he submit to a loyalty pledge, that Comey told Trump he wasn't under investigation, that Trump asked Comey to back off in his investigation of ex-national security adviser and "good guy" Michael Flynn, that Trump once suggested jailing journalists for publishing classified information and that Trump may have taped his conversations with Comey.
But the number of developments that come out of Thursday's hearing are largely dependent upon the questions Comey gets asked, and that's up to the members of the committee. Here's who you need to know—and what you need to know about them—heading into the testimony.
Richard Burr: The North Carolina Republican called Comey an "ethical, upright, straightforward" person in an interview with Politico shortly after his firing. The chairman also indicated in a tweet that he was "troubled by the timing and reasoning of Director Comey's termination."
Mark Warner: The Virginia Democrat, who serves as vice chairman, told CNN this week that "it would be very, very troubling if the president of the United States is interfering in investigations that … affect, potentially, the president and his closest associates." He also told CBS that Trump's Wednesday announcement of Comey's replacement was "clearly" intended to be a distraction.
James Risch: The Idaho Republican didn't initially comment on Comey's firing, and he's since turned his attention to people inside the White House leaking information to the press.
Marco Rubio: The Florida Republican told CNN recently he wasn't taking a "firm position" until after the probe finished, but he had dinner with Trump on Tuesday night. Rubio has said he wants Comey to clarify a few points from his memos—like "why did he write it, and how did he feel?"
Susan Collins: The Maine Republican has more or less sided with Trump, saying in a May 9 statement that Comey's termination was the "inevitable conclusion" of the ex-director's decision to speak out about Clinton last year. She added that any idea that Comey's firing was "somehow an effort to stop the FBI's investigation of Russia's attempt to influence the election last fall is misplaced" because Trump "did not fire the entire FBI."
Roy Blunt: The Missouri Republican said in a statement after Comey's firing that "many, including myself, have questioned his actions more than once."
James Lankford: The Oklahoma Republican told The Tulsa World he didn't expect Comey to drop any "bombshells" on Thursday but did intend to ask about the purpose of the memos.
Tom Cotton: The Arkansas Republican also went to dinner with Trump on Tuesday. He's previously said that he takes issue with the memo drama—"the accounts of these memos he allegedly wrote would be at least triple hearsay, what Donald Trump said according to Jim Comey according to someone who saw the memo, according to The New York Times reporter who had it read to him," according to his remarks on the Hugh Hewitt Show.
John Cornyn: The Texas Republican didn't go to dinner with the squad Tuesday night, but he did meet with Trump during the day alongside other congressional leaders. Cornyn was at one time being considered to replace Comey, but he withdrew.
Dianne Feinstein: The California Democrat has said she wants to get to the bottom of the reason Comey was fired, whether that's because of the Clinton email probe or the Russia issue. "I can't yet say whether what the president told me is all there is to this, but I can say the Russia investigation was broad and far underway, and it must be allowed to continue," she said in a May 10 statement.
Ron Wyden: The Oregon Democrat has identified himself as a Comey critic but lambasted Trump's decision to fire the director as "outrageous." "The president would do well to remember that in America, the truth always comes out," he added in a May 9 statement.
Martin Heinrich: The New Mexico Democrat compared Trump to disgraced ex-president Richard Nixon in a statement after Comey's termination.
Angus King: The Maine independent has made no secret of his stance, at one point suggesting Comey should lead the Trump-Russia investigation as special counsel and saying that if Comey's allegations are true, Trump could be impeached.
Joe Manchin: The West Virginia Democrat told CBS News Monday that he wants to ask the ex-director "if you knew, or you thought that there was obstruction of justice, why didn't you act on it?" He also took question suggestions from constituents.
Kamala Harris: The California Democrat has condemned Attorney General Jeff Sessions for agreeing to fire Comey and has spent the past few weeks studying up on the case. She told The San Francisco Chronicleher questions, which will come last, will "be about being probative of the facts."