What Does James Comey Know About Donald Trump, Hillary Clinton and the FBI?
Among the many controversies of the 2016 election is what exactly provoked FBI Director James Comey to announce he was reopening the FBI investigation into Hillary Clinton's emails just days before the election while keeping secret the fact that the FBI was looking at Russian active measures in support of the Trump campaign.
Now that he is a private citizen and is making himself available to journalists because he has a book to promote, Comey can address the still murky connections between the New York FBI office, elements of the New York Police Department and Donald Trump.
Comey does not address it in his book, but Trump's connections to the FBI and the New York police are deep and go back a long way. He sent his favorite longtime personal bodyguard, former NYPD officer Keith Schiller, to deliver the walking papers to Comey when he fired him. Schiller had worked for Trump for years, until leaving the White House late last year. Trump supporters among the NYPD showed up at the president's victory party at the Hilton in New York City on election night, some in full dress uniform. The NYPD sex crimes chief donated thousands of dollars to the Trump campaign.
Trump also employed as a bodyguard an FBI agent named Gary Uher, after he was involved in a deal to bring Trump Organization business associate and Russian-mob-linked Felix Sater back from Russia in the late 1990s. The deal allowed Sater to avoid prison time for a Wall Street fraud by working as a government informant, according to an investigation by McClatchy DC.
And Trump donated a million dollars—while running for the GOP nomination—to a charity that gave money to veterans and the families of fallen federal law enforcement agents. The charity is founded by former New York FBI agent James Kallstrom, who was on record during 2016 saying he talked to both former and current FBI agents who were "p.o.'d" about Comey's decision not to pursue charges against Hillary Clinton.
Those connections are key to understanding the law enforcement politics and internal pressures behind Comey's announcement, 11 days before the election, that the FBI was reopening the investigation into Clinton's emails. Comey made the decision based on a New York Police Department discovery of Hillary emails on a seized laptop owned by Anthony Weiner, Clinton aide Huma Abedin's then-husband. The discovery provoked a plethora of wild rumors about what was in it, some of which were spread by people close to Trump, including Erik Prince. The emails turned out to be material the bureau had already seen, but Comey reopened the investigation before FBI agents determined that.
Former New York Mayor Rudy Giuliani was so tight with the New York FBI that he boasted about his advance knowledge of that impending development in several cryptic announcements about the October surprise. Giuliani's ties to the New York FBI go back to his days as U.S. Attorney for the Southern District of New York.
In 2016, on October 25, 26 and 28, Giuliani, then a prominent media spokesman for Trump, announced on various programs, including Fox News, that he expected "surprises" for Trump that were coming from the FBI. He also bragged that he had gotten that information from "a few active agents, who obviously don't want to identify themselves" about the Weiner/Clinton email investigation.
The Comey letter, released October 28, said the FBI had "learned of the existence of emails that appear to be pertinent to the investigation" into the private email server Clinton used while working as Barack Obama's secretary of state. The letter had an immediate effect on the news cycle and the election. It "halved Clinton's lead in the polls, imperiling her position in the Electoral College," according to political site FiveThirtyEight.
On November 4, Giuliani again alluded to conversations with unnamed former agents. Asked whether he'd heard about the investigation, he replied, "Did I hear about it? You're darn right I heard about it, and I can't even repeat the language that I heard from the former FBI agents."
On May 3, 2017, six days before Trump fired him, Comey testified before the Senate Judiciary Committee that he was looking into questions about the involvement of Giuliani, Kallstrom and possibly unknown FBI agents in New York.
During the hearing, Senator Patrick Leahy, D-Vermont, asked, "Let me ask you this. During your investigation into Hillary Clinton's emails, a number of surrogates like Rudy Giuliani claimed to have a pipeline to the FBI. He boasted that, and I quote, numerous agents talk to him all the time [inaudible] regarding the investigation. He even said that he had—insinuated he had advanced warning about the emails described in your October letter. Former FBI agent Jim Kallstrom made similar claims. Now, either they're lying or there's a serious problem within the bureau. Anybody in the FBI during this 2016 campaign have contact with Rudy Giuliani about—about the Clinton investigation?"
Comey responded, "I don't know yet. But if I find out that people were leaking information about our investigations, whether it's to reporters or to private parties, there will be severe consequences."
The exchange went on:
Leahy: Did you know of anything from Jim Kallstrom?
Comey: Same answer. I don't know yet.
Leahy: Do you know any about—from other former agents?
Comey: I don't know yet. But it's a matter that I'm very, very interested in.
George Stephanopoulos, in an interview that aired Sunday night on ABC, asked Comey whether a "rogue element" of FBI agents in New York had pressured him. Comey said he commenced an investigation into the Giuliani leaks but was sacked before he learned the results. "I don't want to single out anybody, 'cause I don't know where it was coming from," he said.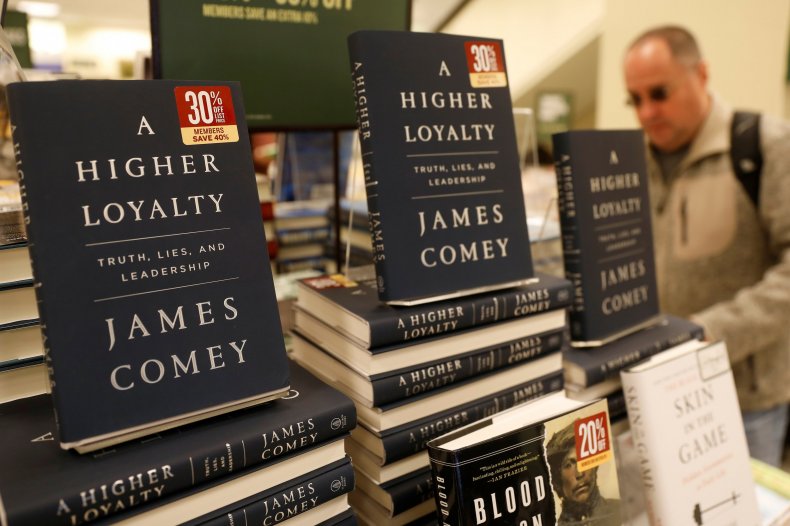 As Comey makes his book rounds, here are five questions he should answer:
1. Who do you think leaked information about the FBI reopening the Clinton emails investigation to Rudy Giuliani?
2. Did you ever launch any kind of internal investigation into leaking by former agents in New York?
3. Do you now believe there was collusion between members of the Trump campaign and the FBI bureau in New York?
4. Do you know if the inspector general of the Department of Justice is looking into Giuliani's role or Trump campaign-FBI collusion?
5. Has anyone, to your knowledge, questioned Giuliani or former FBI agent James Kallstrom about their roles in either pressuring the FBI to reopen the investigation or the leak about it?