James Comey's Twitter Account Confirmed as Ex-FBI Director Vows to Tweet 'in Useful Ways'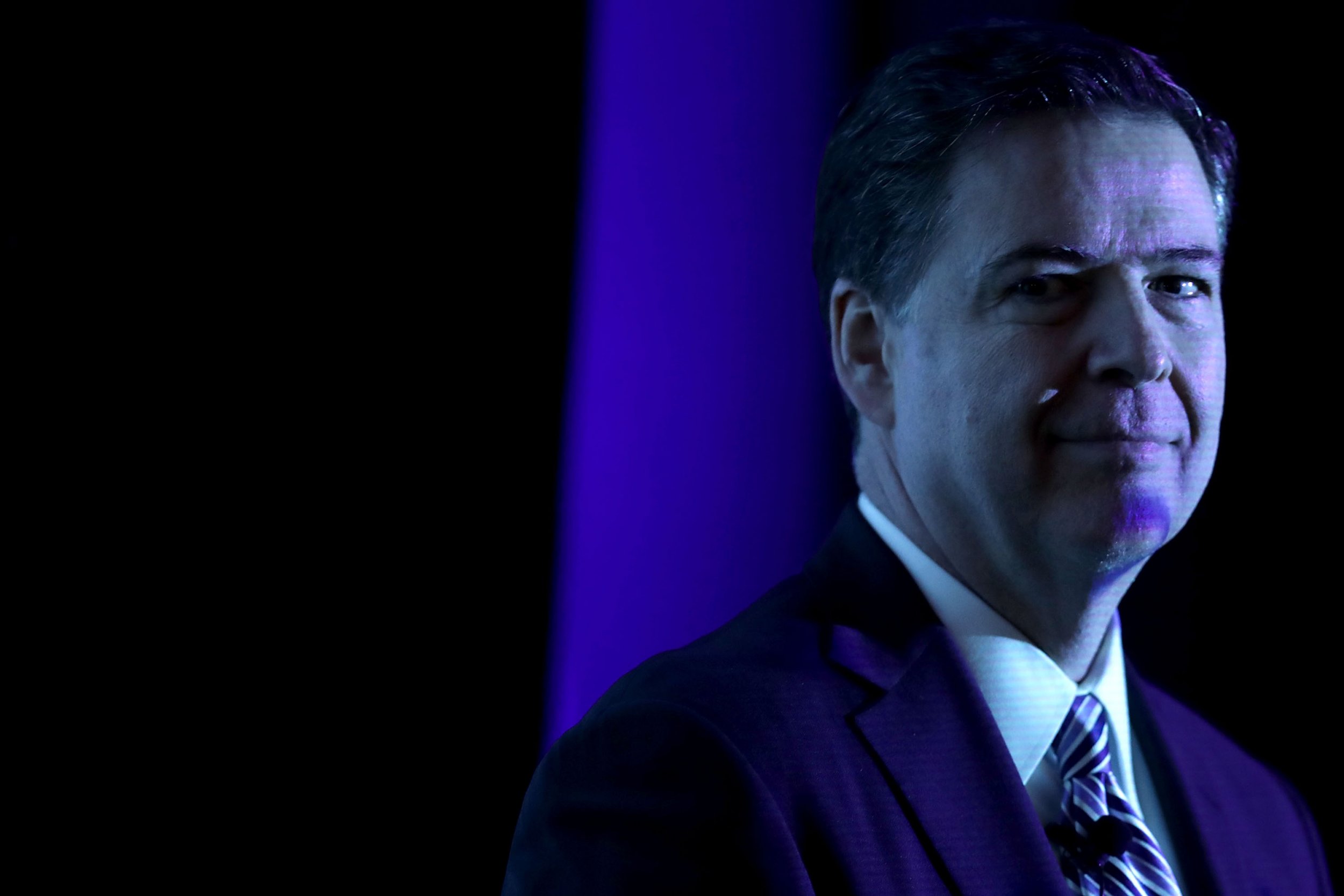 Consider it verified: Former FBI Director James Comey is, indeed, on Twitter.
The editor in chief of Lawfare, Benjamin Wittes, confirmed Monday that Twitter user @FormerBu is, as was suspected, his friend Comey. His confirmation came three minutes after the former agency chief posted a photo of himself standing in the middle of a road, wearing sunglasses and running shoes and taking in his surroundings.
"Goodbye Iowa. On the road home," @FormerBu wrote. "Gotta get back to writing. Will try to tweet in useful ways."
Speculation around Comey's Twitter account has been mounting since March, before he was fired by President Donald Trump in the middle of a probe into whether the Trump campaign collaborated with Russia to influence the 2016 election. Comey let slip that he had a secret account on the social media site, and Gizmodo uncovered a profile it believed to be his: @projectexile7. The display name was Reinhold Niebuhr, a theologian on whom Comey once wrote a thesis.
At the time, the FBI refused to say whether Comey was behind @projectexile7, but the user himself put up a meme reacting to the detailed Gizmodo investigation into the account. The user shared a link to the agency's jobs site and a picture of Will Ferrell, saying, "Actually, I'm not even mad. That's amazing." It then went silent.
The account roared back to life last week with a new name, @FormerBu, and a series of nature photos. @FormerBu tweeted scenes from Gettysburg, Pennsylvania, and West Point, New York, with vague captions that some construed as not-so-subtle messages to Trump. Wittes retweeted the posts with cryptic notes about how @FormerBu may or may not be Comey.
Then, on Friday, @FormerBu gave the first solid hint at his identity when he published a picture—from the back—of a very tall man in an Iowa cornfield. Comey is 6-foot-8.
On Sunday, he posted a picture of some pelicans, and on Monday apparently copped to being Comey. Wittes corroborated the claim.
Speculation and jokes about a possible Comey 2020 campaign erupted immediately. Washington Post reporter Robert Costa pointed out that Comey was "wearing running shoes in the home of the caucuses," while Daily Caller reporter Chuck Ross wrote, "Guys, he's not running. He's literally standing in the middle of the road (is this symbolism?)" At least one person asked for Comey to tweet Trump's tax returns.
Alas, the only part of the Monday Comey tweet that has a clear meaning is the sentence about having to write. Flatiron Books announced in August that it had bought Comey's forthcoming book about government, ethics and leadership. A news release bragged that it will also contain "yet-unheard anecdotes," which we now hope include the first time Comey snickered at that "this is fine" GIF.