Comey's Dad Says Former FBI Chief Laughed When Asked About the Leaks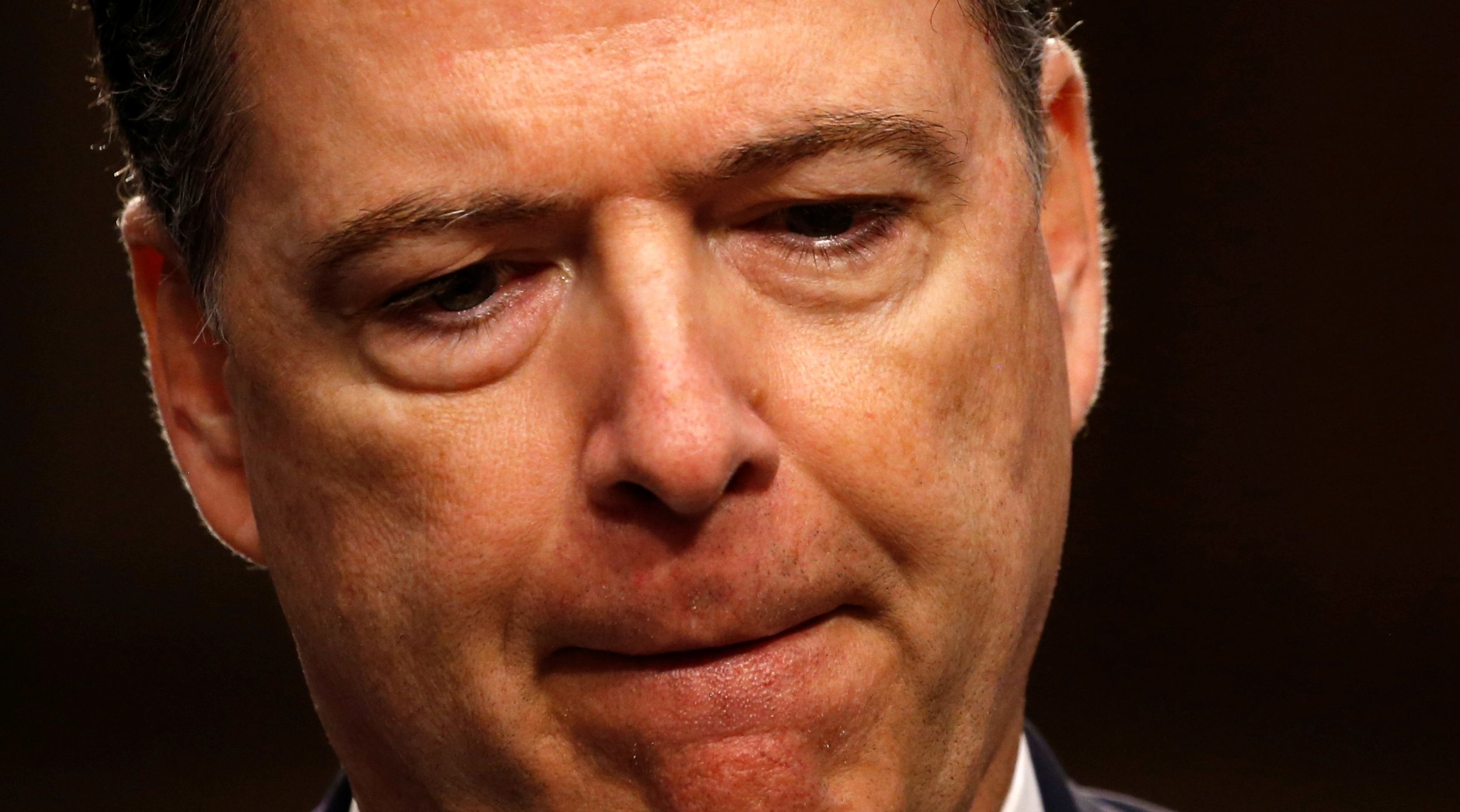 Former FBI Director James Comey visited his New Jersey hometown over the weekend after testifying last Thursday in the Senate that President Donald Trump had told "lies" about the state of the agency under his leadership.
While Comey visited his elderly father at church in Allendale early Sunday, Trump tweeted that he believes "the James Comey leaks will be far more prevalent than anyone ever thought possible. Totally illegal? Very 'cowardly!'"
Rather than reaching for the phone to call his lawyer, Comey just laughed, his father, J. Brien Comey Sr., told The Record in North Jersey. "He just laughs when I talk about leaking. He turned over one of his own documents to a friend. That's not leaking."
Although legal experts say the fired FBI chief has no reason to be worried, Republicans have targeted Comey with legal threats after his testimony revealed that he shared his own unclassified FBI memos with a reporter through his professor friend at Columbia Law School.
Comey testified to the Senate Intelligence Committee on June 8 about the series of private meetings and conversations he'd had with Trump leading up to Comey's surprise firing on May 9.
Read more: Russia investigation and Comey testimony cause Republicans to turn on each other
Comey told Senators that during an unusual one-on-one meeting with the president in the Oval Office in February, Trump urged him to "let go" of an investigation into fired National Security Adviser Michael Flynn. Comey testified that he took notes after this meeting as well as a separate meeting back in January in which Trump told him, "I need loyalty, I expect loyalty."
In an interview with NBC's Lester Holt just days after Comey was fired, Trump revealed parts of the conversations and said the FBI director had told him multiple times that he was not under investigation.
Later that day, a report in The New York Times revealed that two sources had knowledge of the private conversation in which Trump demanded loyalty.
After that story appeared, the president warned in a tweet that "James Comey better hope that there are no "tapes" of our conversations before he starts leaking to the press!"
Five days later, a report emerged citing a personal memo written by Comey that added new details to the meetings. Specifically, it revealed that Trump had asked Comey to "let go" of the investigation of Flynn that was part of a larger probe into Russian interference in the 2016 U.S. election.
Last Thursday, Comey said he was the one responsible for releasing the second memo, and that the documents were part of an effort to "prompt the appointment of a special counsel" to lead the Russia investigation in the FBI.
Comey has come under fire from the president and Republicans who say what he did was illegal and violated Trump's executive privilege, which prevents the judicial or legislative branches of government from demanding certain information from the executive. Trump's personal lawyer Marc Kasowitz argued after Comey's testimony that the former FBI director had violated the law through the "unauthorized disclosure of privileged information."
Legal experts disagree. "When a current or former government employee wants to cooperate and turn over the requested information, the privilege itself won't, and can't, stop him or her," wrote Stephen Vladeck, a law professor at the University of Texas School of Law, where he specializes in national security law, on June 12.
Trump, he said, has waived any potential privilege claim because he has publicly acknowledged the discussions and their content.
"Executive privilege almost certainly does not cover the Comey memo," wrote Vladeck, "and even if it did, disclosing it without authorization isn't illegal."