Comic-Con at Home: 5 Panels for Anime and Manga Fans to Check Out
Comic-Con is going digital for 2020 and those looking for the latest news and updates on all sort of pop culture will want to check out what the convention has to offer—especially those who enjoy anime and manga.
Each year, the San Diego-based convention hosts panels and screenings that focus on the biggest and most buzzworthy anime and manga that are coming in the second half of the year and beyond.
With Comic-Con being a digital event this year because of the coronavirus pandemic, there are not as many panels for anime and manga fans to enjoy, but there are some that connoisseurs will want to check out this week. And to do our part, we've compiled the five panels you won't want to miss listed by date and time.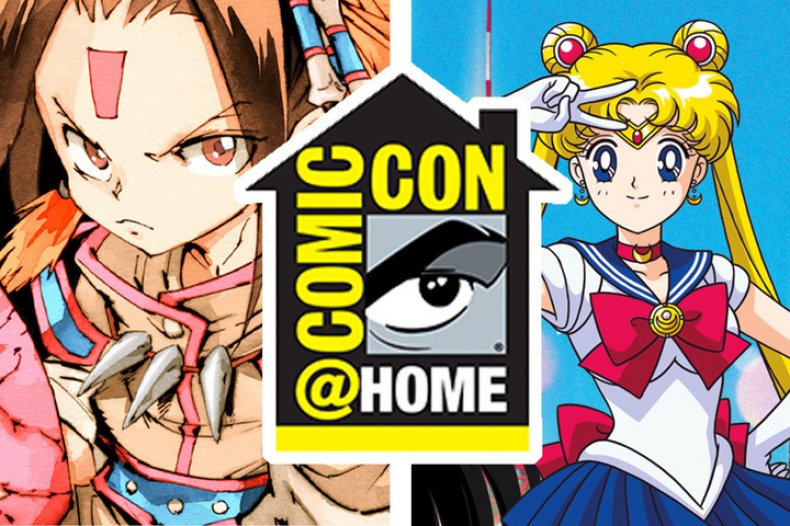 CRUNCHYROLL INDUSTRY PANEL
Crunchyroll is one of the biggest streaming services for anime in the world and they'll have their own panel to let fans know about the latest anime and manga on the way. Learn what's coming to the streaming service from the Crunchyroll team and maybe win a prize or two.
Here's the official description of the panel:
Hear about all the latest and greatest anime & manga coming out of Crunchyroll straight from the source, panelists Adam Sheehan (director of events, Crunchyroll) and Lauren Stevens (events manager, Crunchyroll). Special prize giveaway and virtual goodies available during the panel.
SHAMAN KING: PAST, PRESENT AND FUTURE
Fans of Shaman King have a lot to be excited about. Not only will the Shonen anime get a reboot for 2021, but the complete 35 volumes of the manga are coming in English very soon.
This panel will bring exclusive announcements and much more from the world of Shaman King.
Here's the official panel description:
To celebrate over 10 years since the finale of the original Shaman King series, Kodansha Comics experts Misaki Kido, Ben Applegate, and Ivan Salazar take a look back and bring you a in-depth look at Hiroyuki Takei's supernatural battle manga masterpiece, past, present & future. Fans of the manga, anime and newcomers alike won't want to miss this panel full of exclusive announcements, sneak peeks, and general excitement over the shonen classic Shaman King!
VIZ: A HAUNTING CONVERSATION WITH JUNJI ITO
Junji Ito is the master of horror manga. The creator of Uzumaki will join this special panel where viewers can discuss all things Junji Ito.
Here's the panel description:
From the depths of your nightmares to your screen, VIZ and Comic-Con conjure Junji Ito. Junji Ito is the master of horror manga, the Eisner-winning creator of Frankenstein: Junji Ito Story Collection and creator of Uzumaki, an upcoming anime from Production I.G. on Adult Swim, among countless other terrors. Join us in a creepy conversation across the Pacific to dig into the depths of his brain and pull out the answers everyone's been waiting for.
BEST AND WORST MANGA OF 2020
You want a discussion of all things manga in 2020? There's plenty of new manga available worldwide, but if you want to know which stories to check out and which to avoid, you'll want to tune in for the Best and Worst Manga of 2020 panel.
Everyone's a critic, but you can join the discourse during this panel in what can become a very heated discussion. Here's the panel description:
There's a lot of manga available in English now, but what's REALLY worth reading? Join a panel of opinionated manga bloggers and comics curmudgeons as they share their picks for the best new manga that hit the shelves in the past year. In rapid-fire rounds, see them rave about their favorite continuing series! Watch them rant about the excruciatingly mediocre manga that they were forced to read (so you won't have to)! Find out what Brigid Alverson (SmashPages, School Library Journal), Justin Stroman (The OASG), Morgana Santilli (The Beat, MangaMaven.com), Eva Volin (supervising children's librarian, Alameda Free Library), Megan Peters (ComicBook.com), Rob McMonigal (Panel Patter) and Deb Aoki (Publishers Weekly) loved and loathed to read in the past year, hear about their picks for the most anticipated upcoming releases for Fall 2020 and beyond, plus discover their favorite under-appreciated manga gems that are worth picking up.
SAILOR MOON: THE POWER OF FEMALE FRIENDSHIPS
Sailor Moon is one of the most influential manga/anime of all-time. Fans can join voice actors from the Sailor Moon: Crystal series, and historians who were influenced by the property as they discuss the cultural impact of Sailor Moon.
Here's the panel description:
When Naoko Takeuchi created Sailor Moon, she never knew it would be so popular. Takeuchi was lonely and the idea of Sailor Moon came about as female friends that she wishes that she could have. With her soul reflected in her work, it spoke to fandom as many others understood the feeling that she had. Sailor Moon expanded into anime, video games, merchandise, and became one of the major icons of Japan. Join in on a discussion with Jessica Tseang (comic book historian), Michelle Ruff (voice of Luna-Sailor Moon: Crystal), Kate Higgins (voice of Sailor Mercury-Sailor Moon: Crystal), Amanda Celine Miller (voice of Sailor Jupiter-Sailor Moon: Crystal), Sam Maggs (writer Captain Marvel, Unstoppable Wasp: Built on Hope), and Chris Bryant (activist, comedian: Netflix's Cooking on High, Amazon's Out on Stage) on what is it about this franchise that continues to survive today, and still speaks to the hearts of fans (women and LGBT) and bringing in a new generation.
What panels are you interested in attending? Let us know in the comments section.