Mattel Creations Offers New Exclusives for Comic-Con@Home
Comic-Con@Home is almost here to fill the void of what would have been this year's San Diego Comic Con. To help ease the pain of missing out on one of the world's largest nerd gatherings (which, of course, has been cancelled because of coronavirus), Mattel has been gradually revealing amazing collectibles and Con exclusives to get fans geared up for the event.
Comic-Con@Home takes place from July 22 to July 26. Some exclusives can be pre-ordered now on Entertainment Earth, but these latest reveals can only be obtainable starting Thursday, July 23, at Mattel Creations. This new site from Mattel will be launching along with Comic-Con@Home, offering fans a new way to get limited-edition collectibles that feature work from pop-culture artists. Be sure to follow the Mattel Creations Instagram, where you can make purchases with a credit or debit card.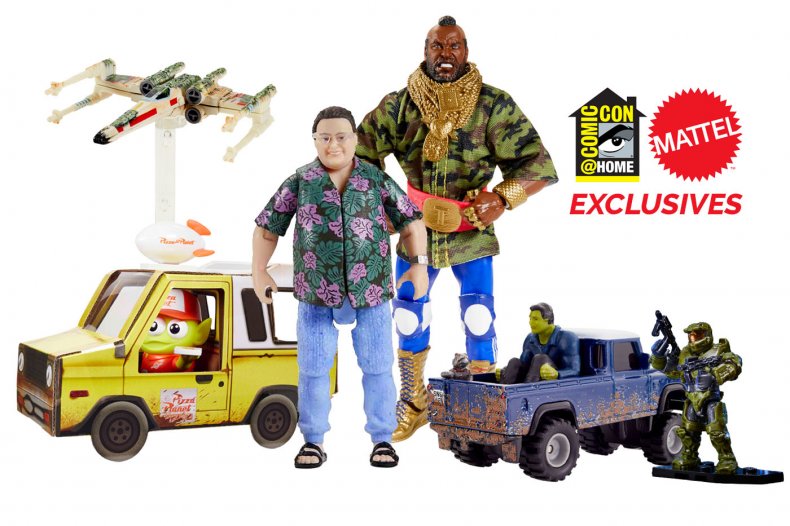 Newsweek recently received a statement from Chris Down, Chief Design Officer at Mattel. "Mattel is a design house that has created hundreds of iconic toys throughout its 75-year history," said Down. "Inspired by our collaborative origins, each year at Comic-Con we combine forces with world-class partners to create exclusives that spark cultural conversation and delight fans around the world. In 2020 we are taking it to the next level with the launch of Mattel Creations during the pop-culture event of the year."
Mattel puts a lot of effort into their Con exclusives every year. The packaging alone for each collectible really shows how much detail they consider with their yearly offerings. This added interactivity makes it really hard to resist opening one, so you may want to purchase two of each.
Let's take a look at all of the exclusives that Mattel is offering:
Jurassic Park Barbasol Dennis Nedry
SRP: $19.99
Available 7.23.20 9 A.M. PST - Mattel Creations
A fan-favorite villain, Dennis Nedry from Jurassic Park comes packaged in a Barbasol can that can also be used as a display case. Nedry also comes with his own mini-Barbasol can, a piece of cherry pie and a case hastily filled with embryos.
WWE® Mr. T™ Elite Collection Action Figure
SRP: $29.99
Available 7.23.20 9 A.M. PST - Mattel Creations Instagram
The details on this Mr. T action figure will make you feel like you're right there at the very first Wrestlemania. Packaged in a way that's reminiscent of how VHS packaging looked in the 1980s, it's a highly articulated WWE Elite figure with various gold jewelry and a textured camouflage jacket.
Hot Wheels ® Star Wars X-Wing Dagobah™ Starship
SRP: $25
Available 7.23.20 9 A.M. PST - Mattel Creations Instagram
This packaging is strong with the force, as it recreates a scene directly from The Empire Strikes Back. You'll be able to raise the X-Wing Starship right out of the swamps of Dagobah. It's even covered in swampy details.
Pixar Alien Remix Pizza Planet Delivery Driver
SRP: $20
Available 7.23.20 9 A.M. PST - Mattel Creations Instagram
This Pixar Toy Story Alien will be arriving from across the galaxy with lightspeed delivery. Pixar Alien Remix offers up your favorite alien from the Toy Story franchise and mixes it with other popular characters from other Pixar movies. This Alien comes packaged in a Pizza Planet Truck inside a larger pizza box.
MEGA Construx™ Halo Master Chief Collection
SRP: $20
Available 7.23.20 9 A.M. PST - Mattel Creations Instagram
It's been nearly 20 years since the first Halo game debuted, and you can celebrate by cracking open some armor to discover six different versions of MJOLNIR exoskeletons. The classic MK V armor is there, as well as the MK VI GEN3 armor from the upcoming Halo Infinite. This packaging also lights up to display your armor in all its glory.
Hot Wheels ® Marvel Land Rover Defender 110 Pickup Truck with Hulk and Rocket
SRP: $25
Available 7.23.20 9 A.M. PST - Mattel Creations Instagram
With this set, the Hulk and Rocket Raccoon are riding in the back of a Land Rover Defender 110 Pickup Truck as they head to search for Thor in their quest to change the reality of the world since Thanos snapped his fingers. This Hot Wheels comes displayed in a powerful Avengers box that is a window to a scene straight out of the movie Avengers: Endgame.
When the time comes, it will be best to keep up to date with the Mattel Creations Instagram account to see the limited quantities of these collectibles and when they are available. You will need to act fast if you want to score one for yourselves. Which exclusive has you interested most? Which one looks like the most fun experience to unbox? Let us know in the comments below and we hope you have happy Comic-Con@Home experience.