Part Comic, Part Crusader: On Jon Stewart's Departure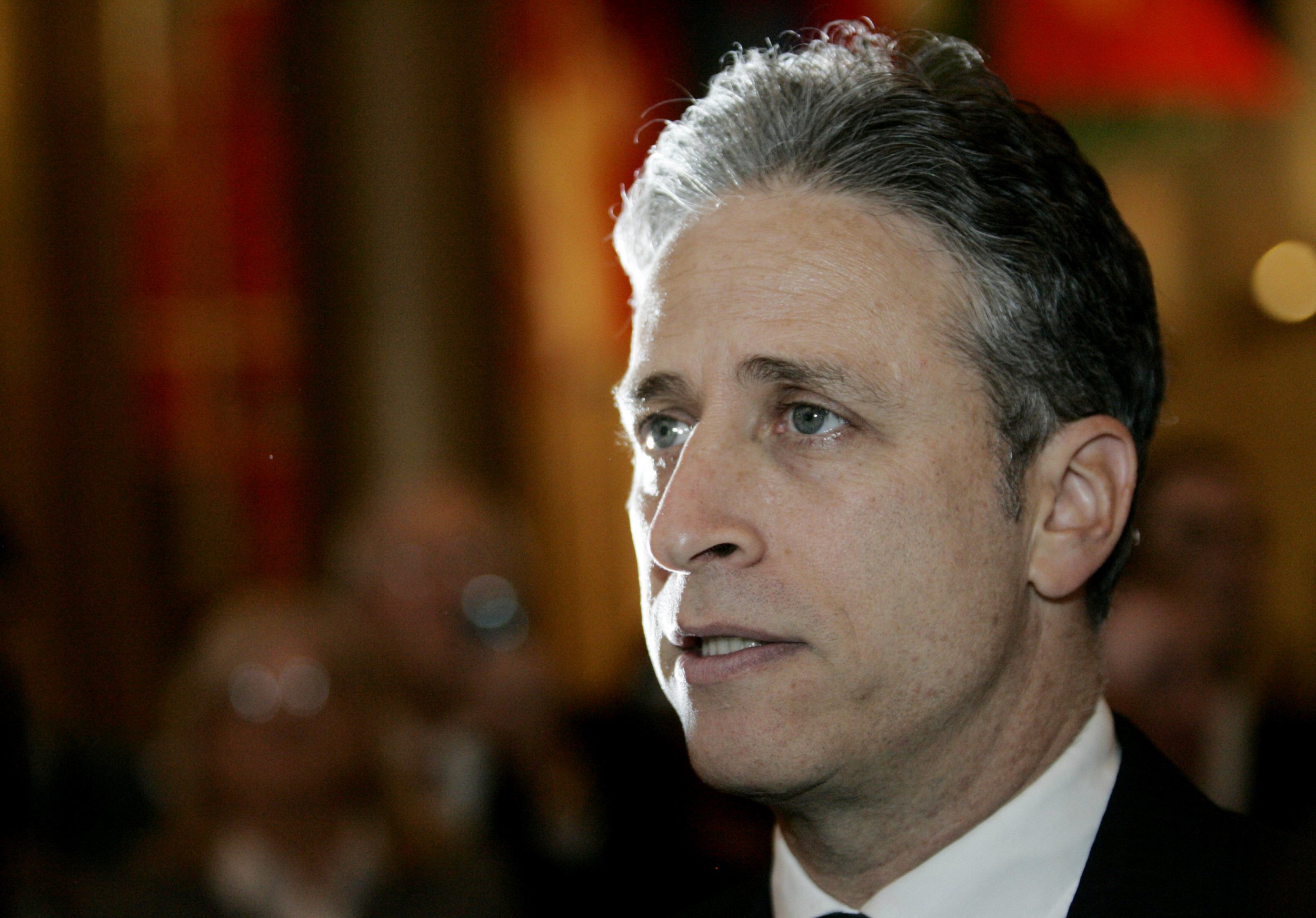 Comedian or crusader? Democrat, Republican or independent? Patriot or enemy of the state? At various times during his 16-year run on The Daily Show, Jon Stewart played all of those roles. Above all, though, Stewart—who will host America's most trusted news program for the final time on Thursday night (Comedy Central, 11 p.m.)—was guilty of being an idealist.
Stewart, 52, steps down on the same night as the Republican Party stages its first debate for 2016 presidential hopefuls. The debate will air on Fox News, be moderated by a trio of Fox News anchors and will feature a decade of GOP hopefuls, including the current front-runner in the polls, Donald Trump. Quite the retirement gift.
The terms "red state" and "blue state" did not even exist when Stewart first sat behind The Daily Show desk on January 11, 1999. At the time, he was a likable (but not particularly charismatic) 30-something comic who had hosted a couple of forgettable MTV shows (Where's Elvis This Week?). There's the story that when Comedy Central announced Stewart as Craig Kilborn's replacement to host The Daily Show, one unhinged media member upstaged the press conference by suggesting that he would have made a better choice. That person was Stephen Colbert.
May you live in interesting times, the saying goes, though even Stewart couldn't have imagined the verity of that aphorism when he accepted the gig. Back then, The Daily Show was a smart-alecky 3-year-old without a trenchant voice. All political crises could be distilled to a single stain on a young woman's blue dress.
Stewart arrived just as the world was becoming more interesting and, not coincidentally, more unstable. The 2000 presidential election (George Bush/Al Gore—or, as The Daily Show called it, "Indecision 2000") that devolved into Beltway burlesque was followed by the tragedy of the September 11 attacks, which was followed by the Iraq War ("Mess O'Potamia"), which was followed by the election of the first African-American (or, as the current GOP front-runner has long insinuated, African) president.
We barely have time to do anything more than mention the names of Dick Cheney, Anthony Weiner, Sarah Palin, Rob Ford and the Kims, Jong Un and Jong Il—just some of the numerous "leaders" whom Stewart and the show's immensely talented writing staff skewered. Stewart was hardly the first late-night comic to take politicians and demagogues to task. He was, however, the first host who crossed the line from comic to crusader. Corruption, hypocrisy, injustice: For Stewart, this was personal. And with each passing year, he seemed a little less jovial and a little more pissed off.
As the nation grew more "red" and more "blue" (and less white), Stewart seemed more and more disquieted about its increasingly fractious citizenry. Facts and truth were tedium. All that seemed to matter is whose side you were on, and as the years crept by—and as Daily Show protégés such as Colbert and John Oliver graduated to their own shows and well-earned success—Stewart remained in that studio on 11th Avenue between West 51st and 52nd streets and wondered if the bickering was simply intrinsic to the game itself.
"Stop," Stewart begged Paul Begala and Tucker Carlson, the hosts of CNN's Crossfire, during a memorable but highly uncomfortable appearance on that program in 2004. "Stop hurting America.... You're partisan—what do you call it? Hacks."
This was different. This was real. Whereas Letterman and Leno might easily match Stewart joke-for-joke on a nightly basis, Stewart was the only guy who seemed to actually be distressed about what he called "the absurdity" of it all. (Letterman, in his final years, would begin to echo Stewart's concern.)
As much as The Daily Show might act as a FactCheck.org upon the words and actions of legislators, Stewart and his writers were even more exacting upon those professional practitioners of the First Amendment, particularly cable news channels. In 2010, he addressed a throng of thousands on Washington's National Mall to express his concerns about no-spin zones and their ilk. "The press can hold their magnifying glass up to our problems, bringing them into focus, illuminating issues heretofore unseen," Stewart said, "or they can use that magnifying glass to light ants on fire and then perhaps host a week of shows on the sudden, unexpected, dangerous flaming-ant epidemic."
Stewart spoke those words at the Rally to Restore Sanity and/or Fear, which he co-hosted with Colbert (who by this time was hosting his own popular nightly half-hour show, The Colbert Report, immediately following Stewart's). The rally's title perfectly captured the two comics' contrasting means of attacking America's political dysfunctionalism: Stewart head-on ("Restore Sanity") and Colbert via satire ("and/or Fear").
As Stewart departs, the absurdity is only cresting. One wonders if his exodus, at the relatively young age of 52, is in part a means for him to restore his own sanity (and/or fear). Comedian or crusader?
I've always thought of Stewart as being a little like Robin Williams's Mr. Keating, the ill-fated educator/idealist from Dead Poets Society. When he first arrived on campus, Mr. Keating disarmed his pupils with humor and a refreshingly innovative way to analyze convention. As time went on, however, Mr. Keating discovered that at a certain point, you had to have some skin in the game if you really wanted to make a difference. And that the establishment frowns upon anyone who endeavors to make it look foolish.
Stewart is escaping, unlike Mr. Keating, on his own terms. And yet come Thursday night, he will bid adieu as Donald Trump addresses a nation with designs to "make America great again." For some of us, it's going to feel eerily redolent of that final scene in Dead Poets Society. O captain! My captain.