Comic Tells Joe Rogan Jimmy Fallon's Show Blocked His 'Pro-Trans' Joke
Comedian Sam Morril says that producers at The Tonight Show told him he wasn't allowed to "acknowledge" trans people with "pro-trans" jokes.
Morril said this during his appearance on The Joe Rogan Experience podcast on Wednesday, listing a number of topics and words he wasn't allowed to say during his stand-up comedy set on The Tonight Show Starring Jimmy Fallon.
Rogan, also a stand-up comedian, reacted with shock as Morril explained what he wasn't allowed to say on-air. Morril performed a five-minute set on The Tonight Show on September 11, 2018, and he recalled the notes he received before appearing to the nation.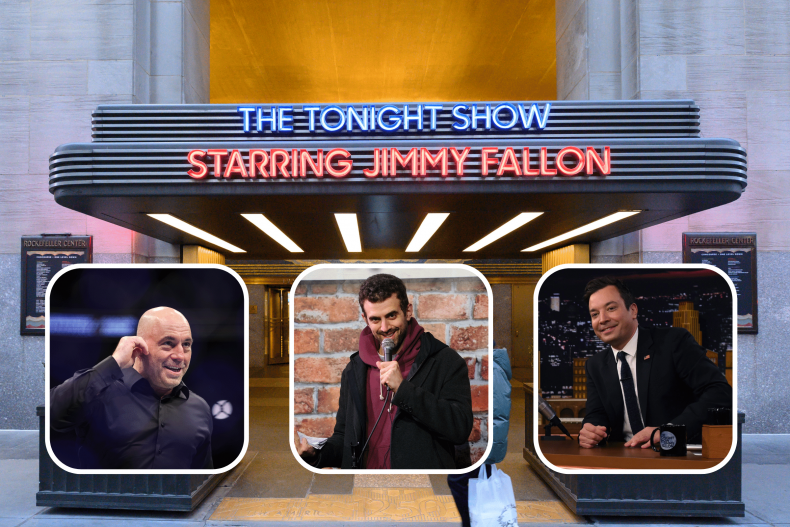 "The set was approved by the booker so it wasn't his fault. It's Standards and Practices where it was. First I had a trans joke, and they were like, 'You can't do a trans joke.' And I said, 'Well, it's pro-trans. It's a very pro-trans joke.' And they were like, 'You can't acknowledge them.' I was like, 'That's more offensive than what I'm doing. You can't acknowledge them?' Morril said.
"And then I got a note to say: You can't say the word hot chick." Rogan audibly gasped at this. Morril continued, "I didn't even know I said that word. I was like, 'I said that?'"
Morril also recalled how another potentially touchy subject was fine according to the Standards and Practice people, and made it into the set.
"By the way there was a Hitler joke in there," Morril laughed, "I didn't get a note on that, but hot chick is offensive."
Despite airing late at night on NBC, The Tonight Show continues to censor explicit language on a regular basis.
Anthony Jeselnik is a comedian known for his dark material but was previously a writer for Fallon when he started Late Night With Jimmy Fallon. Jeselnik has spoken several times about how the jokes he pitched for the show were deemed "too dark."
In an interview with Grantland in 2013, Jeselnik explained how he'd regularly pitch funny jokes but would be told "no" by Fallon and the producer because they would make him "not likeable."
Jeselnik did clarify, "Jimmy's a huge success, and he was right to reject everything I ever pitched to him."
Morril made his comments on The Joe Rogan Experience podcast, which has faced several calls to be removed from Spotify in recent years over alleged offensive comments by Rogan, relating to COVID-19 and trans people.
Recently there were renewed calls for a Spotify boycott after Rogan seemingly voiced his support for the Republican Party in the upcoming midterms. Rogan has also received praise from other listeners, most recently for speaking out against the repeal of Roe v. Wade as he brought his own daughter into the argument.
Newsweek have reached out to The Tonight Show representatives for further comment.