'Coming 2 America' Release Date: When the Eddie Murphy Movie Will Be Streaming
2021 may still be seeing major movies getting their release dates pushed back, but there is at least one big film to look forward to in the coming months—Coming 2 America, the sequel to the 1988 Eddie Murphy comedy directed by John Landis.
Initially, the comedy sequel continuing the adventures of African prince Zakeem was set to be released in late summer 2020, but was then pushed back to 2021. At that point, however, it was snapped up by a streaming service, meaning that its release date is now pretty much set in stone.
Coming 2 America release date
After the release date of the sequel was pushed back, the Eddie Murphy movie was purchased by Amazon Studios for Amazon Prime Video, who set a release date in early 2021.
That release date is Friday, March 5, 2021, when the film will be streaming across the world.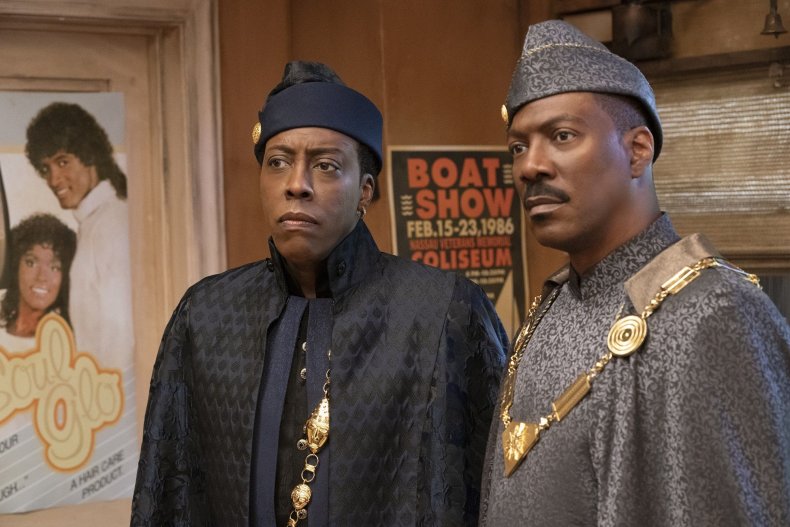 As with other Amazon Prime Video originals like I Care a Lot (an Amazon original in the U.K.) and Borat Subsequent Moviefilm, Coming 2 America is expected to be released at 00:01 a.m. PT—that is 3:01 a.m. ET, 2:01 a.m. PT and 1:01 a.m. MT.
When Coming 2 America is available in other countries will depend on their time difference with the west coast of America/PT, which is currently eight hours behind GMT.
In terms of what viewers can expect, the official synopsis (per Deadline) reads: "In the sequel former Prince Akeem (Murphy) is set to become King of Zamunda when he discovers he has a son he never knew about in America—a street-savvy Queens native named Lavelle (Jermaine Fowler). Honoring his father's dying wish to groom this son as the crowned prince, Akeem and Semmi (Arsenio Hall) set off to America."
Joining the cast will be a who's-who of Black talent, with Wesley Snipes, Tracy Morgan, Leslie Jones, KiKi Layne, Rick Ross, Luenell, Rotimi, Teyana Taylor and Michael Blackson joining the world.
Returning from the original movie, meanwhile, are actors including James Earl Jones, John Amos, Louis Anderson and Shari Headley alongside Murphy and Hall—both of whom, like in the previous film, will be playing multiple roles, including the squabbling barbershop men from the first movie.
Asked by the New York Times why the time was right for the sequel, over 30 years after the first movie, Murphy revealed: "Ryan Coogler, before he directed Black Panther, I meet with him and he says, I want to do a Coming to America sequel. He had an idea for Michael B. Jordan to play my son and he would be looking for a wife. I was like, then the movie would be about the son, it's not our characters, we already did that. It didn't come together...But all that made me start thinking, maybe we should do a sequel."