'Coming 2 America': How to Watch the Eddie Murphy Movie Online
Coming 2 America sees Eddie Murphy and Arsenio Hall return to the kingdom of Zamunda for the first time in more than 30 years, with Prince Akeem (played by Eddie Murphy) now king and heading to New York to find his son and heir.
The comedy sequel was one of the many films that was initially set to be released in 2020 before the coronavirus pushed back its release date. Now, the movie is coming to streaming services and is available to watch from your home now (as well as in a limited number of theaters).
How to watch Coming 2 America online
After being delayed by Paramount in 2020, the movie was acquired by Amazon Studios for a reported $125 million. Amazon then decided to put the movie on their streaming service, Amazon Prime Video.
Coming 2 America is a global Prime Video original, meaning that the service is the only place to watch the movie (legally) online in the U.S. and around the world.
The fact that it is on Amazon Prime Video, however, means that viewers are able to watch it for free. Unlike services like HBO Max and Netflix, which no longer offer free trials, Prime Video offers a 30-day free trial for new subscribers. This gives viewers the chance to watch not only the Eddie Murphy movie but also other Prime originals like the airplane hijack drama, 7500, starring Joseph Gordon-Levitt, the ballooning action movie The Aeronauts starring Eddie Redmayne and Felicity Jones and the Golden Globe-winning Borat Subsequent Moviefilm.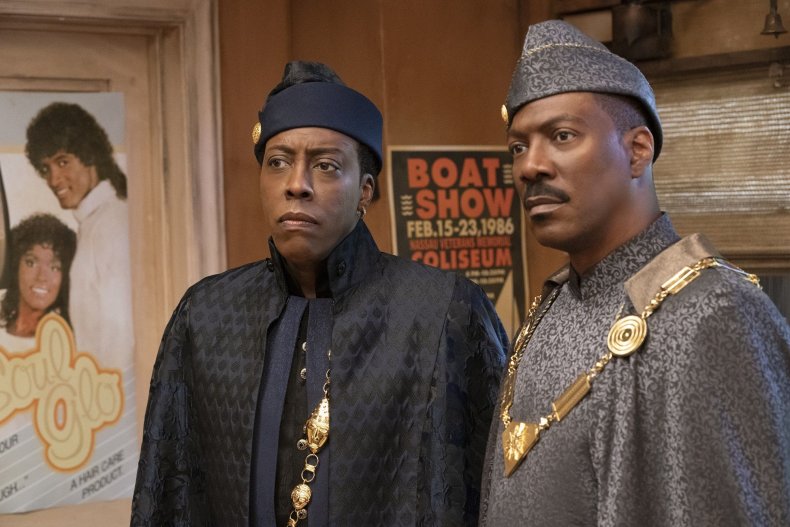 After that trial, Amazon offers a number of different subscription options. Prime Video on its own, for example, costs $8.99 a month. However, if you also want all of the other Prime perks like free delivery, then that can be purchased for $12.99 a month or $119 a year.
The service also offers a number of discounts for certain groups of people. Students can get Prime for $6.99, while EBT and Medicaid card holders can get $5.99 Prime for four years.
The official plot summary for Coming 2 America reads: "Akeem and Semmi are back! Set in the lush and royal country of Zamunda, newly-crowned King Akeem (Eddie Murphy) and his trusted confidante Semmi (Arsenio Hall) embark on an all-new hilarious adventure that has them traversing the globe from their great African nation to the borough of Queens, New York—where it all began." As viewers may expect from a sequel to the first movie, Murphy and Hall play multiple characters, including the Jewish barbers from the original.
Amazon is also streaming the original 1988 Coming to America in multiple countries, including the U.S. and U.K.
Viewers who want to watch the movie in theaters, however, are able to do so in select areas. Drive-ins in Los Angeles, California are due to show the film (per Deadline), as are a number of theaters in Atlanta, Georgia.