Coming Thursday: Obama's Big Immigration Announcement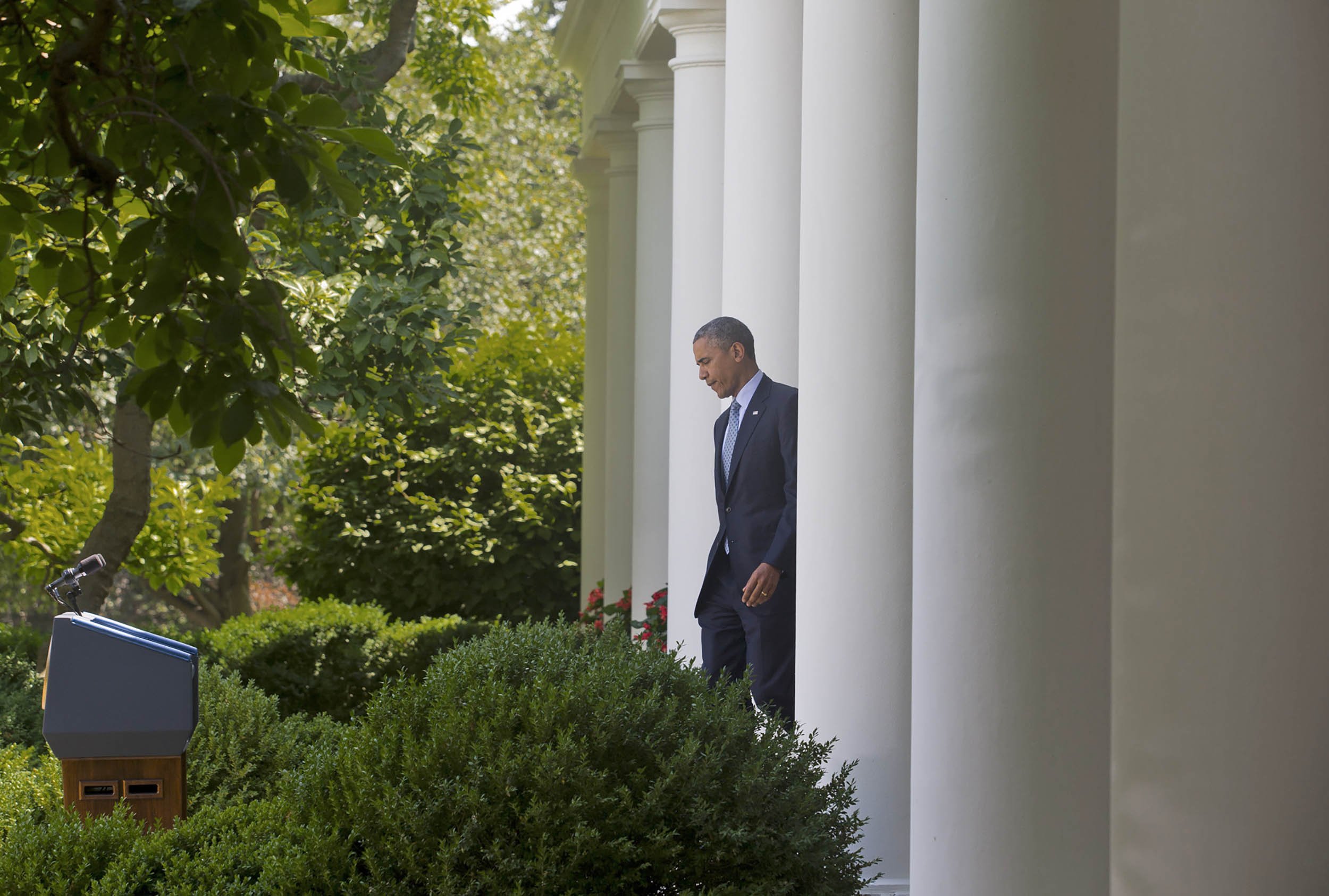 President Obama's long-awaited executive actions to transform the immigration system are around the corner—and politicians and activists on both sides of the hotly contested issue are waiting to see what he has in store.
In the absence of action from the House of Representatives on bipartisan immigration measures, Obama has promised to use his executive authority by the end of the year to ease deportations on some of the estimated 11.7 million undocumented immigrants in the United States.
The president said in an annoucement on his Facebook page that he would make a statement to the American people at 8:00 pm ET on Thursday. There had been speculation that the announcement could come as late as mid-December, so that the announcement wouldn't scuttle the chances of a spending bill necessary to fund the government passing in the next couple of weeks. After voicing support for waiting until the budget is taken care of, Senate Majority Leader Harry Reid, D-Nevada said Monday in an interview with Univision, "I think it should be done now."
Awaiting the president's announcement, Democrats and Republicans have pushed the president on the issue. Top Senate Democrats expressed their support for Obama's impending actions in a letter Monday. "We strongly support your plan to improve as much of the immigration system as you can within your legal authority and will stand behind you to support changes to keep families together while continuing to enforce our immigration laws in a way that protects our national security and public safety," read the letter, signed by Reid and fellow members of his leadership team. House Democrats sent a similar letter last week.
Top Republicans, on the other hand, are gearing up to fight the president's orders, though they haven't decided exactly how.
"We're going to fight the president tooth and nail if he continues down this path. This is the wrong way to govern," House Speaker John Boehner, R-Ohio, said at a press conference last week. "All of the options are on the table." That includes using a spending bill to restrict Obama's executive authority on immigration and even a government shutdown if Congress fails to fund the government in the wake of Obama's actions. Across the Capitol, however, Senate Minority Leader Mitch McConnell, R-Kentucky, has ruled out shutting down the government.
Even Republican supporters of comprehensive immigration reform have come out against Obama's impending actions. "If the president were serious about immigration reform, he'd say, 'It's a new Congress, new members, in both House and Senate, and I'll give them a chance to move forward on immigration reform.' He's not going to do that," Senator John McCain of Arizona, who helped write the comprehensive bill passed by the Senate last year, told the Huffington Post.
Politically, it's clear that the president needs to act in order to shore up support among the Latino community and the activists who have spent years pushing for immigration reform. It's a community that is increasingly crucial to the Democratic coalition—but also increasingly frustrated with the Obama administration.
"I think it would be accurate to say that relationships have become a bit strained" between advocates and the White House, Frank Sharry, the executive director of the pro-reform group America's Voice, told Newsweek. "It's been a tough six years."
It's a relationship that has had peaks and valleys—but mostly valleys. Pro-immigrant advocates were thrilled when the administration sued Arizona over its infamous anti-immigrant law SB 1070 and again when Obama announced a program called Deferred Action for Childhood Arrivals (DACA) to give young immigrants relief from deportation. But the past year has been full of disappointment.
In early 2014 it became clear to the advocate community that House Republicans were not going to pass immigration reform, even though Boehner voiced support for it. "At that point things got a bit scratchy, where increasingly advocates were upset that [Obama] wasn't using executive authority to take action to protect people," Sharry explained. Meanwhile, Obama kept deportation numbers high, earning him the title "deporter-in-chief" from one prominent advocate. In June, Obama finally agreed to take action by the end of the summer, then backtracked in September saying he would delay action until after the midterm elections.
"The relationship went from bad to worse. It was a pretty strong reaction and it was genuine. There was just such deep disappointment and anger and people were demoralized," Sharry said.
But Sharry also believes that if Obama finally uses his authority to make big changes to the immigration system and help millions of undocumented immigrants, that advocates will quickly rally to his side. "I think the dynamic will shift pretty dramatically," he said.
After so much disappointment, how far is far enough?
Advocates like Sharry have been pushing for the administration to use the comprehensive immigration bill passed by the Senate in June 2013 as a template for executive action that would give an estimated 8 million people legal status. But Sharry admits that won't happen.
Instead, the estimates leaked to the press are closer to 3 million to 5 million people who could get relief. "If he protects 5 million people, that's going to be pretty significant," Sharry said. "It's going to be a giant step forward if half the undocumented population is protected."
But if Obama's action comes in at the low end of estimates at say 2 million people qualifying for protection, advocates will be disappointed.
How would Obama protect these people from deportation?
The broader theme of Obama's plan is likely to be family unity. One option for making that happen would be to give deportation deferrals and work permits to parents who have lived in the United States for five years and whose children are U.S. citizens or green card holders. According to The New York Times, this could impact 3.3 million people.
The administration is also considering expanding DACA, the 2012 program that has thus far granted reprieve to about 600,000 "Dreamers," undocumented young people brought to the U.S. as children. By tweaking age and educational requirements, for example, the White House could expand the program to an additional 700,000 people, the Times reported.
One of the big unknowns—and one important to the advocate community—is whether the parents of young people who qualify for DACA will also get a reprieve or work permit.
"The parents of Dreamers, the parents of young people who have DACA, the rumor mill is that they're not going to be included in the package, and that's disappointing," Sharry said. "That's a group that we think is very worthy and should be included."
Reid told Univision that he hopes the president goes "as big as he can" including the parents of Dreamers.
Advocates are expecting changes to a controversial program called Secure Communities, which allows federal immigration officials to pick up undocumented immigrants in local jails and put them on the path to deportation. The activist community wants this program eliminated and there are rumors that Obama's executive action could at least retool the program so that it only focuses on serious criminals. Activists are also looking forward to new rules on how to carry out immigration policy through Obama's use of prosecutorial discretion, and they expect some changes to how visas are tallied, or unused visas allowed to rollover year to year, so that potentially hundreds of thousands more high-skilled immigrants can come to the United States to work.
One group likely to be left out of the administration's actions are agriculture and food processing workers—a critical part of an industry that relies on undocumented labor. Advocates believe as many as 70 percent of the country's agriculture laborers are without legal status, subject to deportation and labor abuses.
Under the Senate bill, up to one million undocumented agriculture workers would have qualified for legal status. But this group of immigrants doesn't fit as neatly into the administration's expected focus on family unity—farm workers are generally newer arrivals to the United States and often don't bring their families with them when they come. If the administration is looking to impact people who could ultimately be sponsored to stay in the country through relatives, it's a harder case to make for agriculture workers.
But advocates are still pushing hard to have farm workers included in whatever steps Obama takes. On Wednesday, the United Farm Workers union and other advocacy groups organized a Thanksgiving meal outside the White House gates. Immigrant laborers from around the country will bring the food that they create at home—a turkey from a processing plant in North Carolina, potatoes from Idaho, celery from California, and wine from Washington state—in an effort to remind the administration and the country where their food comes from and that they deserve relief too.
"It's really designed to show Americans where their food comes from and all the work it took to prepare that meal," an advocate for farm workers familiar with the event told Newsweek.