Commencement Speakers 2018: President Trump, Other Politicians to Address Grads
President Donald Trump announced Friday that he will give the commencement address at the United States Naval Academy in May. Last year, the president gave a speech at the commencement ceremony at Liberty University, which gave him an honorary law degree, and at the U.S. Coast Guard Academy.
"So exciting! I have agreed to be the Commencement Speaker at our GREAT Naval Academy on May 25th in Annapolis, Maryland. Looking forward to being there," Trump tweeted.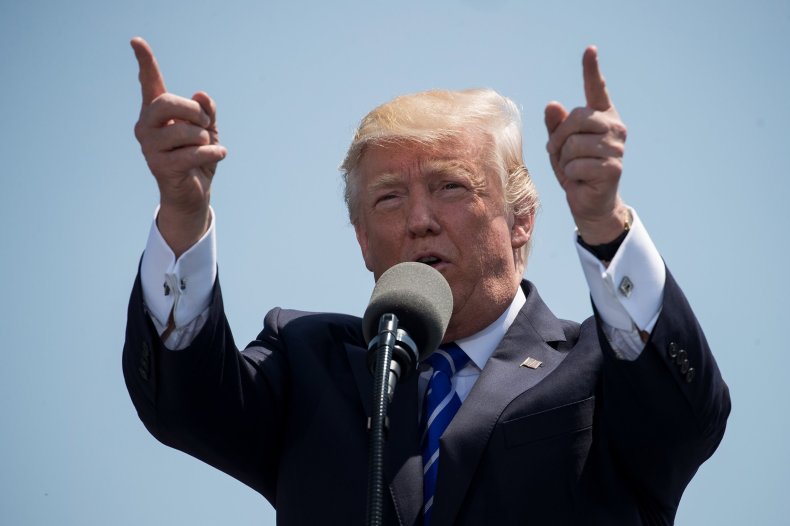 Vice President Mike Pence gave the commencement speech at the Naval Academy last year and spoke at the University of Notre Dame graduation ceremony. Pence's address at Notre Dame prompted a group of graduates to walk out in protest, The Hill reported.
This year, Pence will speak at Hillsdale College, a conservative Christian college in Michigan.
The commander-in-chief and his second-in-command are part of an annual list of politicians to speak at commencement ceremonies. Here is a roundup of political leaders speaking at commencements this year:
Senator Kamala Harris (D-California) will speak at the University of California, Berkeley on May 12. Meanwhile, civil rights leader Representative John Lewis (D-Georgia) will give the commencement address at the University of California, San Diego on June 16. Lewis will also head Harvard University's 367th commencement on May 24.
Former secretary of state Hillary Clinton will be the featured speaker during the senior class day at her alma mater, Yale, on May 20. Clinton graduated from Yale Law School in 1973. The former Democratic presidential nominee spoke at her other alma mater, Wellesley College, during last year's graduation ceremony.
Clinton's former running mate, Senator Tim Kaine (D-Virginia) is set to address Radford University's graduating class on May 5.
The recently fired former secretary of state, Rex Tillerson, is scheduled to address the graduating class at the Virginia Military Institute on May 16, CNN reported. The military institute announced Tillerson as commencement speaker in February when he was still part of the Trump administration.
Former U.S. president Jimmy Carter will be at Liberty University this year. The 93-year-old will give the commencement address to the graduating class on May 19. Housing and Urban Development Secretary Ben Carson will also be a speaker at Liberty University where he will address the first graduating class of the university's College of Osteopathic Medicine on May 19.
Al Gore, former vice president to Bill Clinton, is set to speak at the University of Maryland, College Park on May 20, according to The Baltimore Sun.
Los Angeles Mayor Eric Garrett is one of several speakers this year at Southern New Hampshire University. Garrett will address the graduating class of the College of Online and Continuing Education on May 13.
U.S. Deputy Attorney General Rod Rosenstein is scheduled to speak at Campbell University's law school graduation on May 11. Meanwhile, Massachusetts Attorney General Maura Healey will speak at MassBay Community College on May 17, according to Inside Higher Ed.
Michael Bloomberg, former New York City mayor and billionaire philanthropist, will address the graduating class of Rice University in Houston, Texas on May 12.
Canadian Prime Minister Justin Trudeau will speak to New York University's 2018 class on May 16 at Yankee Stadium. Trudeau will receive an honorary doctorate of laws from the university, NYU announced earlier in April.
Senator Cory Booker (D-New Jersey) will be busy this commencement season. The junior New Jersey senator is set to give commencement speeches at Franklin & Marshall College on May 12 and Kean University on May 17. According to CNN, Booker will also speak at Princeton University's Class Day on June 4.
Fellow Senator Mark Warner (D-Virginia) will also be busy this year. Warner is set to address the University of Virginia's College at Wise on May 5, the College of William and Mary on May 12 and Virginia State University on May 13.
Several members of Congress will give graduation speeches in their home states. Senator Richard Burr (R-North Carolina) will address the graduating class of the University of North Carolina at Pembroke on May 5. Senator Ben Sasse (R-Nebraska) is set to address the small graduating class of York College in York, Nebraska on May 5.
Senator Amy Klobuchar (D-Minnesota) will speak at the University of Minnesota, Morris on May 12.
Senator Susan Collins (R-Maine) will address the graduating senior class at Colby College on May 27.
Representative Luis Guiterrez (D-Illinois) will return to address his alma mater, Northeastern Illinois University, on May 7.
Representative Ted Lieu (D-California) will speak to the graduating class of UCLA School of Law on May 11.
Some governors will also get in on the action. Ohio Governor John Kasich will speak to Harvard's John F. Kennedy School of Government class of 2018 on May 23. Pennsylvania Governor Tom Wolf will speak at York College in Pennsylvania on May 12.
Oregon Governor Kate Brown will give addresses at the University of Colorado Boulder on May 10 and the Oregon Institute of Technology on June 16. Virginia Governor Ralph Northam will stay in his home state and will address Virginia Tech's graduating class on May 11.