Comments Split Over Skater Who Played Song With Profanity Near Kids in Park
A woman shared a TikTok video that has since gone viral showing her interaction with a woman walking by with her husband and kids who became angry when they heard a song that contained profanity.
Samantha Dederichs posted the video to her account @not_samiam where it was viewed nearly 13 million times. She filmed herself rollerblading in a park and a family walked by.
"Hey! There's kids around," a woman yelled at her off-camera. "This music around children? Shame on you."
In the text over the video, Dederichs said the woman was first angry with her and the group of people she was with for skating, but the music also became an issue.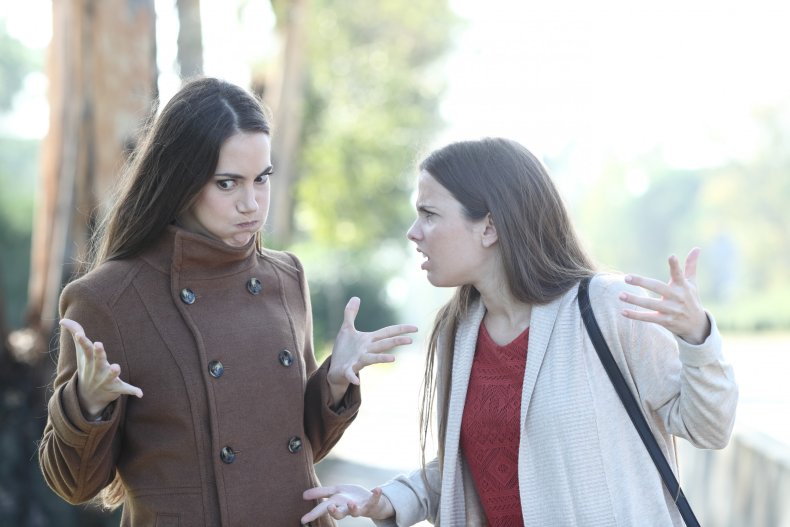 According to Middle Tennessee State University's Free Speech Center, profanity cannot be banned, but it can be regulated in many situations.
Though it was once considered punishable, profane words cannot be banned under the First Amendment. There are certain situations in which profanity can be regulated. For example, public school officials may punish a student for profane speech.
The family walked back into the frame as the woman continued to yell at Dederichs. They paused, and the woman filmed Dederichs, telling her that she hoped her mother saw what happened before walking away.
The comments were turned off under the video, but Dederichs posted a follow-up video stitched with another TikTok that was created by @strawbarryallergy, a bystander to the incident.
In her video, @strawbarryallergy explained what she witnessed. She said she was at the park with her friend and they saw a group of skaters listening to music.
She said the family walked by and the woman became irate because of the music.
"Meanwhile, she's cussing at this group of people," @strawbarryallergy said.
She continued and said that the family was on their way out of the park.
"They could have just kept walking," @strawbarryallergy said. "This could have been an end-moment situation. If something bothers you, leave. It's a public space, you can listen to music."
She said she later had her own interaction with the same woman as she was leaving the park with her friend.
The woman, @strawbarryallergy said, stared at them and told her husband that they were the two that were "just sitting there."
"So, I told her to shut the f**k up," she said. "This woman stops in her tracks and starts pacing toward us."
TikToker @strawbarryallergy said the woman began yelling at her as well.
Commenters under @strawbarryallergy's video criticized the woman for her behavior.
"In Atlanta, people are ALWAYS playing music loudly in public parks, like—it just happens," @Amina! commented. "I don't get why people are making yall out to be villains."
Another viewer pointed out that it was ironic the woman was upset about an explicit song, but reportedly used profanity toward the other park goers.
In Dederichs' follow-up video, she explained that it is common for skaters to play their music in the park, but she would be more mindful of the volume going forward. However, she said the woman's reaction was inappropriate.
"If she handled it differently, came up to us calmly and was like, 'Hey, you're playing explicit music, could you turn it down? I have kids,' it would've been fine." Dederichs said.
She explained that they were skating in the section of the park most people briefly walked through before getting to another section of the park. And, on her original video, she said she turned off the comments because she began receiving death threats.
Dederichs received a mixed reaction from viewers.
Some suggested she could have worn headphones to listen to music, others said they still felt the woman's reaction was justified and many said they were both to blame.
"Both in the wrong," @EB wrote. "Her motive was fine but she was too aggressive for such a small issue."
A few sympathized with Dederichs.
"No because someone else's kids are not my responsibility in a public space," @seaturtletoby commented.
Newsweek reached out to Samantha Dederichs for comment.