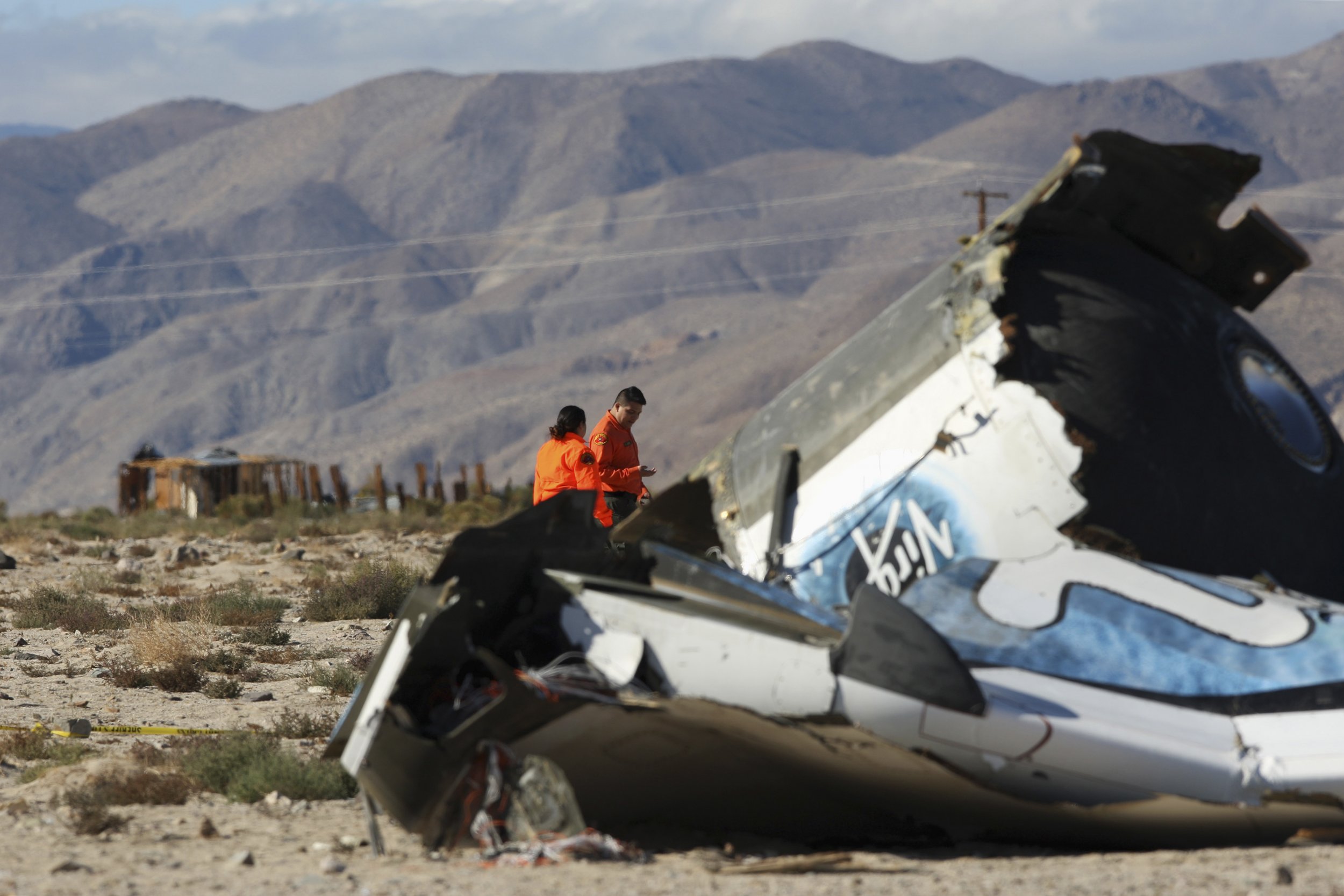 Last week, a Virgin Galactic test flight took a tragic turn when SpaceShipTwo crashed in the Mojave Desert. Two pilots were on board: Michael Alsbury, who died, and Peter Siebold, who was injured. The National Transportation Safety Board (NTSB) believes the crash may have been related to a pilot error, as the aerodynamic controls were prematurely unlocked. The control in question is "feathering," which Virgin Galactic describes as "the unique technology that turns the wing booms into position for re-entry."
Christopher Hart, active chairman of the NTSB, told reporters, "The feather parameters changed from locked to unlock. Now in order for feathering to be commanded by the pilots, two actions must occur: one is the lock/unlock handle must be moved from lock to unlock, and No. 2 is the feathering handle must be moved to the feather position."
Hart called this a "statement of cause rather than a statement of fact," as the NTSB will continue to investigate the exact cause of the accident. He was unsure if this particular lever movement would cause the same result in another craft of this kind, noting how unique the test vehicles are.
In a statement, Virgin Galactic said, "While this has been a tragic setback, we are moving forward and will do so deliberately and with determination. We are continuing to build the second SpaceShipTwo (serial number two), which is currently about 65 percent complete and we will continue to advance our mission over the coming weeks and months. With the guidance of the NTSB and the assurance of a safe path forward, we intend to move ahead with our testing program and have not lost sight of our mission to make space accessible for all."
Virgin Galactic might be confident it will move forward quickly, but the NTSB said the complete investigation could take up to a year. Bruce Betts, director of science and technology at the Planetary Society, believes this year of investigation could mark a period of scrutiny for the commercial spaceflight industry. "Both [the NTSB and Virgin Galactic] need to understand the actual problem and what allowed the problem to happen. Then, once they are through that learning process, my guess is they will move on and move forward, but it will obviously put a delay in this process," he told Newsweek.
John Delano, a distinguished professor emeritus at the University at Albany, said the suborbital flight offered by Virgin Galactic is far from the million-dollar trips to the International Space Station sold by Russia's space program. "This is really modest from the space flight perspective," he said. "It's less complicated because there is less power involved. It's a commercial outfit; they are just out to fly tourists. Tourists would have about eight minutes of weightlessness, then they would fly back to Earth."
Delano predicts that "it will be safe, because Virgin Galactic will make it safe, they will be a successful company but it's a difficult business." Those eight minutes come at a hefty cost: $250,000 per flight, which comes to $31,250 per weightless minute.
Jane Delson, director of business development for Hurley Travel Experts, one of the official Virgin Galactic booking agencies, told Newsweek that it is unclear if Virgin Galactic will offer refunds of deposits for already booked flights. As for the crash, Delson said it won't cause a major setback in sales, which are already limited to an extremely small group of ultra-wealthy risk-takers. "The effective profile of the kind of person who is enraptured with this kind of travel, you tend to see a very courageous, throw-caution-to-the-wind kind of person to begin with. The appeal of this type of flight is very compelling to people who take adventure very seriously and are comfortable with risk and the unknown," she explained.
Thus far, Virgin Galactic has sold the promise of suborbital weightlessness to about 700 people, raking in $89 million in deposits and sales. While some space tourists may feel unsafe about their future suborbital travels, John Spencer, founder of the Space Tourism Society, said the average Virgin Galactic passenger will be undeterred. "The Virgin people are very dedicated, smart and experienced. They are well capitalized and well financed. I think they will recover faster than most people think."
Spencer added that "the kind of people who are interested in these life-changing experiences are the same people who climb Mount Everest and swim with sharks. It is far more dangerous to climb Everest than take a suborbital flight. The regulatory bodies are simply for more extensive in these flights, and you have more control of the environment than, say, diving with sharks."
Not all experts are as confident as Spencer about the safety of commercial space travel. Beth O'Leary, professor emeritus at the New Mexico State University and author of Archaeology and Heritage of the Human Movement Into Space, told Newsweek, "Space travel is a risky undertaking. When NASA was first attempting human space flight, they experienced accidents, and, about 50 years ago, it took some 60,000 people to get the Apollo 11 guys on the moon."
O'Leary said the first years of commercial space travel will face difficulties and scrutiny, as NASA's program did when it began. "These first commercial flights will become extremely important. There are so many factors that play into it besides how humans behave. It's also how the technology behaves, and much of this stuff is experimental. We are capable of solving things, but we do make mistakes, in some cases very tragic mistakes."
Betts agrees. "They'll work hard to make it as safe as process, but fundamentally you're riding on a rocket."