In Communities Shouldering Environmental Burdens, Life Was Deadly Pre-Pandemic, Too | Opinion
As more and more people across the country are vaccinated and COVID-19 restrictions are lifted, you can feel the gears starting to shift in the media narratives and among elected officials: "Get back to normal" and "turn the page on the pandemic" are the slogans of the moment. But where I live, "normal" was deadly long before the pandemic, though the pandemic goes a long way to explaining why.
I live in the City of Chelsea, Massachusetts. Over 70 percent of our 40,000 residents identify as a racial or ethnic minority, close to a quarter lives below the poverty level, and there are over 30 languages spoken at Chelsea Public Schools.
But we are not just diverse; Chelsea is the epitome of an environmental justice community. It's a place where our nation's legacy of environmental racism, our addiction to fossil fuels, and a sluggish transition to clean energy sources has proven deadly for people of color.
We breathe the toxic air of congested highway lanes that run above and through our neighborhoods, and feel the daily consequences of air and noise pollution from Logan International Airport. 100% of the region's jet fuel sits in tanks we can see from our windows. With study after study linking air pollution to increased hospitalizations and deaths from COVID-19, the pandemic's rampage through our communities was as catastrophic as it was predictable.
During the first COVID-19 peak in April, 30 percent of Chelsea residents tested positive for the virus. Our community had six times the rate of infection as compared to the state's average—with infections and mortality rates dramatically worse than those in other communities across the state. 221 of our family, friends, and neighbors died of the virus since the pandemic began, and more than one in five residents has had a confirmed case of COVID-19; in neighboring East Boston, the infection rates were among the highest in the entire City of Boston.
COVID-19's impacts were not abstract for me. As the mother of a 3-year-old daughter who suffers from early childhood asthma, the thought of her contracting the virus and ending up in the emergency room terrified me. We lived in constant fear that my husband, a frontline worker who coordinated emergency and relief efforts, would become ill or bring it home with him.
I am haunted by the memories of begging a friend, who is undocumented and was reticent to ask for help, to call an ambulance as she gasped for air with a high fever after being misdiagnosed with a cold. She spent 40 days on a ventilator.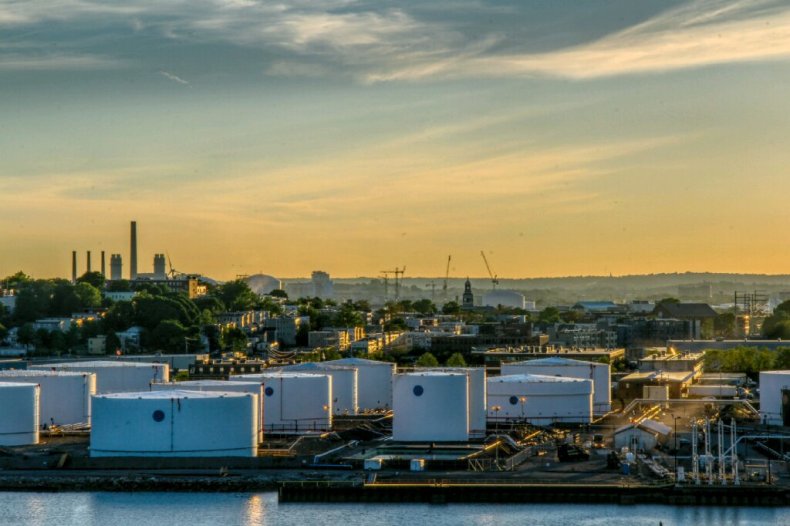 This didn't happen by accident; it was the result of decades of policy decisions that forced the residents of Chelsea and East Boston to sacrifice their lives for the benefit of the broader region. And while the media spotlight on Chelsea led to loud proclamations by policymakers across the state eager to help, we continue to see dangerous energy projects move forward on the ground, papered over by the rhetoric of equity and environmental justice in press releases.
We see this happening across the state. In Saugus, a trash incinerator continues to belch toxic ash into the air. Springfield, a community that suffers the worst asthma rates in the country, is battling the construction of a biomass plant in its backyard that will burn 1,200 tons of wood per day. And in East Boston, a new electric substation is moving forward despite serious civil rights concerns raised by our community and fears that flooding from rising sea levels could endanger neighboring residents with fires and explosions if the facility is inundated.
But there is still time to bridge the gap between word and deed on environmental justice here in Massachusetts and across the nation, and to harness this moment of recovery to take bold action that ensures we don't repeat the mistakes of the past. Policymakers should commit themselves to not permitting new fossil fuel infrastructure, and to retiring existing polluting plants, while bringing renewable, clean energy online. We don't need another public health crisis to make this point for us yet again. And when we do build new energy storage and transmission infrastructure to support growth in clean energy, let's do so with communities at the table at the beginning and not as an afterthought.
Policymakers must also center equity in our transition to renewables. We can dramatically reduce emissions and make sure that low income communities and communities of color receive an equitable share of the benefits of that transition, including jobs in the clean energy economy and increased access to energy efficiency programs.
In Massachusetts, a state that boasts one of the highest-rated energy efficiency programs in the nation, a 2020 report showed massive gaps in who benefits from energy efficiency subsidies, with affluent communities reaping significantly more than communities like Chelsea. We can and must do better.
Third, lawmakers must invest in community resilience. Communities across the country are implementing the solutions to the climate crisis from the ground up, for example, after 2017's Hurricane Maria, which left much of Puerto Rico without power for weeks, our community organized an effort to build a solar microgrid at the local level so our communities would not be left behind.
Ultimately, how we choose to rebuild from the rubble of the COVID-19 pandemic and take on the pre-pandemic status quo represents a once in a lifetime opportunity for progress and environmental justice. The residents of Chelsea and East Boston, and communities like us across the country, cannot afford to wait any longer.
María Belén Power is a resident of Chelsea, Massachusetts, and the Associate Executive Director of GreenRoots, a grassroots environmental justice organization, and currently serves on The White House Environmental Justice Advisory Council.
The views in this article are the writer's own.