Sharpton, Captain Johnson Give Moving Speeches at Ferguson Memorial for Michael Brown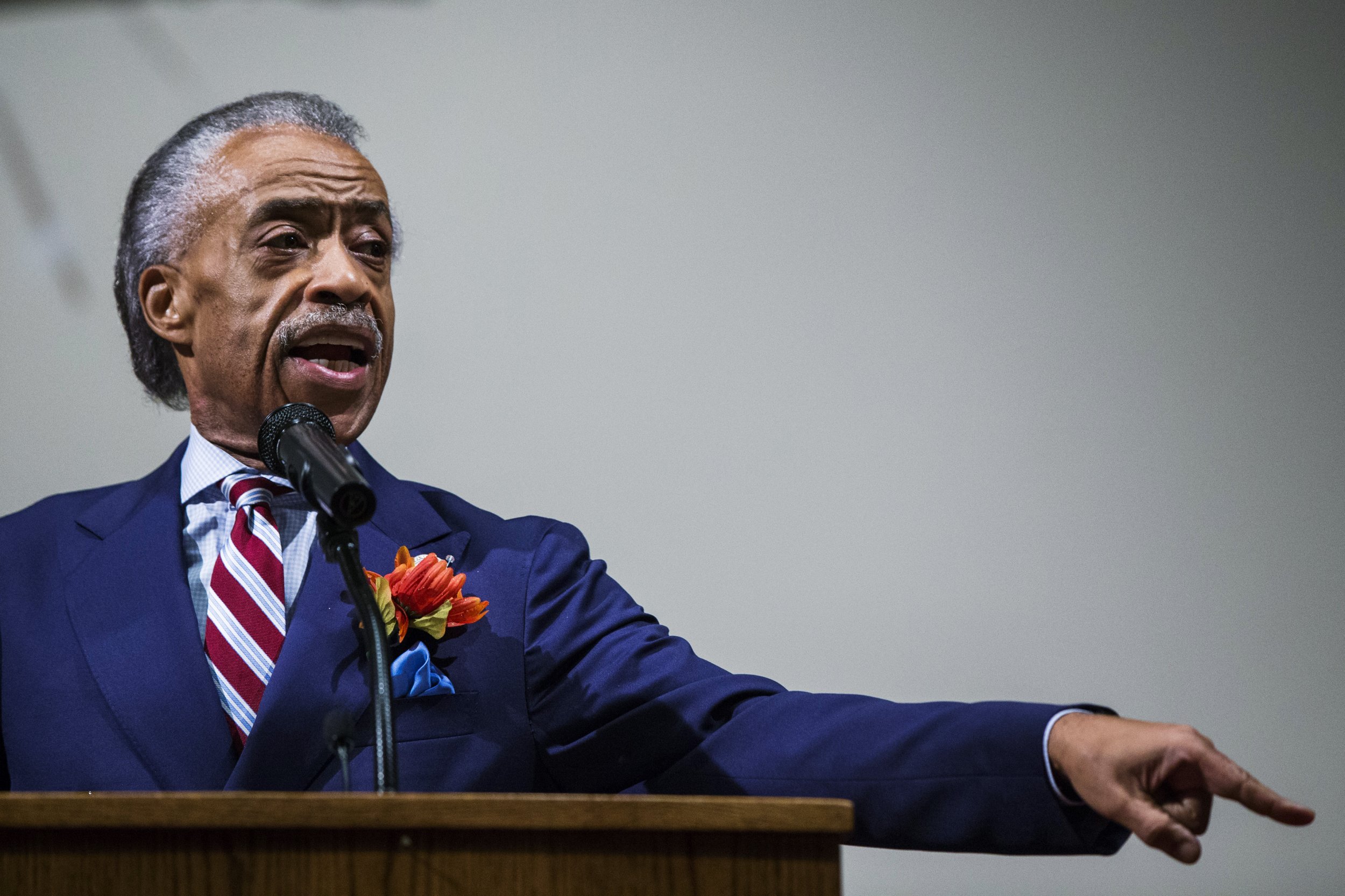 Community members in Ferguson, Missouri, united for an evening of worship, peace and praise tonight at the Greater Grace Church in memorial of slain black teen Michael Brown. Speakers included Missouri Highway Patrol Captain Ron Johnson, who was put in charge of policing Ferugson protests by the Governor, Reverend Al Sharpton and Martin Luther King III.
The 18-year-old's shooting by white police officer Darren Wilson last Saturday has been the center of a week of conflict, fueled by racial tensions between citizens and the local police force.
The mood was uplifting yet somber in the packed church, filled with community members, supporters and protesters treking out to honor Brown's memory. Missouri Highway Patrol Captain Ron Johnson—who took over patrol in Ferguson as of Thursday night—was greeted by a standing ovation as he rose to the podium. Johnson spoke to citizens and reporters candidly, giving a riveting speech addressing the escalating conflict in the Missouri town over the past week.
"I'm going to be here as long as it takes," he said. "My words will be honest—I will protect your right to protest." Addressing the family of the late Michael Brown, Johnson said: "My heart goes out to you. I'm sorry."
During a speech a family representative of the Brown family put his hands up, demonstrating Brown's last witnessed words, which witnesses say was "hands up, don't shoot."
"[Michael Brown] was a son, uncle and a nephew—he was not a suspect, he was not an animal. But that's how we was killed," he said. Over 20,000 people have signed a petition calling for an independent investigation of the death of Michael Brown. The case is currently being handled by St. Louis County Prosecuting Attorney Bob McCulloch.
"We're not anti-police, but there's a difference between calling for peace and calling for quiet. Peace means we have equal protection under the law," said National Action Network President Al Sharpton in a speech. He spoke largely about law enforcement reform, and how the conflict is indicative of a larger struggle happening across the world in the search for basic human rights. Sharpton spoke earlier at the Greater St. Mark Family Church.
"This is the defining moment in this country. All over the world, the debate is how the rights of people are dealt with by the state," Reverend Sharpton said. "Ferguson and Michael Brown too will be a defining moment on how this country deals with policing and the rights of citizens. Let me be clear—we'll be here until justice is achieved."
Sharpton noted that during the chaos of the past week, the Brown family hasn't had the chance to give their son a proper burial. In his speech, Sharpton strongly advocated for revamped federal legislation to "deal with the militarization of police in this country." He called hundreds of young community members, "Disciples of Justice," to the stage to stand alongside him, before he brought Martin Luther King III, son of civil rights activist Martin Luther King Jr., to the stage. "Our police departments need human relations, diversity and sensitivity training," King said.
Mya Aaten-White, the protester who was shot in the head last week, hugged Brown's mother onstage. A tearful Keke Palmer, the feature film actress poised to become the first black Cinderella on Broadway, encouraged the community to stand strong and stick together.
Sharpton sang as community members filled baskets with donations for the Browns. The National Urban League announced they would be awarding the Brown's three children full college scholarships.
"When this is over, I'm going to go in my son's room, my black son—who wears his pants saggy, his hat cocked to the side, he's got tattoos on his arms—but that's my baby. We need to thank Mike for his life and the change that he's made," Johnson said.