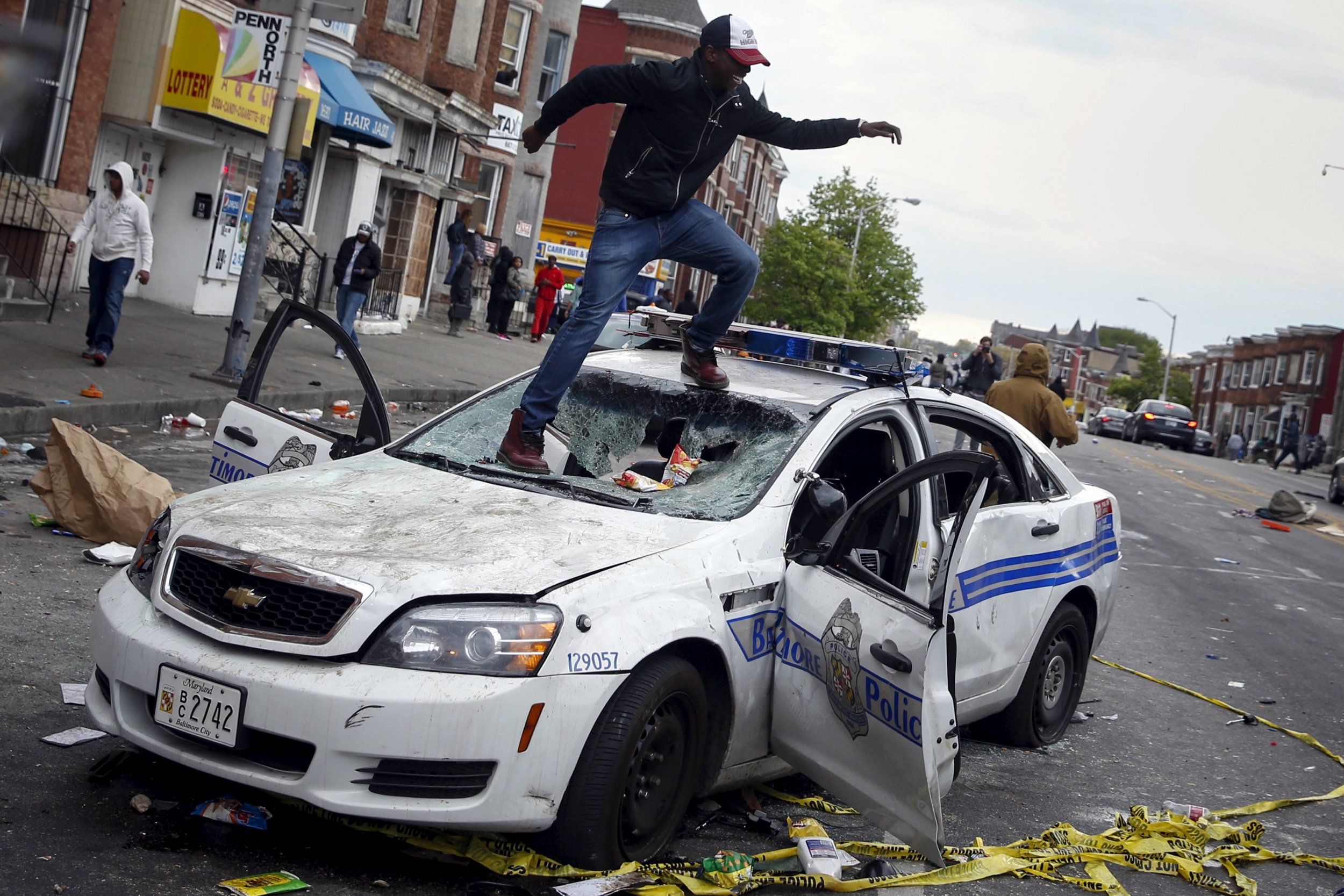 "BALTIMORE: The Greatest City in America."
So reads the white lettering on a bench in the West Baltimore neighborhood of Sandtown-Winchester, where 34 percent of residential properties are reported to be vacant or abandoned. Booze and snack refuse dot gutters. In a garden enclosed by a chain-link fence, a tangle of weeds nearly conceals an unexpected, much-needed burst of beauty: three bunches of crimson flowers. The Western District police station, a boxy institutional structure, stands amid this landscape, surrounded by metal barricades on a recent April day.
It was in the Western District area that Freddie Gray, a 25-year-old African-American man, suffered a spinal injury related to an arrest April 12, and then died on April 19. His death was part of a succession of police-involved fatalities of black men across the U.S. in recent months, sparking mass protests. On April 27, rioting and looting erupted in Baltimore.
Against this backdrop, the Baltimore Police Department (BPD) and other U.S. law enforcement agencies have been attempting to bolster their community-policing efforts, to improve relations with area residents.
Foot patrol is an essential component of the BPD's initiative. While walking the beat has always been part of the BPD's policing, the department recently mandated that officers spend at least 30 minutes of every 10-hour shift on foot, chatting with members of the community.
"We're pushing every police officer to get out of their cars for 30 minutes no matter if it's in a residential area, commercial area, to engage in the community," Police Commissioner Anthony W. Batts told Baltimore Sun reporter Justin George. (Following a BPD strategy released in 2013, Batts wanted to increase foot patrols, "training officers to feel comfortable interacting with individuals with a wide array of backgrounds," George also reported.)
Even the Baltimore police union president, Gene Ryan, got on board—despite high call volumes. "I really think it's a good idea," Ryan told George. "That's one way to improve the relationship with us and the people of Baltimore."
Renewed interest in foot patrol isn't unique to Baltimore, amid the nationwide push for community policing. In St. Petersburg, Florida, Police Chief Anthony Holloway launched a program called Park, Walk and Talk several months after starting his job in August. His program requires all officers in the St. Petersburg department to park their cars, walk a neighborhood and talk to people there for an hour a week. Officers must log their hours, so supervisors can confirm their participation.
In Cleveland, where the police department was criticized for "a pattern or practice of unreasonable and unnecessary use of force" by the U.S. Department of Justice in December, both clergy leaders and the American Civil Liberties Union of Ohio called for foot patrols to improve police-community relations. ACLU Ohio said in a statement that the Cleveland Police Department should "require officers to patrol neighborhoods on foot as much as possible."
New York City Council Speaker Melissa Mark-Viverito, a progressive who made police reform key to her campaign for the job, wants to put 1,000 more cops on the street and to allot more resources to community policing. Though Mark-Viverito's proposal would leave the cops' deployment up to the department's discretion, foot patrol might be one of the techniques, a staffer for her office told Newsweek.
The President's Task Force on 21st Century Policing, meanwhile, is charged with determining the best ways police can reduce crime and build trust with communities. In early March, the task force published an hundred-plus page interim report that emphasizes community policing as a way to achieve these goals—in fact, "Community Policing & Crime Reduction" is one of the six listed "pillars" in the report. Some of the recommendations in this section seem almost tailor-made for foot patrol proponents. Police must communicate with people at times other than emergency calls or crime investigations, the report recommends. Law enforcement agencies must allow officers time "to participate in problem solving and community engagement activities" during patrols, the report says.
Foot patrol sounds like an even better idea when you look at the data. Research has indicated it both improves police-community relations and fights crime. Though these positive outcomes make foot patrol quite an appealing policing tactic today, they happened before a year that saw the police-involved deaths of Eric Garner, Michael Brown, Akai Gurley, Tamir Rice and Walter Scott—and, most recently, Freddie Gray.
While man-on-the-street interviews wouldn't provide quantitative data, I had been looking into foot patrol for a while, including earlier reporting on St. Petersburg's initiative, and I had traveled to Baltimore hours before the city burned to try to find out whether residents thought the requirement would work, both in general and in light of Gray's death. In interviews, the general sentiment was that foot patrol, like other community-policing techniques, was either a pipe dream or a paradox: Foot patrol could build much-needed trust in communities of color, but not until trust had first been restored. Residents conceded, however, that restoring trust probably wouldn't happen if successful community-police engagement programs, such as foot patrol, weren't already in place.
Sure, this doesn't mean that foot patrol wouldn't work, but it suggests that officials' enthusiasm for foot patrol might be too glib—and that a lot of people supposedly poised to benefit from this kind of community policing absolutely do not want more cops on the streets right now.
On a stretch of sidewalk empty save for a few shuffling seniors, neighborhood resident Thomas Thornton says Baltimore's foot patrol program isn't inherently ill-conceived but is an awful idea given recent events. Before Gray brought police-community relations to a breaking point in Baltimore, resentment had long been building, explains Thornton, who works as a janitor. He says police routinely stop him and others in the neighborhood and ask, "Where are you going?" and "What are you doing?" Residents "see the uniform as a threat," and that perception has intensified, he says.
"At this time, I don't think it's a good time to walk around—at all," says Thornton, 45, speaking of foot patrol. "Maybe eventually, but at the present time, I wouldn't recommend it. Not right now. Because it's so tense."
Marguerite Johnston, also a neighborhood resident, doesn't think all police are bad based on the behavior of a few; she was raised not to judge people like that, she says. Johnston, 61, says the bad ones have nothing better to do than pick on people. Police officers should get to know their community, she says, recalling a time when a uniformed cop used to walk her neighborhood and even knew her by name. Maybe this kind of familiarity would build relationships, she says, and would make things better. Foot patrol is a good idea, she agrees, just not any time soon, given the present tensions.
"Maybe down the road? Probably sometime at the end of the year?" Johnston says. "It's a catch-22. The police should probably try harder to gain the community's trust before doing these projects."
Then there was outright pessimism—a lot of it, actually.
"It's only going to make it worse," says Kyree Brown, who was sitting on a stoop with friends near the police station, talking about foot patrol. "It's them against us."
Could people trust police, then, if the programs that are supposed to engender trust don't work?
"That's the problem: You can't gain trust with people who feed you a bunch of bullshit," says Brown, 24, whose wide smile belies this pessimism. "They've already had their chance, and they've blown it."
Reached by phone a week after the riots, Brown's position had only intensified.
The world's first modern police department is considered to be London's Metropolitan Police, which formed on September 29, 1829. Sir Robert Peel, England's home secretary, is responsible for its creation: He convinced Parliament to green-light it largely because the prevailing system of policing—disorganized night watches and parish forces dominated law enforcement—did little to preserve safety or order in the growing city. In contrast, Peel's new model for policing was a "full-time, professional and centrally-organised" force, according to department histories penned by Parliament and the Metropolitan Police.
Peel charged the original force of 895 constables, 88 sergeants, 20 inspectors and eight superintendents with preventing crime. The emphasis on prevention represented a major development in policing philosophy, which, until Peel's initiative, focused on crime detection.
"Foot patrol was what the very first police officers did when they walked out of the doors on September 29, 1829," explains Jerry Ratcliffe, a professor of criminal justice and director of the Center for Security and Crime Science at Temple University, and a Metropolitan Police alum. "That was just a part of what policing was all about."
By the mid-20th century, technological and philosophical changes in policing prompted the decline of foot patrol in the U.S. The radio car and the 911 system "essentially changed the nature of policing from preventative policing to one of reactive policing," Ratcliffe says. As citizens started calling police to report crimes and emergencies, dispatchers responded by deploying cars via radio. In turn, the metrics by which law enforcement agencies and agents were assessed changed, he explains.
With time, the role of a patrol officer evolved into something of a "human pinball," Ken Peak, a professor of criminal justice at the University of Nevada, Reno, and Emmanuel P. Barthe, an associate professor of criminal justice at the same university, write in the December 2009 edition of The Police Chief magazine.
"Police officers were expected to remain in their 'rolling fortresses,'" they say, "going from one call to the next with all due haste." Officers "were often judged on how many miles they drove, how many tickets they wrote, or how many arrests they made during a tour of duty. The crime rate became the primary indicator of police effectiveness.... If a citizen were to get any face time with an officer, it was typically as the officer drove by at 35 miles per hour and waved."
Because law enforcement agencies had begun operating with "the sole goal of controlling crime," non-enforcement activities fell by the wayside.
The social unrest of the late 1960s spurred departments to reconsider enforcement-driven policing. Many agencies bolstered community engagement, and foot patrols regained traction in the 1970s and early 1980s. (Foot patrol waned again when crime surged later in the 1990s, prompting police departments to abandon hearts-and-minds campaigns for crackdown tactics.)
Several studies were conducted on foot patrols to measure their impact on police-community relations and crime, and, depending on what researchers were looking for, the results were generally positive.
The Newark Foot Patrol Experiment, conducted from February 1978 to January 1979, examined eight foot patrol beats in the New Jersey city. While the method wasn't considered to have much of an impact on crime rates, compared with beats without foot patrol, residents in areas with foot patrols felt safer and more satisfied with the police, according to the researchers.
"The Police Foundation found that introducing foot patrol in a mix of police strategies significantly enhances the citizen's perception of safety in the neighborhood," the organization wrote. "This is something no other police strategy had been able to do."
Another paper titled "The Impact of Foot Patrol on Black and White Perceptions of Policing" examines a program that Flint, Michigan, launched in 1979. Researchers interviewed residents in 1979, 1981, 1982 and 1983 to describe both black and white perceptions of policing in foot patrol areas, and to see whether foot patrol changed their viewpoints. According to the researchers, the foot patrol program "improved police/community relations and reduced the disparity in perceptions of police performance between blacks and whites."
In 2009, Ratcliffe, along with other researchers at Temple University, partnered with the Philadelphia Police Department to determine whether foot patrols could deter crime. They identified 120 crime hot spots and deployed foot patrols to 60 that summer. After three months, the results were striking: In targeted foot patrol areas, violent crime dropped 23 percent, the study claims. Even taking into account displacement—in essence, when crime crackdowns in one area push criminal activity to another location—the study claims foot patrols prevented 53 violent crimes during the experiment.
The rub? The Philadelphia Foot Patrol Experiment concluded that while targeted foot patrol can deter crime, there's a potential risk to police-community relations. That's because "pedestrian field interviews"—when police stop someone on the street and often conduct a search (basically stop and frisk)—went up 64 percent in target areas, the study said.
In departments that are dedicating resources to foot patrol, as in St. Petersburg and Baltimore, the efficacy of small-scale initiatives is also unclear. Ratcliffe says it's "probably a good idea" but adds that criminologists need to study "sufficient dosage"—that is, how much foot patrol is necessary to have a positive impact—before making any claims. He agrees that there might be qualitative benefits to these smaller programs.
"It may change the perception of the police in the eyes of the community, but equally it may change the perception of the community in the eyes of the police," Ratcliffe says. "I think that second one is probably as important—it will be a chance for police officers to meet the decent people in the community."
Brett Stoudt, an assistant professor of psychology at John Jay College of Criminal Justice, who has researched extensively the impact of "aggressive and discriminatory" policing on communities, has very strong doubts. Not only is he skeptical that increased foot patrol can mend community-police relationships, but he also thinks it could exacerbate angst by appearing to be a surveillance tactic. Communities of color already feel police disproportionately cite or collar them for minor matters, he says. (Data largely support this sentiment.) More boots on the street might make residents feel as if police are just lying in wait.
"One thing that we hear over and over and over again in our studies is that people living within these communities, where there's a lot of police, feel like they're not able to go about their day with dignity," Stoudt explains.
In response to the New York City Council speaker's push to put an additional 1,000 police on the street, more than 50 progressive groups sent a joint letter to her with the same argument: This will only make things worse in communities that already feel over-policed.
Seema Iyer, associate director of the Jacob France Institute at the University of Baltimore, which studies the city's neighborhoods, offers a view specific to the metropolitan area. Foot patrol officers serve as liaison between neighborhood law enforcement and the police department. This won't make communities more trustful if they don't see change from the top down, regardless of how they feel about their neighborhood beat cops.
"That's what communities don't see," Iyer says. "They could have a great relationship with their foot patrol officer, but where does it go in the system? That's the key point."
Great relationships seemingly were on display during an afternoon I spent with Holloway, St. Petersburg's police chief. As we ambled down a stretch of South 16th Street, where in 1996 race riots raged after police killed an African-American teenager, a random motorist hollers to Holloway before zooming off, "You're doing a great job so far!"
When we enter Against the Grain Barber Shop, one of many African-American-owned businesses on this strip, store owner Derrick Thomas shouts an easy "Hi, chief!" to Holloway, who makes a point of wearing the department's uniform instead of a suit. A customer in the orange-painted shop interrupts their conversation, asking, "Can I get a picture with the chief?" A chuckling Holloway agrees, with a friendly warning: "This isn't going to help you with traffic tickets."
It's surprising, to the point of bizarre, that police, let alone top brass, would still receive such a warm welcome in this era of fraught relations between law enforcement and communities of color.
Holloway, who also instituted this strategy in his previous role as chief of the nearby Clearwater Police Department, effectively has the same philosophy as the BPD: Foot patrol can help smooth things over between cops and communities. He doesn't want people to interact with police only when something bad happens—when they're victims of crimes or being arrested or even just watching an arrest. Park, Walk and Talk creates "positive contact" between cops and communities, fostering trust, he says of the program.
"When I came here to St. Pete, we were talking about 'How do we build relationships in our community?' So I started Park, Walk and Talk throughout the city," explains Holloway, who is black. "What we saw in the African-American community was, Wow. Now people are really giving us information. 'There's a crack house. There's this. There's that.'"
But this walk-along was in February. Before things hit a breaking point. Again. Even then, the uncertainties of Holloway's initiative were very apparent when I walked around without him.
When I returned to South 16th Street without Holloway, many residents didn't buy into Park, Walk and Talk. In fact, the idea of police being anything but antagonistic seemed outright laughable to many. Several interviewed wouldn't give their name for fear of reprisal. The general sentiment seemed to be that police targeted only black neighborhoods in South St. Petersburg for drug busts, even though the people there were too poor to be significant players in the trade.
"Ain't no black folks got no keys of cocaine or keys of meth," one man scoffed.
As Mario Harding waited for an order of ribs at Connie's Bar-B-Q—a takeout restaurant where tender slabs of meat come slathered in a Carolina-style, mustard-based sauce—he expressed a middle-of-the-road opinion of law enforcement. Narcotics officers are "out of control," he says, and while some of the regular police "overdo it," most are fine and do their jobs. He mostly tries to stay out of their way.
Asked about Park, Walk and Talk, the 25-year-old landscaper replies, "I didn't even know that existed," before dismissing the program.
Harding doesn't offer specific reasons, but he espouses a sentiment expressed over and over that day: That this was yet another way the cops would target the black residents of South St. Pete. "It's gonna make it worse," he reflects.
Why?
"'Cause, man, shit."
Had any opinions changed post-Baltimore?
Thomas, the barbershop owner, still has faith in Holloway's initiative. If cops are more familiar with people they police, then maybe fatal interactions could be prevented, he said over the phone a week after the riots. And from what he's seen, other neighborhood residents still think it's a great idea and will work.
Harding, on the other hand, feels even more negative about Park, Walk and Talk. Freddie Gray just reminds him that "the same shit can happen to us that happened to him," despite the trust-building initiative.
"It might lead to a conversation: 'Oh hey, how are you doing?'" says Harding of Park, Walk and Talk, during a phone conversation. "And then it's like, 'Oh, what do you have in your pocket?' What the fuck do you need to look in my pockets for?"
"It's more fear for us," he says flatly. "We can't fight back."
Back in Baltimore, as I watched flames engulf a police van and people charge a CVS store on North and Pennsylvania Avenues, pilfering everything from toilet paper to peanut butter cups, I felt more than a little stupid about asking earlier that day: "So what do you think about foot patrol?" That feeling of stupidity only deepened when rioters later set fire to the CVS, and then it got worse Tuesday morning, when reports indicated that fires had struck more than a dozen buildings and more than 100 vehicles overnight.
A lot of people have had it with the police. That manifestation of frustration didn't justify the violence, of course, and there were plenty of peaceful protesters before and after the riots. But the very destructive anger further put to question the potential efficacy of foot patrol for the near future. Given the previous night's events, especially the attacks on police officers, it wasn't surprising that law enforcement agents at the intersection of North and Pennsylvania Avenues donned riot gear Tuesday.
Yet the many Baltimoreans who traveled there that morning to clean up the streets—something totally benign—were confronted by the same image of the police: as invaders who, they say, had long antagonized them. This isn't an issue of picking sides, but it's almost too obvious to say the pepper pellets and tear gas canisters deployed after the curfew that evening easily reinforced this sentiment.
The city's police department still requires its officers to complete 30 minutes of foot patrol at the beginning of their shifts, a spokesman tells me. But it remains unclear how we'll get to the point where foot patrol, which does have a lot of positive potential, has a chance of really working.
This story was produced as part of a fellowship program on race and justice at the Center on Media, Crime and Justice at John Jay College of Criminal Justice and the Quattrone Center for the Fair Administration of Justice at the University of Pennsylvania Law School.