Which Companies Are Making Juneteenth a Paid Holiday?
A number of companies, including Nike, Postmates, and Twitter, have added Juneteenth to their list of paid holidays.
The holiday, celebrated on June 19, is the United States' oldest celebration of the end of slavery in the country. According to an online history of Juneteenth, the day commemorates when union leader Major General Gordon Granger arrived in Galveston, Texas with news that "the enslaved were now free," in 1865, two years after the Emancipation Proclamation had been signed.
As previously reported by Newsweek, Nike CEO John Donahoe announced that the athletic brand would recognize the day as a paid holiday in an internal memo. In the memo, he wrote that by making Juneteenth a paid holiday it was "important opportunity to better commemorate and celebrate Black history and culture."
He continued that recognizing Juneteenth as a paid holiday was an important change to make within the company. "When we say that Black Lives Matter, it applies to the world outside of Nike and, importantly, it applies to our Black teammates within Nike. Simply put, we need to hold ourselves to a high standard given the heritage of our company and our brand," he wrote.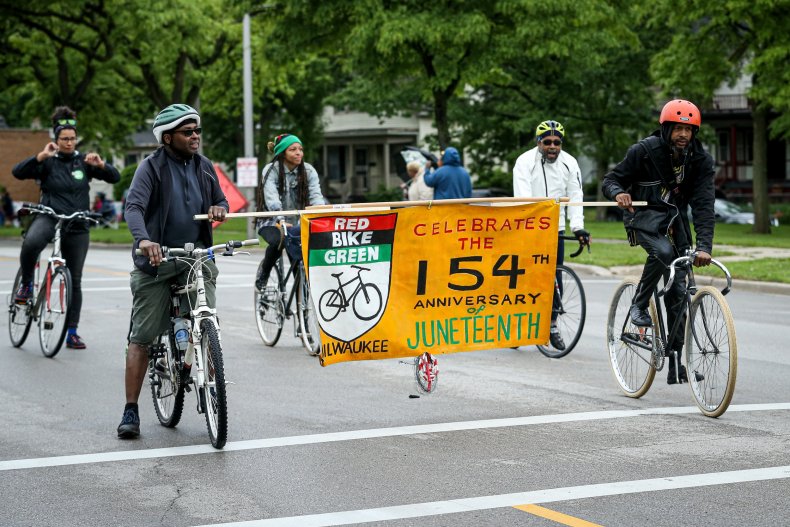 Postmates CEO and founder Bastian Lehmann announced that the food delivery company would also observe Juneteenth as a holiday permanently. "Not just in response to the moment-but to allow all of us time to reflect on the Black American experience (from 1619 to today) & the actions required to move forward together," he wrote in a tweet.
Square and Twitter co-founder and CEO Jack Dorsey also announced that both companies would observe it as a holiday in a tweet thread on Tuesday. He also shared the informational website HellaJuneteenth.com, which also shares a list of other companies that have recognized Juneteenth as a paid holiday.
News outlets and media companies have also started observing Juneteenth as a paid holiday. An internal memo sent by Vox Media CEO Jim Bankoff was shared by Wall Street Journal reporter Ben Mullin on Twitter. The note said that the company would observe Juneteenth this year, but it's unclear if it will recognize the day in future years. "This year we will be observing June 19 as a company-wide holiday," he wrote. "We hope employees can use the day in your own way for reflection and action as well as a mental break from work." Buzzfeed was also listed on Hella Juneteenth's list of companies observing the day. Although this is unclear as to whether the company is making it a paid holiday or observing it.
The NFL also announced that it would make Juneteenth a paid holiday this year, and league offices will be closed. ESPN reporter Adam Scheffer shared a memo from commissioner Roger Goodell on Twitter. "This year, as we work together as a family and in our communities to combat the racial injustices that remain deeply rooted into the fabric of our society, the NFL will observe Juneteenth on Friday June 19th as a recognized holiday, and our league offices will be closed," he wrote. "It is a day to reflect on our past, but more importantly, consider how each one of us can continue to show up and band together to work toward a better future."
Updated 6/12 11:58 a.m. EST: This story has been updated to include the announcement that the NFL would observe Juneteenth as a holiday.