Company Admits Selling N95 Masks to Grocery Chain at 400 Percent Markup, Faces Steep Fine
On Wednesday, a logistics company in New Jersey admitted to selling a grocery story chain N95 masks after they marked up the prices by 400 percent. The company now faces hefty fines.
The TSC Agency and their two partners bought 250,000 N95 masks from a foreign manufacturer in mid-March 2020, right at the beginning of the pandemic. They paid $1.09 per mask but then proceeded to sell 100,000 of the masks to a grocery store chain at a marked-up price of $5.25 per mask.
The company pleaded guilty to violating price-gouging laws and could face a fine of more than $200,000 depending on the monetary loss from the victims.
The CDC says N95 respirators can filter up to 95 percent of air particles, making them ideal to wear during the pandemic. However, since the mask seals to the individual's face an N95 mask can feel harder to breathe in compared to a cloth or disposable mask.
The CDC requests "surgical" N95 respirators are only used for healthcare workers as there is often a shortage of Personal Protection Equipment (PPE). They also warned that about 60 percent of the KN95 respirators on the market in the United States are counterfeits.
"It's really the Wild West out there with so many bad actors ripping people off," Anne Miller, executive director of Project N95 told The New York Times.
The Times reported that companies who make or sell "dubious quality" masks made nearly $34 million in October.
With an uptick in coronavirus cases around the globe and the emergence of the concerning Omicron variant, the CDC still recommends for people to wear masks—especially those who are unvaccinated.
"The things that we've gotten tired of doing, we need to keep doing, especially masking up in indoor places," Dr. Tom Frieden, former director of the Centers for Disease Control and Prevention (CDC) told NPR.
"If people around you aren't wearing masks and you are older or you have a weakened immune system, then you should consider upping your mask game and using an N95 mask," Frieden advised.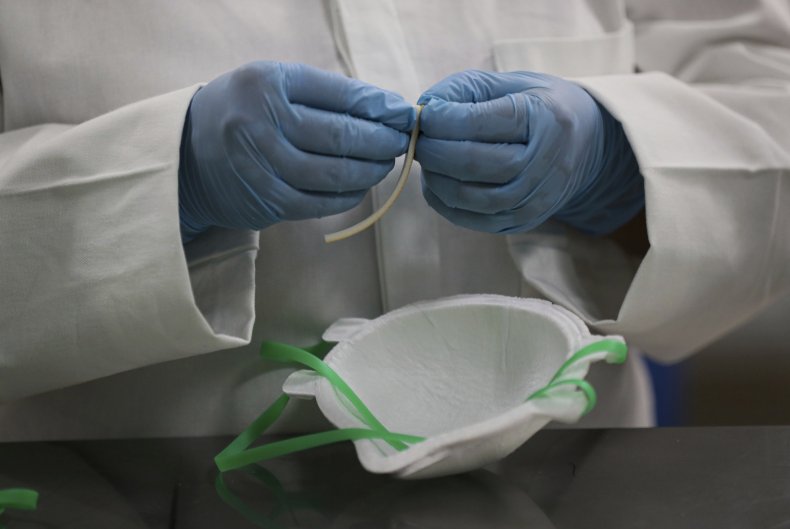 The federal Defense Production Act invoked during the pandemic prohibits the hoarding of materials for resale at higher than prevailing market prices.
According to documents in the case, the unidentified grocery chain sold the masks to customers for less than it had paid to TSC and gave out some of the masks for free to its employees.
A message seeking comment was left Wednesday with an attorney representing the company.
The company pleaded guilty by videoconference before a federal judge.
Sentencing is scheduled for April 13.
The Associated Press contributed to this report.