Company Creates Cardboard Hospital Bed That Also Serves as a Coffin
A Colombian-based advertising company has come up with an unusual solution to the bed and coffin shortage experienced in many South American countries during the COVID-19 pandemic.
Combine them.
Rodolfo Gómez, who manages ABC Displays, told the Associated Press that he came up with the plan to create the cardboard hospital bed/coffin combo after following the surge of COVID-19 cases in neighboring Ecuador.
"Poor families don't have a way of paying for a coffin," Gómez said.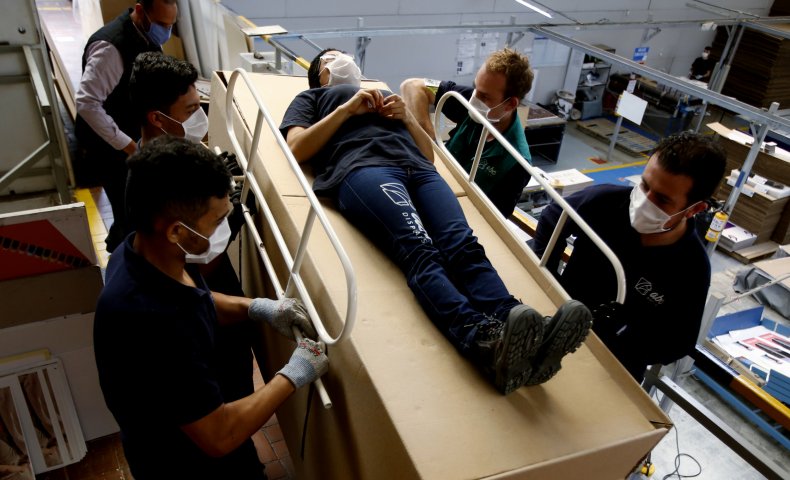 The beds, which can hold up to 330 pounds and cost just $85, were designed and created with the help of a nearby clinic, Gómez said. They are affixed with aluminum railings on the side, similar to what is seen on a typical hospital bed, and stand about 36 inches tall.
Despite the cost-effectiveness of the sturdy cardboard beds, at least one doctor was skeptical adding that the bodies of the dead are often sealed in plastic to ensure the disease does not spread to the environment beyond the corpse.
So far, there is no indication that clinics and hospitals will use the beds. But Gómez said he plans to donate 10 of those beds to Colombia's Amazonas department, where resources are in short supply.
As of May 15, Colombia has reported more than 13,000 cases of COVID-19 and 525 deaths, Meanwhile in neighboring Ecuador, the toll is much higher as authorities there have reported 30,502 confirmed cases of the new coronavirus that has claimed 2,338 lives since March, according to the Johns Hopkins University tracker.
In Peru, there have been more than 80,000 reported cases of COVID-19, resulting in 2,267 deaths. Brazil, the largest country on the South American continent, has reported more than 200,000 cases of the new coronavirus, with just shy of 14,000 deaths from the disease. Recently, Brazilian President Jair Bolsonaro said that the "worst is over" regarding the pandemic in his country, as the rate of infection and death toll continued to grow.
Overall, there have been over 4.4 million cases of coronavirus worldwide and more than 303,000 deaths. The U.S. leads with more than 1.4 million confirmed cases of COVID-19 and over 85,000 deaths.
Last month, authorities in New York City, the epicenter of the new coronavirus in the U.S., were storing bodies of dead COVID-19 patients in refrigerator trucks until they could be buried or released to families.
In some cases, hundreds of unclaimed bodies were buried on Hart Island, located off the coast from the Bronx, according to an NPR report.