Company Slammed for 'Racist' Juneteenth Sign: 'Enjoy Your Fried Chicken'
Maine residents are outraged after a Juneteenth sign in the window of a Millinocket business radiated far beyond the local community.
An image of the sign circulated around the internet on Monday, eliciting thousands of reactions across social media platforms. Maine resident Alura Stillwagon originally posted it on Facebook with the caption, "The racism in Millinocket is real."
Her photo showed a piece of paper taped in a storefront window, with print proclaiming, "Juneteenth." The following lines added, "It's whatever...we're closed. Enjoy your fried chicken & collard greens."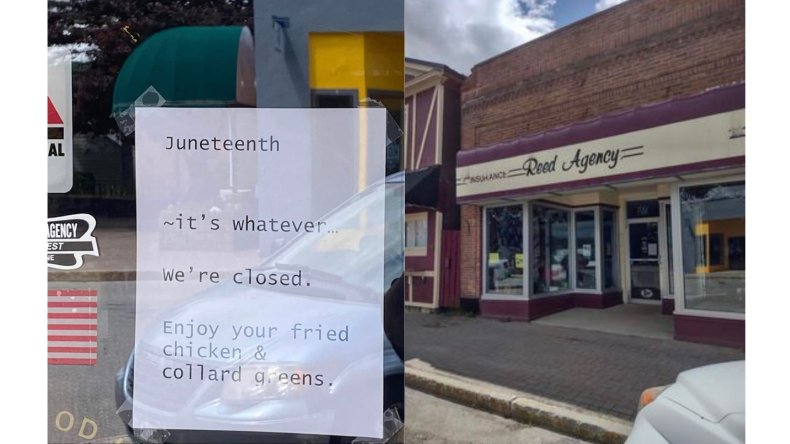 A second photo identified the business as Harry E. Reed Insurance. Newsweek's calls to the insurance agency went unanswered.
"My first reaction was disbelief, I just couldn't understand that someone would post that without seeing anything wrong with it," Stillwagon told Newsweek. "Millinocket is a prominently white town, and I just thought about the few people of color who have to see this racism in their own town."
What is Juneteenth?
Celebrated on June 19, Juneteenth commemorates the day in 1865 when 250,000 enslaved African Americans in Texas were told that the Civil War had ended and they were legally freed. You can read more here.
Is It a Holiday?
Congress made the event a federal holiday on June 16, 2021, and it was signed into law by President Joe Biden the next day.
However, public and media interest surrounding Juneteenth have dropped sharply since last year. The occasion is not universally recognized across the United States—about 24 states, including Maine, have made it a public holiday.
In some states, the holiday has highlighted bitter national divisions. White Lives Matter, a white nationalist group, protested the second annual celebration of Juneteenth Saturday in Franklin, Tennessee. Young white men marched with signs that read "Stop White Replacement" and "It's ok to be white."
Harry E. Reed Insurance has a one-star rating on Google reviews, though all but one of 131 reviews have been hidden.
A one-star review written on Yelp Tuesday reposted the photo of the sign, along with the sarcastic message, "I've been insuring my KKK hood, grandmaster robes and Confederate flags for years with this company. To see them make a racist and off-colored 'chicken and collards' remark is appalling."
On one Reddit forum, an image of the Juneteenth sign amassed over 45,000 votes. Commenters flocked to share their disgust at the business's outright use of racist stereotypes about Black Americans.
"The amount of racist coping and seething in that single sheet of paper is insane. What a bunch of a**holes," said one comment.
"Nice [and] easy way of broadcasting to everyone and the community that your business racist and ignorant and deserves no customers/clients," another user said.
A self-professed Maine resident posited, "This state is having an exceptionally difficult time with this holiday. I was all over the place since Wednesday and I heard people left and right pissing and moaning about it."