Company's Response to Unpaid Internship Leaves Viewers 'Disgusted'
A company was slammed after someone shared their response to an unpaid job internship that was posted on LinkedIn.
The Original Poster (OP), known as u/jareena009, posted the screenshots in Reddit's popular "Antiwork" forum where they received more than 12,400 upvotes and 1,200 comments. The post can be found here.
Unpaid Internships
Experts estimate that nearly 40 percent of internships in the United States are unpaid, although paid internships are 52 percent more likely to result in full-time employment than unpaid work.
According to Chegg, about 30 percent of internships are completed after graduation while the majority of individuals take internships while they are in college.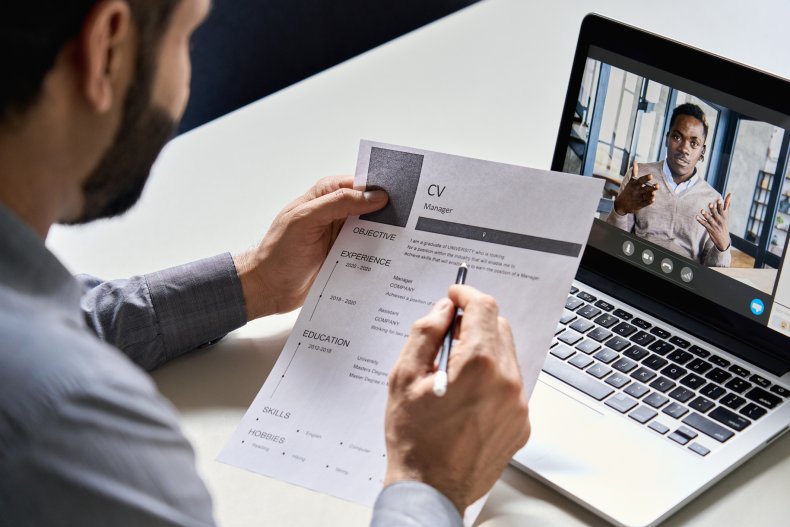 Of those that did take internships, about 27 percent did two, 13 percent did three, and about two percent did more than six internships.
"The unpaid internship posting is bad. The company response is worse," the viral Reddit post read.
In the first screenshot of the post, a LinkedIn user named Kaila VanSumer shared an image of the job listing that had already received 13 applications since it was posted an hour prior from a company called FemiSpace.
'100% Legal'
"Pardon my language, but are you f**king kidding me?" VanSumer wrote in the LinkedIn post which received more than 25,000 interactions.
The job posting offered a remote, unpaid UX/UI Designer internship which required at least two years of experience, a bachelor's degree and working knowledge of at least nine different software programs and technologies, among other listed skills.
The second part of the post showed a screenshot of an alleged message received from the company, stating that while unpaid work is "controversial" it is "100% legal" in the U.S.
'I Feel No Guilt'
"I am so glad that all of you have high pay, tons of experience, and lots of free time to disperse negative energy on the internet," the message read. "Trying to discourage innovative start ups from bringing life-saving solutions to the masses."
The message went on, stating that "as a pre-revenue startup, I feel no guilt about using this option on the market."
The author of the message added that "most lucrative" Fortune 500 companies and "even Congress" have unpaid interns.
"In the US Senate, only 51% of interns are paid by Republicans and as low as 31% by Democrats," the message read.
The author also said that job descriptions are "20 percent wishful thinking," that demand for an internship—paid or unpaid—is "much higher" than supply and that students require experience to graduate and find jobs.
"If you want to help unpaid interns to get a salary, maybe you can offer them a job," the message read. "I can send quite a few of them to you."
Redditor Reactions
More than 1,200 users commented on the post, many criticizing the company for requiring so many qualifications for an unpaid internship.
"Unpaid internships are legal, but this is an illegal internship," a user commented. "Interns have little to no real-world on-the-job experience, and are supposed to be there for college credit. They also can not do ANY profit-making work. Only internal stuff, in the name of learning the profession. Using the term 'intern' on a job doesn't make it true or legal."
"May they fail gloriously," another commented.
"How is this asking for STUDENTS though? A bachelor's degree and 2+ years experience usually isn't a student lol. They're willfully disingenuous," another user commented. "What do they think they stand to gain from replying to her? I feel it can only make them look worse, which it clearly did."
"This is quite disgusting," another commented. "'Other companies do it so there is nothing wrong with it,' what kind of reasoning is that ffs?"
"Says students need unpaid internships to graduate, requests applicants with completed bachelor's degrees," another commented.
Newsweek reached out to FemiSpace and u/jarena009 for comment.
Other Viral Posts
In another viral Reddit post from the "Antiwork" forum, commenters shared their thoughts on the necessary requirements on a job posting offering $8.50 an hour. One requirement was that applicants must have a bachelor's degree.
In other posts, a boss was slammed for telling an employee it's "unethical" to make plans after work and another boss was criticized for firing an employee of seven years for "being late."