Complaint About Pride Flag in Indiana Middle School Classroom Could Lead to District Ban
After a parent complained about a rainbow Pride flag being displayed inside an eighth-grade classroom, the Bluffton-Harrison School District of northeastern Indiana began considering banning the potentially "controversial" flags.
The district school board will meet on Tuesday evening to discuss adding Pride flags to a list of "controversial" items barred from display inside classrooms, according to local news station WANE 15.
A parent complained after a Pride flag was seen inside a classroom within Bluffton Harrison Middle School. The parent contacted District Superintendent Dr. Brad Yates and expressed concerns that the flag might be "a trigger for student disciplinary issues."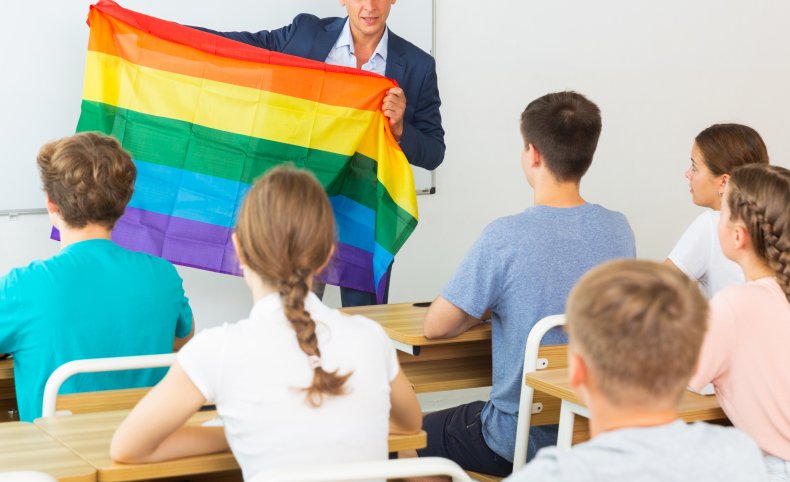 "I spoke with that parent in regards to their concerns and notified them that we need to get some legal advice in regards to the legality of the situation," Yates told WANE.
Yates said the district school board is "currently in the process of developing a school policy to outline parameters for controversial topics displayed in our classrooms throughout our district." The rainbow-colored flag may be added to the list.
It's unclear what other items are on the district's controversial items list. Newsweek contacted the Bluffton-Harrison School District for comment but did not receive a response before publication.
In response to the possible ban, Fort Wayne Pride—the organizers of the regional, annual LGBTQ Pride celebration—issued a public statement on Facebook advising against the ban.
"Many who are opposed [to Pride flags in classrooms] are saying this is promoting sex and politics in the classroom and that it is divisive," the statement read. "The rainbow flag is a welcoming symbol of love to students who may not always feel that at school, in the community, or even in their own home."
Fort Wayne Pride said that rainbow flags in classrooms communicate to students that the school is a safe place that doesn't tolerate anti-LGBTQ bullying. The organization also noted that rates of suicide are higher for LGBTQ youth.
"Classrooms and schools have a responsibility to protect all students from harm and bullying. If a teacher is not even able to hang a flag which represents that protection, what does that say to the LGBTQ students in that community?" the group's statement continued.
If the district bans rainbow flags from being displayed, that will make it the second school district to do so this month.
In mid-August, the Newberg Public Schools Board of Oregon voted to ban all Pride and Black Lives Matter flags from classrooms. The board voted four to three to prohibiting those items as well as any signs, clothing and other items deemed to be broadly "political."
The Newberg ban would only apply to teachers and school staff members, not to students. The school district's lawyers are examining the ban's potential free speech implications before it officially goes into effect.