The Complete List of Military Coronavirus Cases By Base, As Second Navy Ship Faces Major Outbreak
The armed forces have over 6,500 coronavirus cases at more than 150 bases in every state in the United States except Iowa, Indiana, Minnesota, and Montana, according to new data from the Defense Department.
Though the Pentagon continues to keep secret the number of coronavirus cases by military bases, Newsweek obtained a series of updated spreadsheets compiled by individual commands. National Guard forces in at least 20 states have also reported coronavirus cases.
Since Newsweek exclusively reported the spread of coronavirus in the U.S. military on April 9, four states—Connecticut, Idaho, Maine, Michigan—plus the District of Columbia have been added to the American map.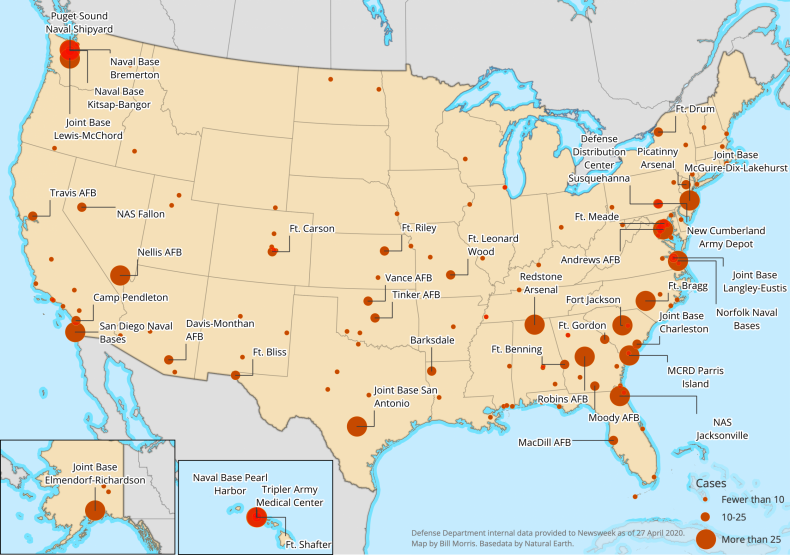 With the services reporting 6,568 cases of COVID-19 among uniformed, civilian, contractors and family members as of early Monday, this is the fourth week in a row where cases grew by roughly 1,000. The Navy's 1,659 cases constitute the rightest of all the services, with 969 sailors aboard the USS Theodore Roosevelt now having been tested positive.
Last week the destroyer USS Kidd, operating on counter-drug missions in the eastern Pacific off the coast of Mexico, had an outbreak of coronavirus, with the Navy reporting 47 cases. Forty-one Navy ships and one Coast Guard cutter have reported cases of coronavirus, according to the internal documents, but only 15 ships have been public divulged.
The Army has 995 cases as of Monday, followed by the Air Force with 347―the lowest infection rate in the armed services―the Marine Corps with 304, and 792 National Guardsmen and women, about three--quarters Army National Guard and one-quarter Air National Guard. The largest land-based cluster in the military is at Ft. Jackson, South Carolina, where some 64 soldiers—most Army recruits in training—came down with the virus.
That outbreak led to a two-week suspension of basic military training, which the Army announced would be lifted after mitigation measures were put in place it its four basic training centers. Activity at the Army's combat training centers—at National Training Center at Fort Irwin, California and the Joint Readiness Training Center at Fort Polk, Louisiana—is at a standstill while Army leaders determine how to safely amass soldiers who go there to conduct collective training in battalion- and brigade-sized elements. Army Chief of Staff Gen. James McConville calls it a "tactical pause."
Twenty state National Guards report cases of coronavirus: Alabama, California, Colorado, Connecticut, Florida, Georgia, Hawaii, Illinois, Louisiana, Maryland, Maine, Michigan, Nebraska, New Jersey, New York, Pennsylvania, Texas, Utah, Washington and Wisconsin. The National Guards in Guam and Puerto Rico also report cases.
More than 20 percent of all military cases have occurred overseas, the highest numbers in Germany and South Korea.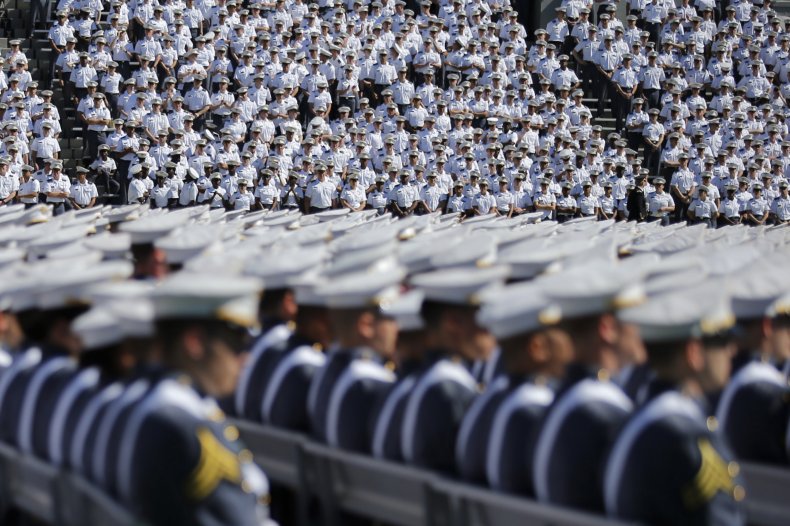 Military Coronavirus Cases (as of 27 April 2020)
Alabama
Alabama National Guard
Anniston Army Depot
Dannelly Field
Ft. Rucker
Maxwell Air Force Base (AFB)
Redstone Arsenal
Alaska
Eielson AFB
Elmendorf AFB
Ft. Greely
Ft. Richardson
Joint Base Elmendorf-Richardson
Arizona
Davis-Monthan AFB
Ft. Huachuca
Luke AFB
Marine Corps Air Station (MCAS) Yuma
Yuma Proving Ground
Arkansas
Little Rock AFB
Pine Bluff Arsenal
California
California National Guard
Marine Corps Base (MCB) Camp Pendleton
Edwards AFB
Los Angeles AFB
March Air Reserve Base (ARB)
MCAS Miramar
Naval Air Station (NAS) North Island
Naval Base Coronado
Naval Air Station Lemoore
Naval Base Ventura County Point Mugu
Naval Base Port Hueneme
Naval Base San Diego (multiple bases)
Point Loma Naval Station
Travis AFB
Vandenberg AFB
Colorado
Colorado National Guard
Buckley AFB
Ft. Carson
Peterson AFB
Schriever AFB
U.S. Air Force Academy Colorado Springs
Connecticut
Connecticut National Guard
Delaware
District of Columbia
Florida
Florida National Guard
Eglin AFB
Homestead ARB
Hurlburt Field
MacDill AFB
NAS Jacksonville
NAS Key West
Naval Station Mayport
Patrick AFB
Tyndall AFB
Georgia
Georgia National Guard
Naval Base Atlanta
Dobbins Air Reserve Base
Ft. Benning
Ft. Gordon
Ft. Stewart
Marine Corps Logistics Base Albany
Moody AFB
Naval Submarine Base Kings Bay
Robins AFB
Hawaii
Hawaii National Guard
Camp H.M. Smith
Ft. Shafter
Hickam AFB
Marine Corps Base Hawaii
Naval Base Pearl Harbor (multiple bases)
Pearl Harbor Naval Shipyard
Schofield Barracks
Tripler Army Medical Center
Illinois
Illinois National Guard
Captain James A. Lovell Federal Health Care Center
Naval Base Great Lakes
Rock Island Arsenal
Scott AFB
Kansas
Ft. Riley
Ft. Leavenworth
McConnell AFB
Kentucky
Louisiana
Louisiana National Guard
Barksdale AFB
Ft. Polk
Naval Base New Orleans (multiple bases)
Maine
Maryland
Maryland National Guard
Aberdeen Proving Ground
Andrews AFB (multiple bases)
Ft. Meade
NAS Patuxent River
Naval Support Activity Bethesda
U.S. Naval Academy
Massachusetts
Army Corps of Engineers Concord
Michigan
Mississippi
Columbus AFB
Keesler AFB
Naval Construction Battalion Center Gulfport
NAS Meridian
Naval Base Pascagoula
Missouri
Ft. Leonard Wood
Whiteman AFB
Nebraska
Nebraska National Guard
Offutt AFB
Nevada
New Hampshire
Army Cold Regions Research and Engineering Laboratory
New Jersey
New Jersey National Guard
Joint Base McGuire-Dix-Lakehurst
Picatinny Arsenal
New Mexico
Cannon AFB
Holloman AFB
Kirtland AFB
New York
New York National Guard
Ft. Drum
Naval Operational Support Center New York City
U.S. Military Academy
North Carolina
Ft. Bragg
MCAS Cherry Point
MCB Camp Lejeune
Seymour Johnson AFB
North Dakota
Ohio
Oklahoma
Altus AFB
Ft. Sill
Tinker AFB
Vance AFB
Oregon
Pennsylvania
Pennsylvania National Guard
Defense Distribution Center Susquehanna
New Cumberland Army Depot
Pittsburgh Air Reserve Station (Pittsburgh IAP)
Tobyhanna Army Depot
Rhode Island
South Carolina
Fort Jackson
Joint Base Charleston (multiple bases)
MCAS Beaufort
MCB Parris Island
Shaw AFB
South Dakota
Tennessee
Naval Base Memphis
Navy Personnel Command Millington
Texas
Texas National Guard
Dyess AFB
Ft. Bliss
Ft. Hood
Ft. Sam Houston
Goodfellow AFB
Joint Base San Antonio (multiple bases)
Lackland AFB
Sheppard AFB
Utah
Hill AFB
Tooele Army Depot
Utah National Guard
Virginia
Joint Base Langley-Eustis (multiple bases)
Ft. Belvoir
Ft. Lee
NAS Norfolk
NAS Oceana
Naval Base Newport News (multiple bases)
Naval Base Norfolk (multiple bases)
MCB Quantico
Pentagon Reservation and Buildings (multiple bases)
Washington
Washington National Guard
Fairchild AFB
Joint Base Lewis-McChord (JBLM) (multiple bases)
Naval Base Bremerton
Naval Base Kitsap-Bangor (multiple bases)
Naval Station Everett
Puget Sound Naval Shipyard
West Virginia
Wisconsin
Wisconsin National Guard
Ft. McCoy
Wyoming