Computers in North Korean Embassy Where Top Trump-Kim Summit Negotiator Worked Stolen in Lead up to Summit
As President Donald Trump prepared to meet North Korean leader Kim Jong Un for a high-level summit in Vietnam, a group of armed men entered the North Korean Embassy in Madrid and stole four computers. A North Korean official involved in the Trump-Kim summit was the ambassador to Spain until 2017.
The men allegedly bound and gagged embassy employees as they carried out the robbery, which took place last Friday The Spanish outlet El Confidencial said that one of the embassy employees had broken free and alerted neighbors to the robbery by screaming in Korean. It is unclear whether there were any serious injuries during the robbery, but paramedics later arrived at the door of the embassy to treat the employees who had been tied up.
The men were allegedly in the building for at least four hours before they sped off with the computers.
Spanish authorities, including local police and the Ministry of Interior, were now investigating the events. It was unclear what information was on the stolen computers or who the suspects were.
Ramon Pacheco Pardo, an expert on the Koreas at the Vrije Universiteit Brussels' Korea Foundation, told Newsweek that the Madrid Embassy, which is in a residential neighborhood, was an easy target.
"One of the reasons is that there isn't much security. It's a normal house that is easy to access," Pacheco Pardo told Newsweek. "North Korea doesn't have many embassies in Europe to begin with. So anyone trying to steal from an North Korean Embassy doesn't have many choices... There is some speculation that this is also related to Kim Hyok Chol having been ambassador there. But I should stress that this is pure speculation."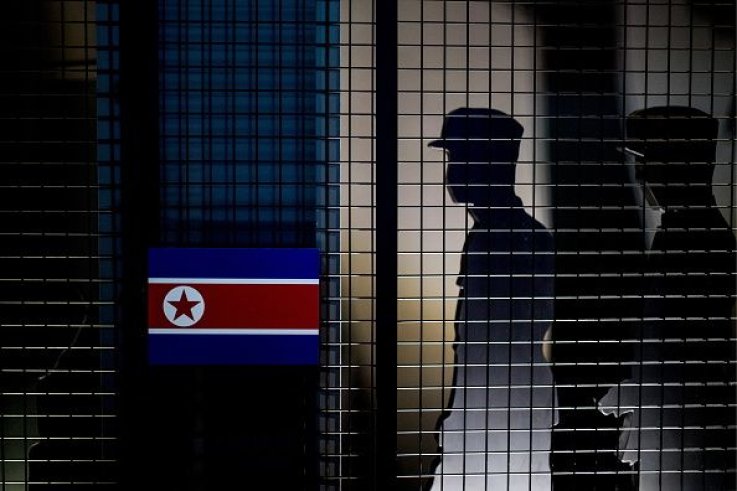 Spain expelled North Korea's top-level diplomats from the country in 2017, after Pyongyang carried out several high-profile nuclear tests. Kim Hyok Chol, an official who has been leading North Korea's denuclearization with the U.S., was the North Korean ambassador to Spain at the time of the expulsion. He has been promoted quickly since leaving Spain, according to experts. The highest level official currently appointed to the North Korean Embassy in Madrid is a trade attaché.
Spain was the fourth country to expel a North Korean ambassador because of the country's nuclear program that year.
Kim Jong Un is also staying in the Spanish-owned Melia Hotel in Vietnam's capital while the negotiations with Trump continue. It is one of the country's top luxury hotels.
Computers in North Korean Embassy Where Top Trump-Kim Summit Negotiator Worked Stolen in Lead up to Summit | World