'Con-Cast': Trump Calls NBC 'The Worst' Hours Before Appearing on Network for Town Hall
President Donald Trump trashed NBC as "the worst" shortly before he was set to appear at a town hall on the network on Thursday.
Trump made the remarks at a North Carolina campaign rally hours before his Miami, Florida town hall event was scheduled to take place at the same time as Democratic presidential nominee Joe Biden's ABC town hall event. Despite agreeing to participate, the president insisted he was being "set up" by NBC and took aim at parent company Comcast while commenting on several network personalities including the host of the town hall, Savannah Guthrie.
"So, you know I'm being set up tonight, right? I'm doing this town hall with Con-cast," Trump said. "C-O-N. Con, right? Because it's a con job. C-O-N, not C-O-M. So, I'm doing it and it's NBC. The worst. Home of sleepy-eyes Chuck Todd and some others... Lester Holt, he's a beauty."
"They gave Joe Biden, a week ago, a town hall and it was meant for children," Trump added. "It was a joke. And so, they asked me if I'd do it, and I figured what the hell, we've got a free hour on television. And we have Savannah Guthrie, she's always lovely, isn't she? But I figured why not."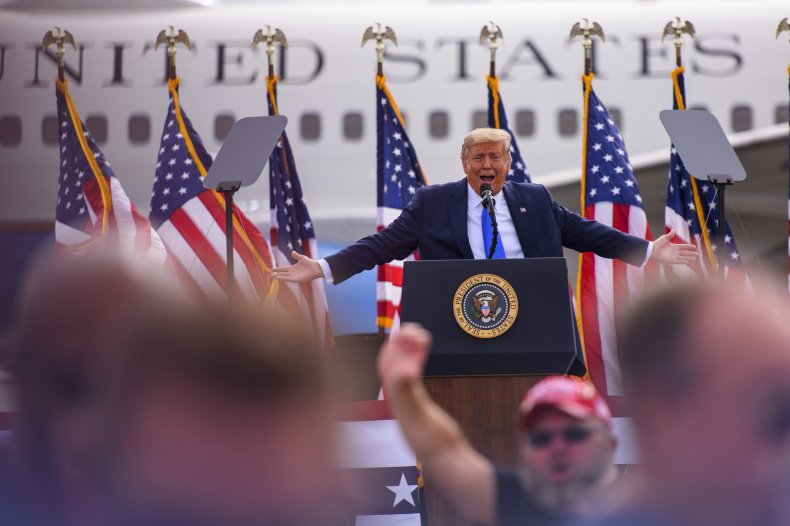 In addition to Trump's attacks on NBC, where he hosted The Apprentice for more than a decade, the president spent a considerable amount of time disparaging "fake news" and the media. He called journalists covering the rally "the enemy of the people," a phrase that is historically infamous for its use by figures including Soviet leader Joseph Stalin, who used it to refer to political dissidents, and Nazi Propaganda Minister Joseph Goebbels when referring to Jews.
Trump's town hall appearance comes after he declined to participate in a scheduled second presidential debate with Biden, also planned to be in a town hall format on the same night. Trump refused to take part after the Commission on Presidential Debates moved the debate to a virtual format over concerns sparked by the president's COVID-19 diagnosis.
Biden's ABC town hall event, set to take place at 8 p.m. on Thursday in Philadelphia, Pennsylvania, was scheduled shortly after Trump refused to debate. On Wednesday, NBC scheduled Trump's town hall in direct competition with the ABC event, a decision that prompted criticism from many, including former NBC host Katie Couric, who tweeted that "having dueling town halls is bad for democracy."
Both candidates are still scheduled to participate in the final presidential debate, which is set to take place at Belmont University in Nashville, Tennessee on October 22.
Newsweek reached out to the Trump campaign for comment.