A resurfaced clip of Conan O'Brien on his old late-night talk show has led to some calling for him to replace Jimmy Fallon.
Fallon has found himself in hot water after a number of staff on his The Tonight Show Starring Jimmy Fallon complained of a "toxic" workplace and being intimidated by show bosses—including the host himself.
O'Brien is no stranger to late-night talk show hosting and fronted the successful Late Night with Conan O'Brien for 16 years. After that role, he hosted The Tonight Show for just under a year. He then hosted another talk show Conan on cable network TBS, until 2021.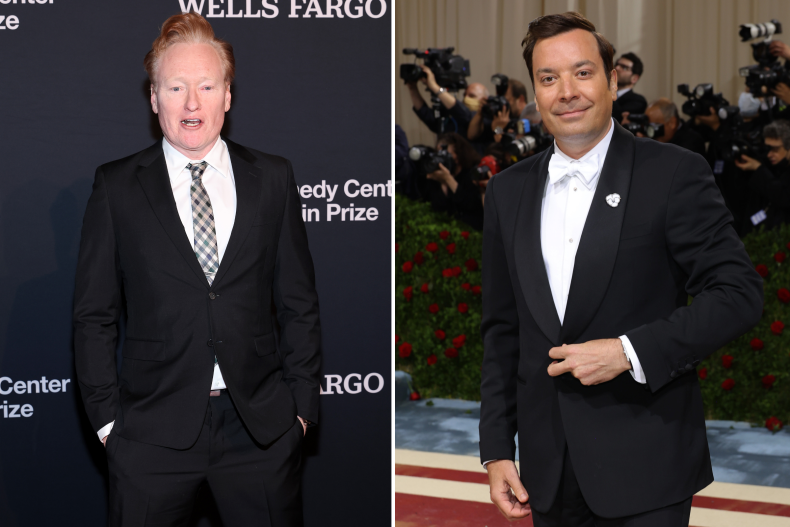 Now, some people want him back and shared a clip from February 2003 where he interviewed actress Jennifer Garner.
In the clip posted to X, formerly Twitter, Garner chides O'Brien for what she believes is using an incorrect word.
He asked her if she "snuck" into somewhere, but Garner retorted, "snuck isn't a word, you went to Harvard you should know that."
But unbeknownst to Garner, the comedian kept a big dictionary under his desk and proceeded to look up the word.
"Look right here, 'snuck, past and past participle of sneak,'" O'Brien told an embarrassed-looking Garner before holding the dictionary up to the camera for the audience to.
"Jimmy Fallon this, Jimmy Fallon that, just forget it. This ladies and gentlemen is why Conan O'brien is the GOAT. He owned Jennifer Garner there. 😂," the X user captioned the clip which has been viewed almost 897,000 times.
"I love Conan. I miss Conan," wrote one person in the replies.
And another added: "Conan is the goat talk show host."
O'Brien left the talk show circuit in 2021 and now hosts a popular podcast, Conan O'Brien Needs A Friend, while also building his media company, Team Coco.
He made his return to TV with the HBO Max travel special Conan O'Brien Must Go.

Fallon apologized to staff on Thursday after the Rolling Stone expose was published but has since gone silent on social media.
His show went through nine showrunners in nine years and staffers shared allegations of working in a "pretty glum atmosphere," while accusing the host of "erratic behavior."
Despite current and former staffers painting a bleak picture of working at The Tonight Show, one person had a different experience entirely.
An unnamed staffer told People Fallon was "a really, really positive guy" who was "super communicative" and that was "disheartening" to see "these old accusations being brought up again."