Trump's NBC Town Hall: Conan O'Brien Jokingly Compares It to His Own Late Night Firing
Not usually one to comment on political matters, Conan O'Brien couldn't help but partake in the criticism aimed at NBC for its decision to host a town hall meeting with President Donald Trump at the same time as an already-scheduled town hall with Joe Biden airs on ABC. But Conan being Conan, the always-clever comedian did so with humor and a wink at his own troubled history with NBC.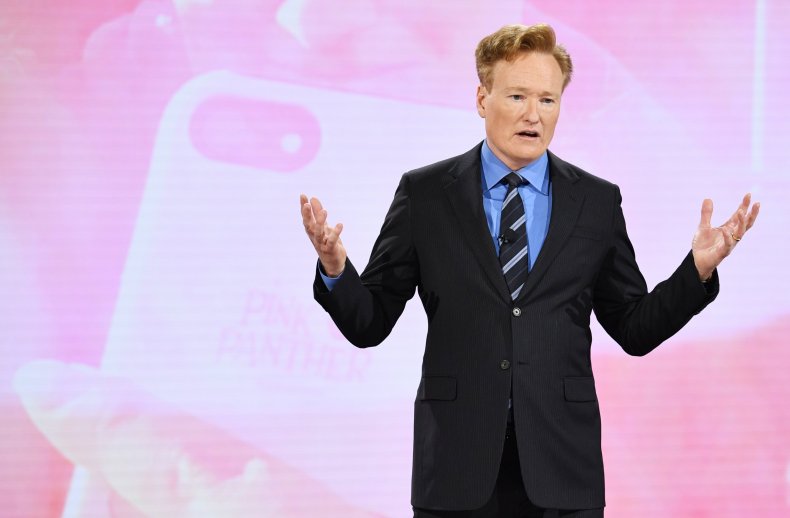 He wrote on Twitter today: "I can't remember the last time I was this shocked by an NBC programming decision."
Of course, this was seen as a sly reference to the network's much-maligned programming decision that occurred when O'Brien was host of The Tonight Show. He had taken over the long-running program in July of 2009 after hosting it's follow-up show Late Night for 16 years. At the time, he was replacing Jay Leno, a favorite amongst older demographics and advertisers.
The younger comedian started off strong with a big audience, but viewership soon started to sag, perhaps owing to the more traditional comedic fare many were accustomed to from Leno (and his predecessor Johnny Carson). After only seven months of O'Brien helming The Tonight Show, NBC announced Jay Leno would return to the time slot for a half-an-hour show (he had been running an hour-long program at 10:00 p.m.) with O'Brien getting pushed to just after midnight. Saying it would tarnish the legacy of the program, O'Brien instead elected to step down. Leno then resumed the role of The Tonight Show host until Jimmy Fallon succeeded him in 2014.
O'Brien's run on The Tonight Show was only 145 aired episodes over the course of seven months and three weeks--the shortest in the sixty-year history of the program. Of course, he never left the spotlight thanks to his committed fans, many of whom saw him as he trekked around the world on a comedy tour following his Tonight Show departure. He also soon began hosting the aptly-named Conan late night show on TBS and even launched a popular podcast, where he's had long-form interviews with the likes of Michelle Obama and Willie Nelson.
NBC has faced a lot of backlash for its decision to broadcast Trump's talk opposite Biden's, with many people calling for a boycott of the network. Biden booked his town hall first to fill the void left from a cancelled one-on-one debate with Trump. The two were originally supposed to meet again this week, but it was cancelled after Trump contracted the coronavirus and refused to hold the debate virtually. As of now, Trump and Biden are scheduled for a final debate next week on Thursday, October 22.
Responses to Conan's tweet ranged from supportive to angry, with some expected goofiness thrown in. (Included in the thread was a post that read: "Random and non-related question, but I would LOVE to know if you have a favourite cheese? (or vegan alternative?)."