Interest in acquiring a concealed carry handgun permit doubled in the month that followed the mass shooting at a high school in Parkland, Florida—the largest spike in interest since the Newtown, Connecticut school shooting—according to a new report.
The National Carry Academy, which offers in-person and online concealed carry courses, said on Monday that online enrollments spiked 103.5 percent from 200 to 407 in the 24 hours following the February 14 massacre at Marjory Stoneman Douglas High School, which left 17 people dead.
"We basically doubled overnight," Schutrop told Newsweek on Tuesday. "People are concerned over their own protection and at least want to learn more about if concealed carry is for them and how they can protect themselves and their families."
Schutrop said he usually sees a bump after high-profile shootings and when the political discourse around gun control heats up.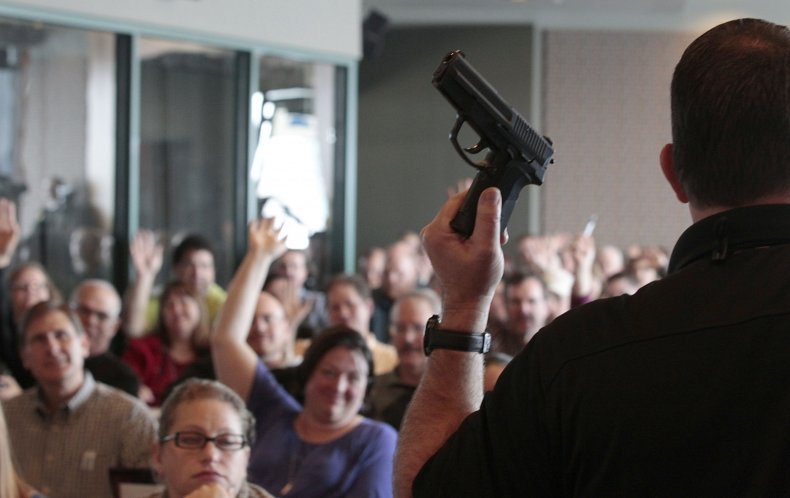 "A lot of people are concerned about the gun control debate," he said. "They want to get their permits before it might be taken away from them."
Schutrop didn't have figures for in-person classes but he said the spike was similarly reflected among that service too.
Those statistics, however, might not accurately reflect the interest level in concealed carry because requirements for such permits vary from county to county and state to state.
In Alabama, for instance, individuals in some counties are able to acquire a pistol permit with little more than a photo ID if they pass a background check—meaning applicants aren't always required to take a gun safety course or display live fire proficiency in order to get a permit. Once that individual has a pistol permit, he or she can then apply for a concealed carry permit.
Alabama is a "shall issue" state, meaning if the applicant has a pistol permit and meets the concealed carry requirements, the issuing body must grant that person a concealed carry permit. More restrictive states such as California or New York are "may issue" states, which give the permit-issuing body more discretion in deciding who qualifies.
Additionally, Alabama and 27 other states exempt permit or license holders from federal background check requirements at the point of sale, according to the gun safety group Giffords.
RELATED: Kids and Guns: How Easy Is It for Children to Get One?
But as interest in concealed carry weapons has increased, so does the momentum on the gun violence prevention side of the firearms debate.
Everytown for Gun Safety—the nation's largest gun safety group that grew out of the group Mayors Against Illegal Guns—and its grassroots activist network Moms Demand Action for Gun Sense in America have added more than 155,000 new volunteers to their ranks since Parkland, Everytown said in a statement on Thursday. Everytown has also received nearly 2 million new online supporters.
For comparison, the NRA—founded in 1871 and the nation's self-described "longest-standing civil rights organization—purports to have five million members, though that might be augmented by dubious accounting.
Polls also appear to show growing support for stricter gun legislation. A Quinnipiac poll conducted in the days after Parkland found that 97 percent of gun owners supported universal background checks on firearms purchases. An Associated Press-NORC Center for Public Affairs Research survey published on March 23 found that "nearly seven out of 10 adults now favor stricter gun control measures"—the highest level of support since the AP first started asking the question five years ago.