People Are Getting Non-Resident Concealed Carry Permits Through Virginia, Skirting Local Gun Laws
David Chipman was lounging around his home, browsing the internet on a Sunday morning when an ad to apply for a concealed carry handgun permit in his state of Virginia appeared on his computer screen.
"This clickbaity thing just popped up: 'Apply for free,'" Chipman, a senior policy adviser for the gun control group Giffords, told Newsweek. "I said, I'm in this thing, it might be useful to know how this process works."
The ad took him to a website that offered a one-hour video on gun safety, followed by a quiz.
Chipman took the course about a year ago and recalled skipping the safety video and moving directly to the test. He answered 19 of the 20 questions correctly, he said.
"Watching a video—or not being forced to watch the video—taking a test... that isn't training to me," Chipman said. "I got a concealed carry [and] I was never forced to touch a gun or fire a gun."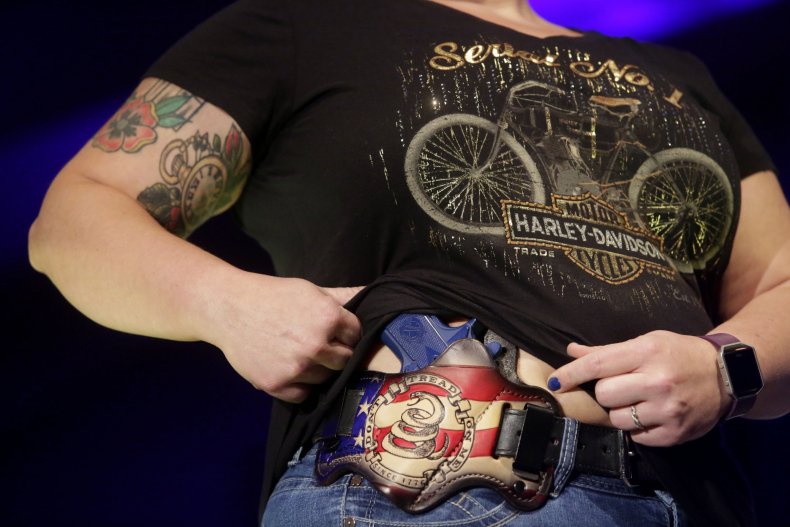 If he really wanted one, this wouldn't be Chipman's only channel for a concealed carry permit. He's also a retired Alcohol, Tobacco, Firearms and Explosives agent, which means he, like other retired law enforcement officers, can apply for a nationally recognized concealed carry permit. But the federal route had stiffer requirements.
"It was easier for me to get a concealed carry license as a resident of Virginia than it would have been to get a concealed carry license as a retired federal agent, which was shocking to me," he said.
The law that allows retired law enforcement officers to apply for concealed carry permits mandates annual live-fire proficiency training, Chipman said. Virginia, which also offers nonresident concealed carry permits, does not.
"You might not even need to touch a gun in order to get a gun permit," Chris Schutrop, the chief executive officer of National Carry Academy, which offers in-person and online concealed carry courses, told Newsweek in a separate interview.
Schutrop said Virginia's concealed carry permits have become particularly attractive to out-of-state residents.
Related: What is a 'badge factory'? Trump donor Robert Mercer can carry concealed firearms anywhere in the U.S.
"Virginia is so popular for two reasons," he said. First, as Chipman experienced, the application can be done entirely remotely. Nonresidents can, therefore, obtain a concealed carry permit through Virginia, thereby circumventing their own state's concealed carry permit application process.
The second draw is that Virginia's nonresident concealed carry permit is recognized by more than 30 states. That recognition is known as a reciprocity agreement.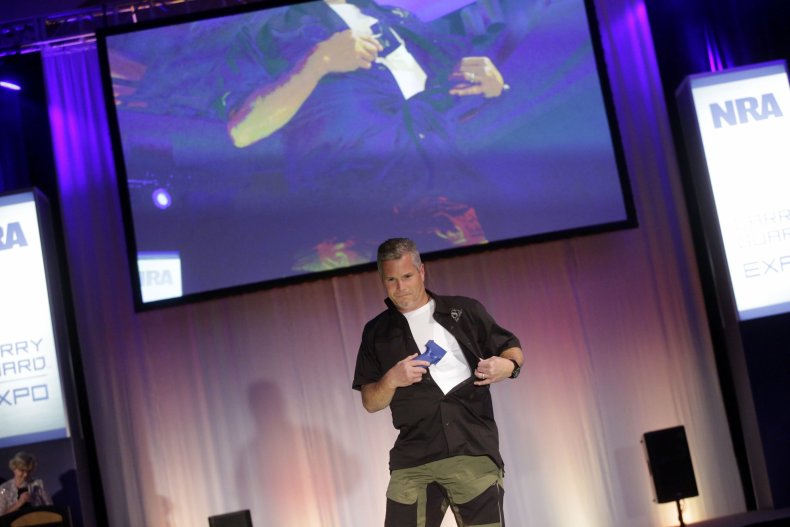 "There's a lot of people who might be carrying [a concealed firearm] in your state who's using an out of state reciprocity agreement that both states have approved," Schutrop said.
The practice of skirting one's own state or county gun laws is so popular that the gun safety community has a phrase for it: Forum shopping.
Virginia expanded its reciprocity agreements in 2016, making it difficult to determine long-term trends, but the most recent data shows a spike in nonresident permits.
The Virginia State Police, which administers the state's firearms permits, told Newsweek it issued 8,760 such permits in 2017, a nearly 25 percent increase over the 6,601 permits from the year before. As of Wednesday, the agency had issued 27,332 nonresident concealed carry permits since July 2004, when the Virginia General Assembly established the legislation.
In Chipman's case, as would be the case for nonresidents, he never encountered a public employee at any point during his application process. After taking the online course and paying about $100 for the certificate of completion—the course itself is free, but there's a fee for the proof of completion—Chipman dropped off his certificate off at a UPS store.
"I never met a government official throughout the entire process," Chipman said. "I met Marge at the UPS store."
The current state-by-state reciprocity deals, like what Virginia has arranged with most of the country, could become federal law. In December 2017, the House passed the Concealed Carry Reciprocity Act, which would allow individuals with concealed carry permits in one state to travel to another state with stricter gun control rules. Gun control advocates believe it makes the "weakest link" state the prevailing law of the nation, while gun rights advocates argue the bill "eliminates the confusing patchwork of state laws that have ensnared otherwise law-abiding gun owners."
The bill is currently in the Senate and has been referred to the Committee on the Judiciary.