Research Finds at Least 1,300 Non-Self-Defense Deaths at Hands of Concealed Carry Holders Since 2007
Since 2007, at least 1,300 people have died at the hands of a concealed carry permit holder for reasons other than self-defense, a new analysis from the non-profit Violence Policy Center shows.
Using public reporting and information culled from some individual state databases, the center was able to compile a list of 1,335 people killed by someone who, at the time, possessed a concealed carry permit.
There are several important caveats to their analysis, including that the weapons involved were not necessarily related to the individuals' practice of concealed carry. But in a conversation with Newsweek, the group's legislative director, Kristen Rand, explained that the purpose of the analysis was to reflect on the behavior of people who receive these licenses, not necessarily the practice of concealed carry itself.
The Violence Policy Center is a left-leaning organization which advocates for gun control.
Erich Pratt, senior vice president of the gun-rights group Gun Owners of America, thought that the focus on adverse use of firearms by concealed carry holders was unfair, given the vast number of permissible uses that occur every year.
The Centers for Disease Control and Prevention has reported that estimates generally suggest around or more than 500,000 incidents each year involve a victim using a firearm in self-defense. Some research points to a lower number, around 100,000, although the data used for this calculation may be subject to errors underestimating the final tally.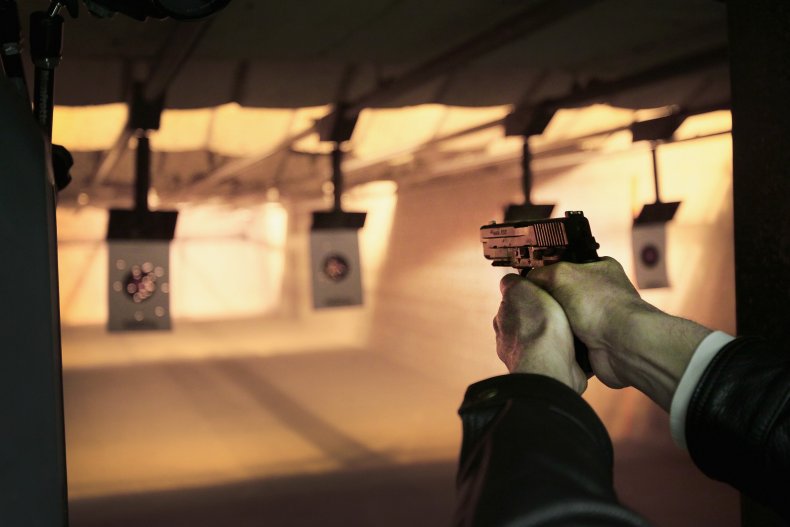 Pratt told Newsweek that conclusions should not be drawn and policy should not be made "when you're only focusing on the negative aspects" of concealed carry. He likened it to errors in the medical profession, in that doctors continue to perform surgeries even though a small number of operations will inevitably involve recklessness or fatalities.
The Violence Policy Center's data is often obtained through media reports while there is a pending criminal charge, and in many of these cases a defendant may assert a self-defense justification during trial. However, Rand says that her organization continually updates its database to remove individuals acquitted of wrongdoing, adding that only a "very small" number of cases represent exonerations or indefinitely pending proceedings.
A majority of the cases received by the center are incidents of suicide, where concealed carry permit holders turn a weapon against themselves. (This is due, in large part, to Michigan's data collections, one of the few states that collects information on suicides by permit holders.) More than 500 concealed carry permit holders have died by suicide since 2007.
The group's data is not exhaustive, and should not be taken to be representative of the population at large. However, the report does serve as a trove of information about individual incidents spanning more than a decade where a permit holder is believed to have killed another individual without justification.
Nearly 400 incidents involved a criminal conviction of a permit holder, the next-largest category maintained by the group. Together, suicides and criminal convictions constitute the vast majority of cases collected by the group. The third-largest set of incidents, representing pending charges, was only as large as around 70 cases.
While debate rages among gun-rights supporters and opponents about the merits of different gun policies, when it comes to research regarding concealed carry, the returns are mixed. The RAND Corporation conducted a broad survey of the best research on concealed carry laws, finding that there was "inconclusive evidence for the effect of [permissive] laws on homicides."
Some rigorous studies have found that permissive concealed carry rules lead to a decrease in homicides, and others find that these laws increase the number of homicides or have no substantive effect.
Americans are also largely divided on the politics of concealed carry laws. According to a 2018 Pew Research Center survey, 45 percent of U.S. adults feel that concealed carry rules should be expanded to cover more places. Along party lines, 26 percent of Democrats feel this way and 68 percent of Republicans do.
Although there is bipartisan consensus on the current framework. Only 27 percent of Republicans, and substantially fewer Democrats, feel that concealed carry should be allowed without a permit.