Concerned Second Grader Gets 'Turtle Crossing' Signs Installed After Writing Letter to Mayor
An 8-year-old boy in Indiana is a hometown hero after convincing the mayor to put up "turtle crossing" signs.
Second-grader Jack Wietbrock wrote a letter to West Lafayette Mayor John Dennis after Jack, his mom and brother saved a baby turtle on Cherry Lane last month.
Mom Michelle Wietbrock told Good Morning America Friday that Cherry Lane is surrounded by a number of ponds and, unfortunately, some turtles don't make it across the street.
"About the third time it happened, there was a baby with one of them and we helped the baby cross the road," Wietbrock told GMA. "Once I got back in the card my son said,'I wonder if we should write a letter to the mayor.' I said, 'OK, sure!'"
According to the Lafayette Journal & Courier, the night he and his family saved the baby turtle, Jack wrote a letter—in clear, handwritten block letters:
"Dear Mayor Dennis, There are turtles crossing the road and they need our help. Can you please put up a turtle crossing sign? Thank you, Jack Wietbrock, 2nd grade."
On a second page of loose leaf paper, Jack drew a picture of a stopped car and someone carrying a turtle. He captioned it: "We saved a baby turtle."
On Tuesday morning, the mayor summoned Jack and his family to West Lafayette's weekly board of works meeting.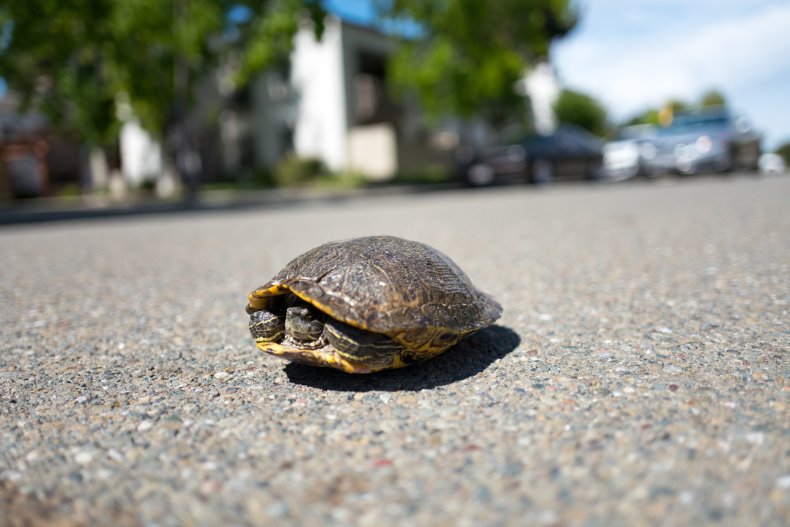 "The great thing about West Lafayette is we embrace the unique and, in some cases, the odd," Mayor Dennis said, after inviting Jack to the podium. "So, we felt, 'You know what, there's something we can do here that's going to be kind of cool and celebrates Jack's initiative on making us aware of a problem.'"
Dennis asked Jack to say a few words to the city's administration:
"I just want to say I care about the whole Earth and everyone on it," Jack said. "That's all."
The city's very first "Turtle-Xing" signs were installed later that day.
Jack and his brother, Teddy, posed by the signs shortly after they went up along Cherry Lane.
"A few weeks ago, my son wrote a letter to our awesome @MayorJohnDennis @WestLafayetteIN about the need for a turtle crossing and saving a baby turtle," Michelle tweeted, "This happened today and I couldn't be more proud! #makeadifference"
The mayor told the Journal & Courier that the street department, which has its own sign-making machine, made the warnings "to help our turtle population."
Concerned Second Grader Gets 'Turtle Crossing' Signs Installed After Writing Letter to Mayor | U.S.