Concerns Mount Over Looming Surge in Bankruptcy as COVID Medical Debt Soars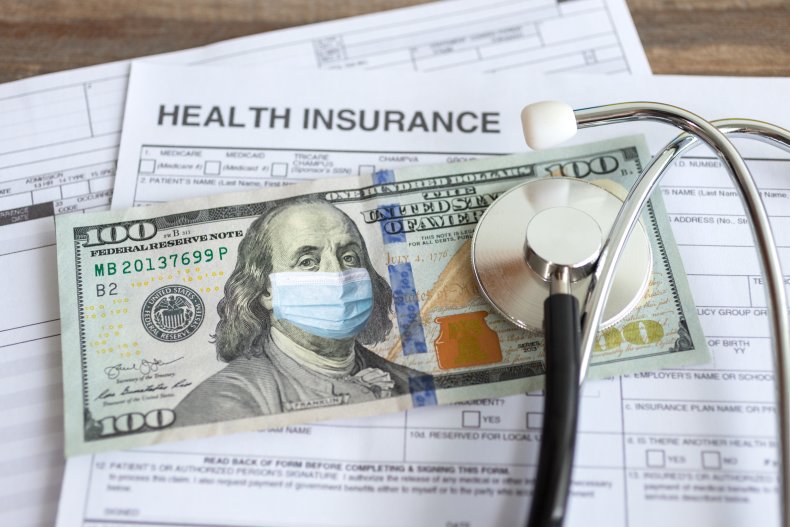 Case numbers and daily death tolls continue to drop, the majority of U.S. adults are fully or partly vaccinated, mask mandates are vanishing and summer socializing looks like it's back on the calendar. But even as America keeps marching steadily toward a post-pandemic future, another COVID-19 crisis looms—a debt and bankruptcy disaster fueled by mounting medical bills associated with treatment, especially among the most financially vulnerable parts of the population.
As many as 12.5 million Americans could already be saddled with COVID-related medical debt, based on a LendingTree survey conducted in March. The nationally representative poll found that 60 percent of the respondents polled had medical debt, with about 10 percent stemming from the virus; the amount typically owed ranged from $5,000 to $9,999. That suggests the collective debt for COVID treatment so far could be between $60 billion and $125 billion.
That number will inevitably grow sharply in coming months, experts say, as a trio of factors kick in: Expenses will mount for COVID "long-haulers" with ongoing health problems; more medical bills related to the virus will pass from the seriously past due stage into collections; and a panoply of government measures that were designed to help people stay afloat during the pandemic will end, from eviction and student-loan-payment moratoria to enhanced unemployment benefits, making it harder for more people to pay off the accumulating bills for treatment. That in turn is expected to lead to a spike in personal bankruptcies by the end of 2021 and into 2022.
"A lot of people are getting bills they can't pay," says David Himmelstein, a professor at City University of New York School of Public Health at Hunter College and author of several seminal studies on medical bankruptcy. "We're heading towards a mounting debt crisis for many people who have been sick during this COVID period that will ripple through the economy unless something is done about it."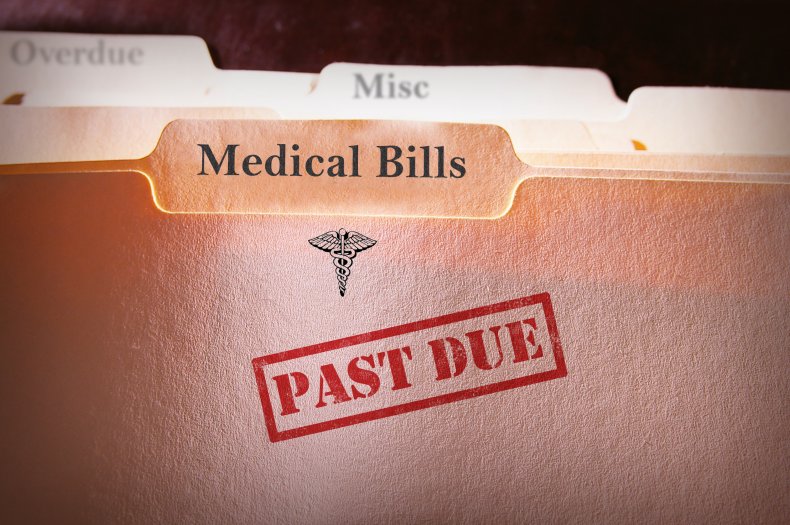 Troublesome signs are already cropping up. From May 2020 to March 2021, medical debt among members of Credit Karma, a credit-monitoring site, grew 6.5 percent, by $2.8 billion, while the number of people facing past-due medical bills jumped 9 percent. In most cases, medical debt doesn't even make it to a credit reporting agency such as those tracked by Credit Karma until after a 180-day past-due waiting period, so that uptick is only expected to spiral higher as 2021 progresses.
Especially foreboding is the latest data on bankruptcy filings. In March 2021, the number of Americans filing for personal bankruptcy protection shot up 30 percent from February, to 44,103, the biggest number since March 2020 when the pandemic first took hold in the U.S. Rising medical bills and the ending of government pandemic-aid programs are key factors driving the increase, says Jonathan Carson, co-CEO of Stretto, a software company whose technology manages the online filings in most personal and corporate bankruptcy. He says, "It's gonna be a turbulent ride for the consumer."
That's just the start of what's to come, experts say, given that even before the pandemic medical debt was the leading factor in personal bankruptcy filings, associated with two-thirds of them, according to an American Journal of Public Health analysis. "It's been just a little over a year since COVID started, and it takes sometimes, a year or two for the medical debt issue to start rearing its head," says Allison Sesso, executive director of RIP Medical Debt, a non-profit that has bought and retired nearly $4 billion of outstanding debt since 2014. "We're just on the cusp. It's going to get ugly."
Plus, it's not just COVID-19 sufferers who are in a financial bind now. After medical debt, the other leading cause of personal bankruptcy is unexpected job loss, that other hallmark of a pandemic that resulted at its height in a national 14.7 percent unemployment rate. Add in the looming end on June 30 to the Centers for Disease Control's national moratorium on evictions—more than 8.3 million renters, or 15 percent of the national total, are behind, according to the Census Bureau—and the expected resumption in October of collection of federal student debt payments.
"The magnitude of the coming medical debt crisis is not yet clear," says Brian Martucci, finance editor at MoneyCrashers.com, a personal finance website. "But given that tens of millions of Americans lack health insurance and hundreds of thousands have been hospitalized with COVID since the pandemic began, it's certain that many individuals and families will face or are already facing life-changing financial trauma."
'I Don't Know What I'll Do'
Count retired bookkeeper Sherry Hoak, 65, among those already hit hard by the physical, emotional and financial fallout of COVID. Once or twice a week, she sits at her kitchen table in Fort Worth, Texas with her daughter Cindy Cox, who helps her mom make a few calls to the debt collectors. It's about all that Hoak, a COVID survivor now grappling with heart and lung ailments that she didn't suffer from prior to the virus, has strength for since returning home from a two-week hospital stay in January. Her husband Ken Hoak was less fortunate; he was infected around the same time as his wife and died on January 28 in the same hospital, Harris Methodist, after a month on a ventilator.
"My mother doesn't have enough money to pay everybody what they want right now," says Cox, 40, who took four months off from working as a teacher to care for Hoak full time after her release from the hospital. Hoak's total debt: more than $6,500 and climbing. "Everybody says, 'Oh, we'll get her on a payment plan,' but she doesn't have enough money to do $30 here and $40 here and $30 here," says Cox. "That adds up quickly."
Cox has gone through every household bill with her mother looking for places to reduce costs and Hoak plans to raise additional money to pay off her medical debt by selling her motorhome and one of the two cars she owned with her husband. The couple had planned a retirement that relied on both of their Social Security checks as well as their pensions; now Hoak will get only her own Social Security check and pension.
Meanwhile, she's been seeing two or three doctors a week for various COVID long-haul symptoms including fatigue and breathing problems and the family had to buy a $2,500 motorized scooter because she can't walk. The hospital debt alone is more than $3,500 and a flood of other bills arrive routinely "and they just keep getting darker and darker in the shades of red they're printing these bills in," Cox says. "When she was in the hospital, they used all these out-of-network labs and providers that she didn't have a choice about. They come in, they take your blood. So we're getting six or seven bills from different places."
As so many others have done, Cox started a GoFundMe crowdsourcing campaign in April hoping to raise the $3,500 she needs to settle the hospital bill; so far they've received just $475 from six donations. "She's ongoing sick, and she can't just go get a part-time job and pay these things off," Cox says. "They're going to $5 and $10 her into bankruptcy."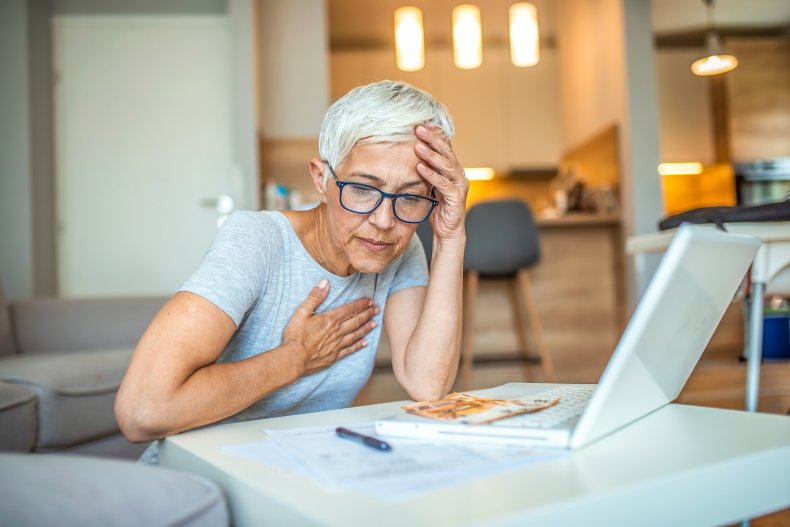 Similar tales of economic desperation appear all over both GoFundMe as well as the Facebook group called Survivor Corps, a 166,000-member community of COVID long-haulers. Beth Eppler, who posts in the group, is a former CrossFit athlete who was living near Ocala, Florida, when she simultaneously got the flu and COVID-19. She wasn't hospitalized, but she did lose her job as an accountant in November because she was too weak to return to work; unable to pay her rent and with her landlord threatening eviction, she moved back to hometown of York, Pennsylvania, and got a different job. In February, she had two surgeries for COVID-related kidney ailments—a $13,000 bill for the second operation just arrived—and lost the new job, too, because she was still too fatigued to work. Eppler says she now tosses the bills in the trash and has blocked the numbers that were delivering threatening text messages warning her of what she owes.
"I was healthy, now I can't do anything," she says tearfully. "I'm sick. It's depressing. I still can't taste, I still can't smell. I still sleep 12 hours a day. I had a life. I had a vibrant life. Now I have no savings, I have no 401(k)—the only money I have in the bank right now is $3,082, and that's got to pay the rent until I can find a job. I have nothing to sell. I have no jewelry; no parents, no siblings to help. I don't know what I'll do."
Holes in the Safety Net
It wasn't supposed to be like this. A variety of government and private programs were put in place early in the pandemic to shield COVID patients from high out-of-pocket medical expenses. But many of those safeguards have either expired, were often not properly implemented or didn't cover key ways people could be on the hook for treatment costs.
Several major insurance carriers, for instance, announced policies early in the pandemic to fully cover COVID-related treatments, by waiving deductibles, co-pays and other cost-sharing requirements for insured members. Most of the companies, though, rescinded those policies months ago, even though the pandemic was ongoing. Among them: UnitedHealthcare's cost-sharing moratorium ended in October, Humana's in December, Aetna's in January and Blue Shield of California's in February.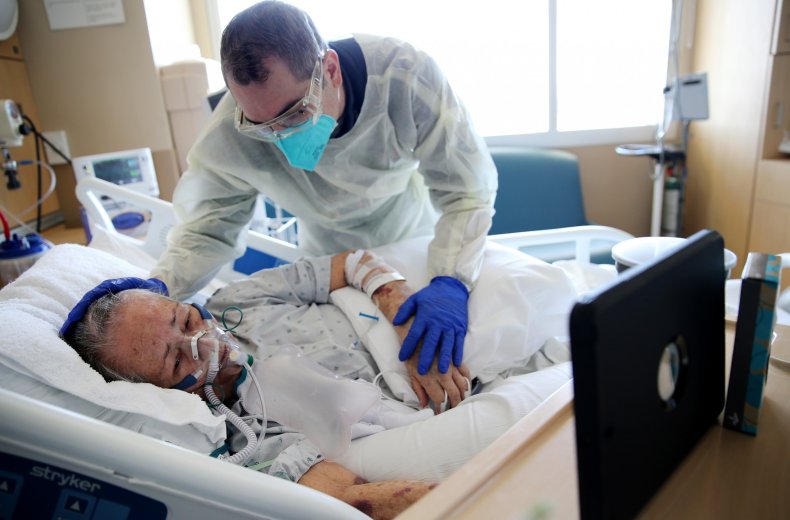 The $2.2 trillion Coronavirus Aid, Relief and Economic Security Act (CARES) passed in March of 2020 also contained key provisions, designed to protect uninsured Americans and those who received care from providers outside of their insurance network, a common occurrence during hospital stays where patients have no control over who attends to them. The legislation allowed providers to bill the government directly for treating the uninsured and made it a condition of receiving aid from the $175 billion Public Health and Social Services Emergency Fund established to help financially struggling hospitals, medical practices and other healthcare providers that patients would not be billed more for COVID treatment than what insurers paid out at in-network rates.
But plenty of patients slipped through the billing cracks. In cases where insurers didn't waive co-pays or health care providers did not take federal assistance, some patients are being besieged by bills, especially if their coverage comes from one of the industry's increasingly common high-deductible plans. Older patients on traditional Medicare who don't have supplemental coverage to help with cost sharing are also especially vulnerable to high out-of-pocket treatment costs.
Meanwhile, experts say that hospitals and health care providers frequently failed to use correct billing codes for COVID expenses or incorrectly delineated treatments for post-COVID maladies as unrelated to the disease itself. "It wasn't like you actually had to match the aid you received to patients receiving care," says Elisabeth Benjamin, vice president of health initiatives at the New York-based anti-poverty advocacy non-profit Community Service Society.
Agreed Brianna Wells of the Greenlining Institute, a non-profit advocates for economic equity for people of color, who authored a March 2021 report on the medical debt crisis that focuses on its disproportionate impact on minorities in California: "There seems to be a disconnect between the protections in the CARES Act to prevent people from acquiring medical debt due to COVID-19 and hospital practices. That means that even though people were supposed to be protected from treatment costs, they're still facing high out of pocket costs for these services."
A lot of this—billing errors, surprise bills, misused federal money, a lack of communication with patients about the assistance that's available to them—reflect pre-existing conditions that plagued the U.S. healthcare system long before COVID. Benjamin noted, for instance, that some hospitals that received billions in federal aid nonetheless continued to aggressively pursue patients to pay outstanding medical debt even as the pandemic crashed the economy itself. "The billing infrastructure hums along like it's a wartime economy," she says. "We're fighting a COVID war, but the people that are stuck holding the bag are the patients."
Himmelstein, the professor and medical bankruptcy researcher from Hunter College, sees accumulating COVID medical debt as a symptom of a bigger problem regarding the use of public money for health care. "The government is spending $2 trillion every year on our system and is not exercising accountability for how that money is used and what it's going for." he says. "Increasingly, it's going for investors and huge profits out of the system rather than actually ensuring people get the care they need and that they're not in financial trouble. There's no plan for dealing with long-term illness other than if you're sick enough, long enough, and you're finally bankrupted and you happen to live in the right state, then you'll qualify for Medicaid. If not, then they're just totally out of luck. But being bankrupt and qualifying for Medicaid is hardly a good outcome either."
Persistence Pays Off
The kind of persistence and awareness it takes to make sure providers are behaving properly can be exhausting, as DaJuan Hunter discovered. The 40-year-old JetBlue flight attendant was hospitalized for a week in July with COVID-19 in Munster, Indiana, and returned home to receive a $25,000 bill for his stay followed by a flood of other bills from "anybody else who touched me."
What followed was a Byzantine nightmare of repeated phone calls and conflicting information from providers and insurers that, ultimately, more than six months later, was resolved to some extent in his favor. The $25,000 bill was reduced to a co-pay of $1,500, but at least one separate bill, for $3,000 for a specialist he saw after his hospitalization, was passed on to a collection agency. Hunter says he didn't pay it because a representative from his insurance company, Anthem Blue Cross, told him they would handle it.
"So many times, I had the insurance company on the phone with the billing department from the hospital and they're explaining to the billing department at the hospital that this wasn't coded correctly, it's a billing error, we're gonna fix it," recalls Hunter, who raised $2,368 on GoFundMe to defray some of the costs. "I had them do that at least three or four times. No, I don't have $1,000 or $3,000 laying around that I can throw at medical bills. It may not be the $25,000 it was, but it's still a burden."
Fighting a bureaucratic system is tiresome and frustrating in the best of times; for people in the throes of ongoing illness, it's simply unreasonable, Cox says. "What I see is, there's all this money that the government is giving out to help people during COVID who lost their jobs. And of course, I'm sympathetic. But what about the people who had COVID and are now in big debt from it? There doesn't feel like there's any relief for that."
Even if some of these billing errors can be corrected, damage to many folks grappling with COVID-related medical bills can be impossible to unravel.
"People are often unaware that assistance is available to them, and often don't know what it is they owe until they hear from a collection agency, which is pretty far along in the process," says Mark Rukavina, a program director who researches trends in medical debt at the consumer advocacy non-profit Community Catalyst. "Then they'll do what we know is typical for people with medical debt—borrow from friends and family; exhaust their savings; put charges on a credit card, which is going to make it even worse and more expensive; they'll cut back on money for other necessities, like housing and food. And despite all of that, some people are going to come up short and there will be an increase in medical bankruptcy."
No D.C. Rescue in Sight
The White House and some lawmakers on Capitol Hill are trying to help, but most legislation is either mired in partisan gridlock or has arrived too late for many.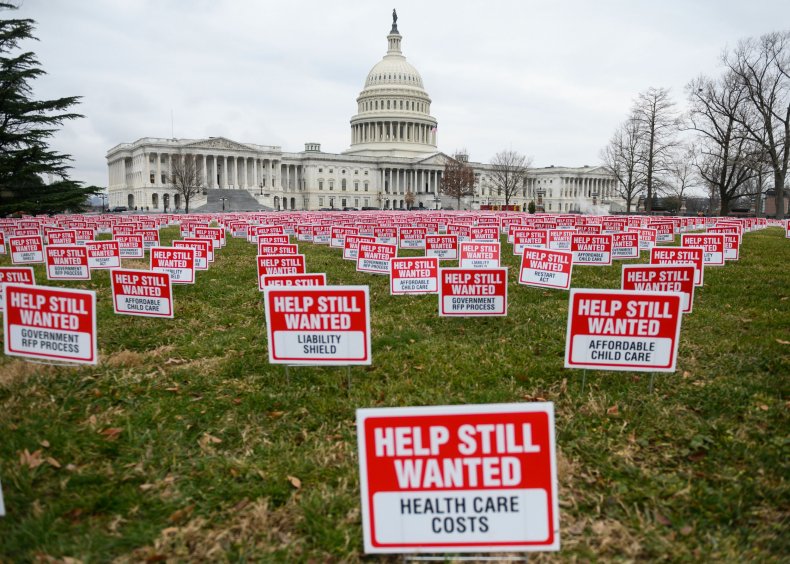 Case in point: President Joe Biden, by executive order, opened up a special six-month enrollment period in February to allow people to sign up for insurance through the government marketplace established by Affordable Care Act; so far, this initiative has brought 1 million new customers into the fold. And the $1.9 trillion American Rescue Plan, passed by Democrats on a party-line vote in March, included money to make these Obamacare plans less expensive—or even free—for the next two years at least.
Both programs will help Americans avoid hefty out-of-pocket treatment costs in the future but neither does much for people already struggling with COVID medical debt.
A range of bills have been introduced in Congress to attack the looming debt crisis, but are stuck in partisan gridlock. One bill from Democatic Senator Chris Van Hollen of Maryland would halt collection of any COVID-related debt for at least 18 months after passage. Five of his colleagues, led by Senator Sheldon Whitehouse of Rhode Island, have introduced the Medical Bankruptcy Fairness Act, which would make the process of filing for bankruptcy easier for people in financial distress due to medical debt and also allow them to erase any student debt, which typically can't be discharged, and retain at least $250,000 in home equity. In the House, Democratic Representative Katie Porter of California has sponsored a measure to bar credit agencies from factoring medical debt into a person's credit score because, she asserts, medical expenses are not a reflection on someone's fiscal discipline or habits.
Last month the House also passed the Comprehensive Debt Collection Improvement Act, which, among other provisions, would prohibit collection of medical debt for two years and prevent it from being reported in a negative way to credit-monitoring agencies. But whether it can pass in an evenly-split Senate is unclear.
"We need to ease the burden on families dealing with the health and financial fallout from this pandemic," Senator Whitehouse tells Newsweek in a statement. "Our employment-based health insurance system is ill-suited for a pandemic. Many of the millions of Americans who are out of work lost their health insurance along with their income, and they're at increased risk of racking up huge medical bills if they come down with COVID-19."
The one key reform that has passed—the No Surprises Act, which was part of the $900 billion COVID relief bill signed in December by President Donald Trump—doesn't go into effect until 2022. That measure requires health insurers to treat out-of-network services provided during emergencies or in hospitals as if they are in-network, a fix for the problem that has led to the deluge of seemingly random bills that have shoved Sherry Hoak toward bankruptcy.
At the moment, the best protections debt holders have had are stopgap declarations by governors, attorneys general and state courts around the nation protecting residents from the garnishment of wages or money received through federal COVID-19 stimulus bills to pay debt, says Lucia Mattox of the Center for Responsible Lending, non-profit debt-reform advocacy group. Washington state passed perhaps the most durable of these efforts, a law signed in April that prevents as much as $1,000 per month from being garnished to pay for consumer or student loan debt.
Most, however, are more similar to New York, where Attorney General Letitia James has renewed, for 13 times and counting, a one-month fiat halting all collection of medical and student debt owed to the state. Says Mattox: "After this pandemic winds down, a debt collection pandemic will occur especially because the federal government has been so slow to protect Americans. We anticipate folks will be forced to court when the collection comes to defend themselves against claims that they owe a debt, but many folks do not have a representation and face other barriers to showing up to court, so there will be default judgments that really strip away their wealth."
It's enough to make 45-year-old independent construction worker Alberto Gonzales of Las Vegas wish he hadn't survived COVID-19. He's buried in more than $20,000 in medical bills in addition to the $16,000 in student debt he owes, the $4,000 in credit card debt he accumulated to pay for household goods during lockdown and the more than $6,000 that will come due when his landlord is able to force him to pay rent again.
"Some days I can't get out of bed," Gonzales says. "I think sometimes that my wife and my three kids, they would probably be better off without me. I didn't ask to get this sickness. I didn't ask to have all my work dry up. I think about it every day and wonder how this gets better."