Concerns Mount Some Unemployed Have Stopped Looking for Work as Job Postings Hold Steady
Despite soaring numbers of job postings and nationwide pushes to fill positions, concerns are growing that some of the nation's unemployed residents have stopped looking for work after losing their jobs amid the COVID-19 pandemic, the Associated Press reported.
While the near-record number of open jobs has held steady, data shows that hiring slowed in the past two months.
A Labor Department report released earlier in October showed that the unemployment rate fell from 5.2 percent to 4.8 percent last month. The change was due in part to more Americans finding jobs, but also because 180,000 fewer people searched for positions in September, meaning that they weren't considered unemployed, AP reported.
Federal Reserve Chair Jerome Powell and other officials had counted on the reopening of schools and coinciding lessening of child care needs to spur more people to find work in September.
The nationwide enhanced unemployment aid that was distributed to beneficiaries during the pandemic also ended in September, but neither change has so far been able to help the number of people filling jobs match with the numbers of open positions, according to AP.
For more reporting from the Associated Press, see below.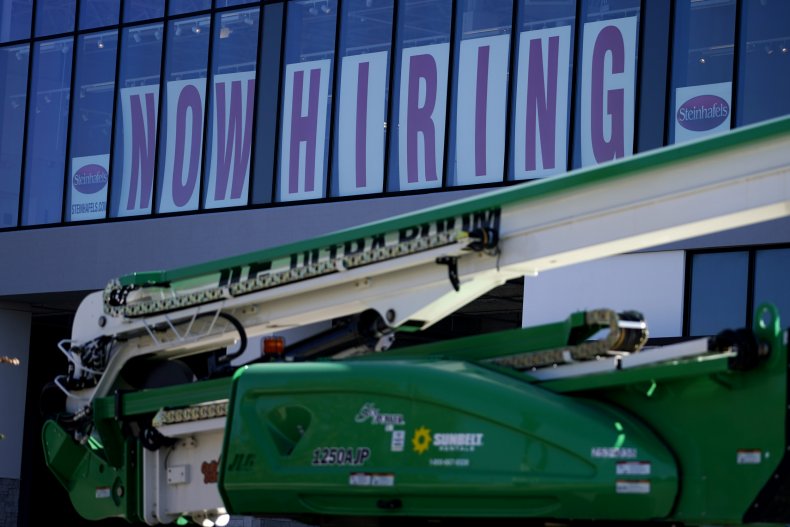 The number of Americans applying for unemployment benefits fell last week to a new low point since the pandemic erupted, evidence that layoffs are declining as companies hold onto workers.
Unemployment claims dropped 6,000 to 290,000 last week, the third straight drop, the Labor Department said Thursday. That's the fewest people to apply for benefits since March 14, 2020, when the pandemic intensified. Applications for jobless aid, which generally track the pace of layoffs, have fallen steadily from about 900,000 in January.
On Tuesday, Christopher Waller, a member of the Federal Reserve's Board of Governors, said that 2 million of the 22 million jobs lost to the pandemic may not return anytime soon because retirements have accelerated so quickly since COVID-19 hit.
The Labor Department's report Thursday also showed that the number of people receiving jobless aid continues to fall steadily. In the week of October 2, the latest data available, 3.3 million people received unemployment benefits, down from 3.6 million in the previous week.
A year ago, nearly 24 million people were getting unemployment aid.
About 7 million people lost jobless benefits in September after two emergency programs, set up in March 2020, expired. One of the programs provided aid to gig workers and the self-employed, who traditionally are not eligible to receive unemployment insurance, and the second covered workers who have been unemployed for longer than six months. And an extra $300 a week in federal unemployment benefits expired nationwide September 6.