'Concrete Genie's PSVR Modes Are Dazzling Dreamscapes You'll Want to Get Lost In
The PS4 demo of Concrete Genie won us over last summer at E3 2018, making a strong impression with its whimsical art style and gameplay. We took the game's two recently announced PSVR modes—Free Paint and VR Experience—for a spin at a Sony press event last week, and again came away impressed by this offbeat charmer.
Concrete Genie follows a bullied kid named Ash, who wields a fantastical set of magic brushes to ward off his adolescent tormentors and paint his seaside hometown back to life, with the help of the titular Genies: magical monsters often seen sporting curly-fry horns and Cheshire Cat grins.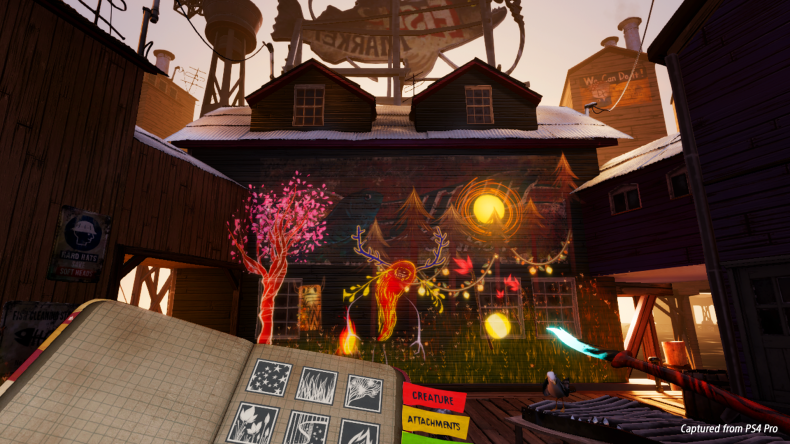 In Free Paint mode, you'll be able to choose one of four unique environments inspired by the game. Your first task is to design a Genie, picking a body template that can be stretched or stunted as you see fit. From there, you can embellish your magical pal with horns and limbs of your choosing—four legs or two, it's up to you. Playing through the main game will allow you to open up new Living Paint brushes and Genie forms in Free Paint mode.
My demo allowed me to let loose in a harborside town environment, reminiscent of the section of the base PS4 game playable at E3. At first things were dim and drab, but soon I was spangling the walls with radiant suns and candy-colored flowers with the aid of a PlayStation Move controller in each hand, to the delight of my new red monster friend. At first, you'll be able to manipulate three of four walls surrounding you (not directly behind you, probably a good idea given the likelhood of getting tangled up in cords). Eventually, you'll get to dapple the sky with stars and wavy borealis beams.
There's a bit more narrative structure in the VR Experience mode, but it still leaves plenty of opportunities for freeform exploration. You'll find yourself in a green landscape with a little red Genie, who will periodically make some requests from you in the form of a dialogue bubble that corresponds to one of the Living Paint brushes. Often, he's hungry or cold, so you'll need to spangle a nearby tree with apples or stud the grass with a few miniature volcanoes to keep him cozy. As you go, the environment around you will change from night to day, opening up new brushes and allowing you to manipulate and decorate new facets of your surroundings.
I spent what some may consider an excessive amount of time with the VR Experience mode at Sony's recent press event, presumably to the annoyance of other journalists waiting to get a turn. But Concrete Genie is so relaxing and pleasant, it's awfully easy to get lost in. (To the point where, yes, I even stopped noticing the headset.) Both VR modes are well designed, not allowing you to access every tool in your arsenal at once, but opening things up gradually and with a sense of progression that feels rewarding, even for an experience that's non-competitive to the point of being almost meditative.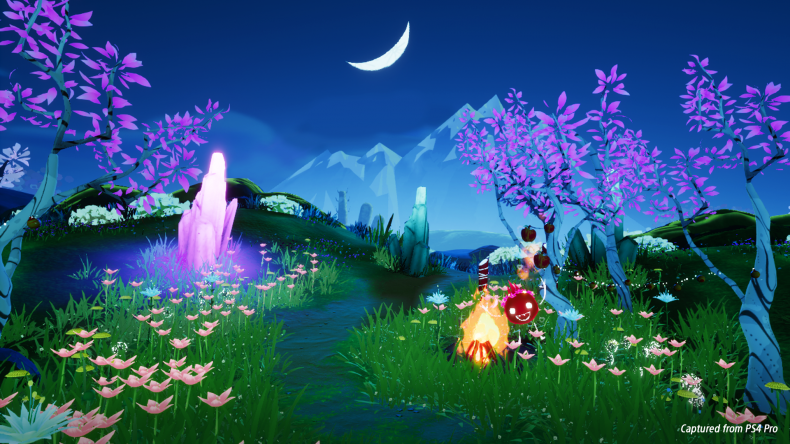 Up until recently, VR's been bit of a tough sell for me, and many of my experiences with the format haven't left a lasting impact. But that's beginning to change, thanks to games like Concrete Genie.
Sometimes you don't have 100 hours to plow into an epic JRPG. Sometimes you're too tired to get your butt kicked upside down and backwards like in Sekiro. Sometimes you just want to tuck into a bottle of wine (or the relaxant of your choice) and paint flowers and stars in a sunshiny world. Concrete Genie's PSVR modes are the perfect way to mellow out after a long week, and probably one of the prettiest ways to spend a day in sweatpants.