Trump's 'Language May Be Different,' Condoleezza Rice Says, but He Still 'Stands for Our Values'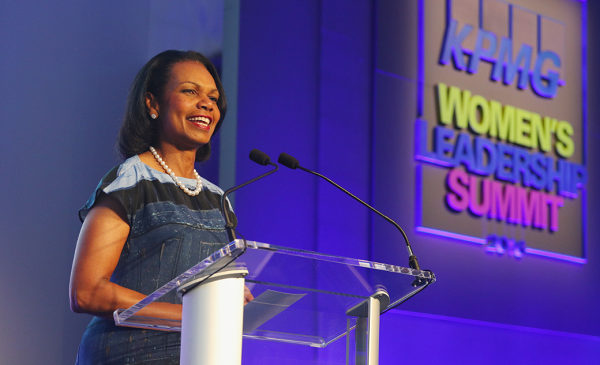 Say what you will about President Donald Trump's rhetoric, but the man still stands for American values just like all the others who served as president before him—at least, that's what Condoleezza Rice says she believes.
Advocating for Trump while appearing at the KPMG Women's PGA Championship and KPMG Women's Leadership Summit recently, the former secretary of state said Trump's style of political speech didn't take away from his having the United States's best interests at heart.
"I believe every president of the United States stands for our values," Rice said during a Wednesday appearance on Squawk Box. "You heard President Trump say, for instance, after the Syrian chemical attack, we can't let that stand. What he was saying was the president of the United States can't let that stand."
Rice's comments came just two days after the White House issued a statement warning the Syrian government that there would be a "heavy price" to pay if there were more chemical warfare directed by the country's president, Bashar al-Assad.
Despite some U.S. intelligence committee members suggesting military preparations were under way for a possible chemical attack officiated by the Syrian government, multiple officials at the State Department and key players that help create Middle East policy at the Pentagon told NBC News that the departments had been unaware of the Trump administration's plans to issue an official statement regarding the matter, and to publicly threaten military action against Syria.
Contrary to the NBC report, White House spokeswoman Sarah Huckabee Sanders said in a statement Tuesday that the administration worked with "all relevant agencies," including the State Department, the Pentagon and intelligence agencies, before issuing the threat.
But it would not be the first time Trump decided on a policy direction without coordinating with senior officials. Just days after taking office, Trump signed a travel ban executive order aiming to restrict residents of multiple Muslim-majority countries from entering the U.S. A few months later, he ordered an airstrike in Yemen after consulting with only a small number of key advisers.
Rice noted Trump's approach to foreign policy may be different than what Americans are used to seeing from a sitting president, but she said he's handling government affairs based on the ideals the U.S. was built upon.
"While the language may be different, and we might talk about needing to deal with policy, I think you're going to see...that Americans' interests in values are always linked," Rice said. "It's early days in this administration. Let's remember that."