Confederate Cemetery in Georgia Vandalized, 'Stop Racism' Written with Flags
A Confederate cemetery in Georgia has been vandalized this week, with Confederate flags spread out on the ground to say "Stop Racism."
The Gordon County Sheriff's Office is investigating after Deputy E.L. Kirby found dozens of Confederate flags that had been removed from gravesites on the ground at Resaca Confederate Cemetery, KCBD reported.
According to WVTC, the cemetery's caretaker said he had not seen anyone at the cemetery the night before and was said to be "very upset" about the incident. Kirby and the caretaker then picked up the flags and put them back up around the cemetery.
Resaca Confederate Cemetery is around 70 miles northwest of Atlanta and is the burial site for more than 450 Confederate soldiers who died during the Civil War Battle of Resaca in May 1864.
The Resaca Confederate Cemetery was established in 1866 when Col. John F Green and his family returned home after fleeing during the war to discover dead Confederate soldiers lying in the battlefield. Mary and Pyatt Green decided to collect the bodies and give them proper graves in a cemetery spanning 2.5 acres of the family's land.
This incident is the latest in the ongoing discussion surrounding Confederate statues, memorials, and flags.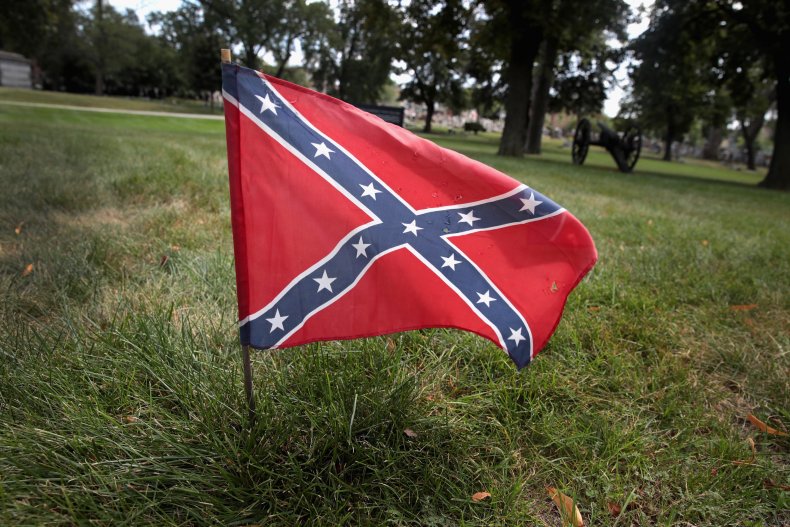 In June, a statue of a Confederate soldier in Portsmouth, Virginia was torn down, as was a statue of Jefferson Davis, former president of the Confederate States, in Richmond.
In Birmingham, Alabama, protesters attempted to knock down a statue of Charles Linn, who was a captain in the Confederate Navy. However, the Mayor of Birmingham asked the protesters to stop, so that the city could officially remove the statue.
While the recent removal of Confederate statues has been sparked by the international Black Lives Matter movement, there was already an increase in the amount of vandalism of Confederate statues in the South last year.
The Confederate flag is also a part of the conversation, with Mississippi recently deciding to redesign its state flag, which included the Confederate flag. According to a poll, the majority of Mississippi residents wanted to change the state flag.
A woman recently waved the Confederate flag at Black Lives Matter protesters and told them to "suck on this." She later said she didn't understand the meaning of the flag.
According to a poll conducted in June, more people see the Confederate flag as a symbol of Southern pride than a symbol of racism. However, generationally, nearly double the number of Millennials view the flag as a sign of racism than the Baby Boomer generation.
Newsweek has contacted the Gordon County Sheriff's Office for comment.