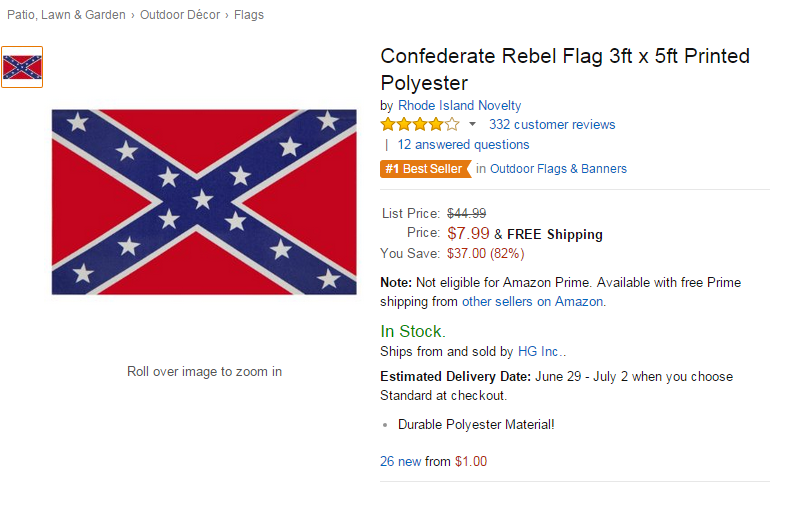 The Confederate flag was in the midst of being given the Amazon.com review-bomb treatment when Amazon announced Tuesday afternoon it would join other retailers in banning the item from its online store.
The webpage where "Confederate Rebel Flag 3ft x 5ft Printed Polyester," made by Rhode Island Novelty, is for sale on Amazon was being flooded by satirical reviews on Tuesday.
"Poor quality, won't flush," wrote one reviewer named Rufus Strangeways, who gave the flag two stars. "I was disappointed with the quality of this item. It felt quite rough and wouldn't flush properly."

"Is this flag flammable? I'm worried it will be damaged if near a burning cross," wrote another reviewer.

"My symbols of oppression bring all the girls to the yard!" wrote reviewer Steve Suranie, who gave the item five stars. "This flag is perfect. The red matches nicely with the red in my Nazi and Soviet flags and is a nice contrast to the colors in my apartheid era Rhodesian and South African flag. And it stands out brilliantly against the bright whites of my KKK outfit," the review went on.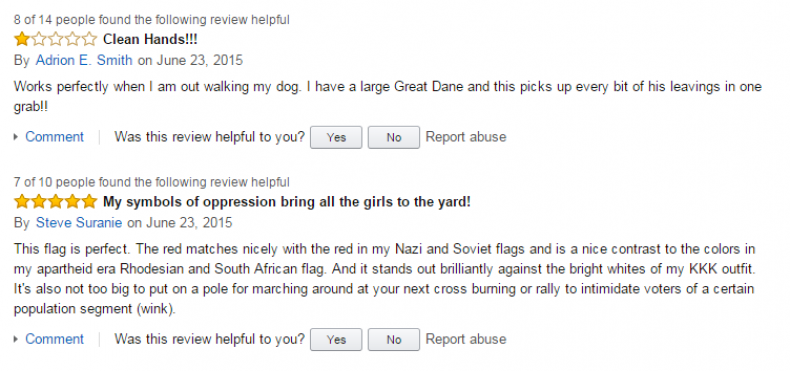 Plenty of the reviews came from the other camp as well: "They're banning it, I'm buying it," one reviewer wrote. "All the ignorant f***ers say this flag is racist. Everyone want to say this flag is the motive for the Charleston shooting. Now I'm buying iy, [sic] and waving it in every Liberal's face."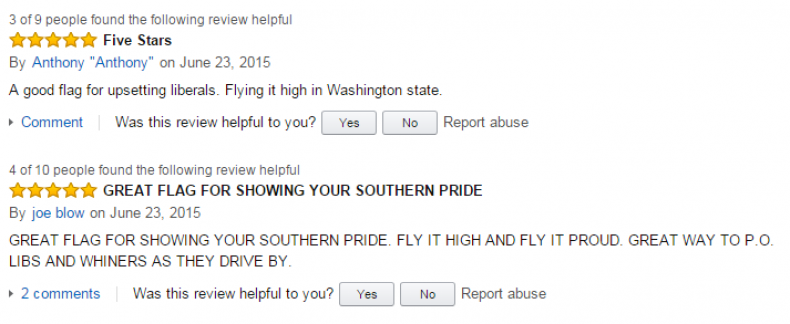 Indeed, Fusion reports that Amazon.com sales of confederate flags were up more than 3,000 percent on Tuesday. The version made by Rhode Island Novelty, which is currently being review-bombed, is the best-selling model on the site.
The review-bombing comes after hundreds gathered outside the South Carolina statehouse Saturday to protest the presence of the Confederate flag that continued to fly, at full-mast, after the massacre of nine black churchgoers. South Carolina Governor Nikki Haley called for the removal of the flag from the statehouse grounds at a Monday afternoon news conference.
"The Confederate flag is not a symbol of Southern pride but rather a symbol of rebellion and racism," read an online petition on a "Take the flag down SC" Facebook page. "On the heels of the brutal killing of nine black people in a South Carolina church by a racist terrorist, it's time to put that symbol of rebellion and racism behind us and move toward healing and a better United States of America!"