Freedom of Speech? Why Some Schools Treat the Confederate Flag Like the Swastika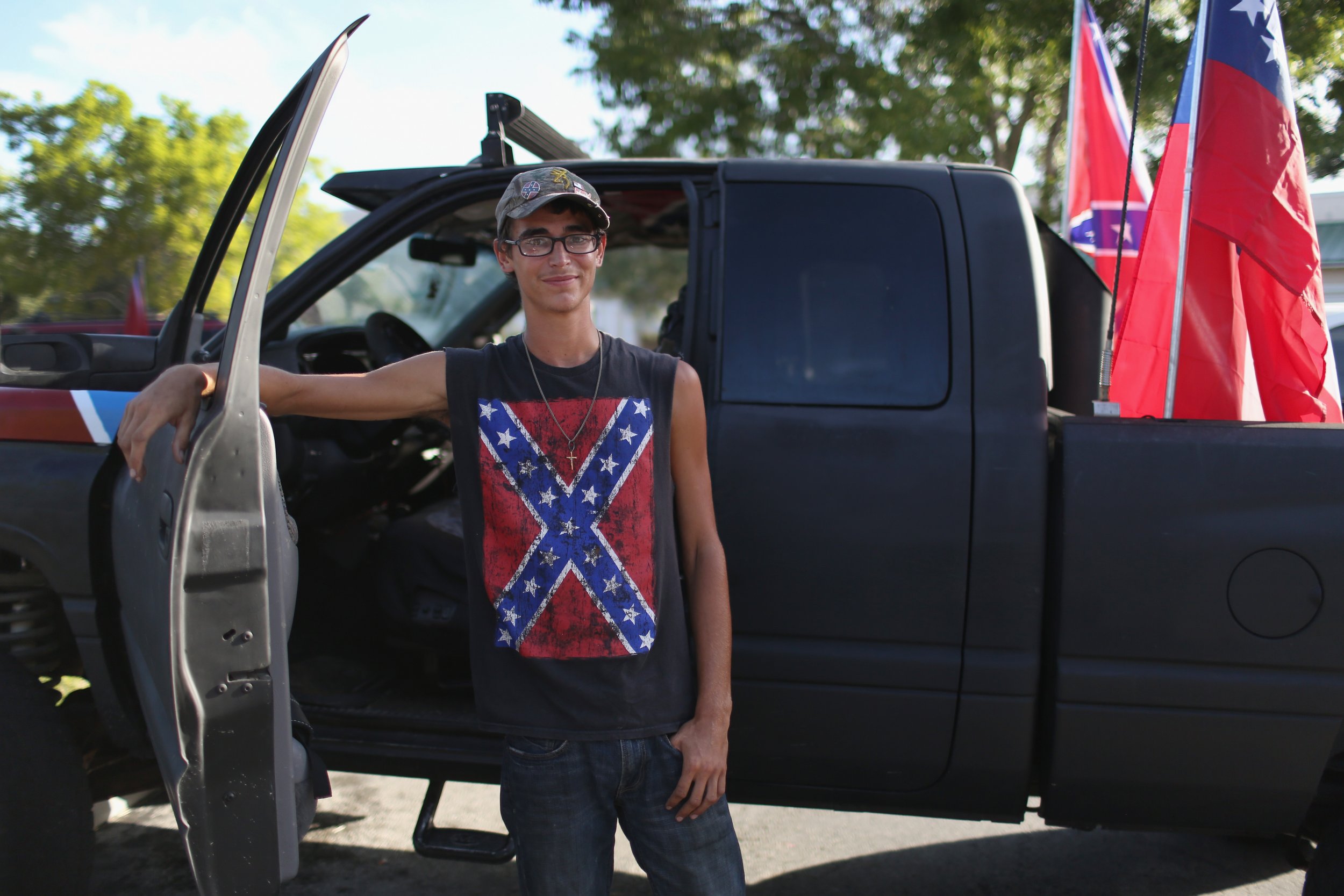 LaTarndra Strong was dropping her kids off at Orange High School in Hillsborough, North Carolina, one morning last year when she spotted it: the Confederate flag, billowing from the back of a student's white pickup truck as he turned into the parking lot.
"To see that flag coming down the street, my heart started racing," Strong, who is black, tells Newsweek.
As she drove away, her mind began racing too. Strong knew some local teens wore the flag to show off their Southern heritage, not to promote racism. But others did know the meaning of the stars and bars and brandished them intentionally. If Strong couldn't distinguish between friend and foe in that moment outside the school, how did the black students feel?
"Imagine being a student of color sitting at school behind a student with [a Confederate flag] shirt on, and as the student is looking at the front of the class to listen to the lecture, he's seeing this message that something is wrong with him or her," Strong says. "For a student to be in class wondering if your peers are just proud of their Southern roots or if they really think poorly of you as a person of color... I thought that was a lot to ask."
Strong gathered supporters and launched the Hate-Free Schools Coalition, which urged the Orange County school board to change its policy and ban students from displaying Confederate flag imagery on campus. After months of showing up at meetings, rehashing Civil War history and dealing with nasty Facebook comments, the coalition won. On Monday, the board approved a new dress code rule prohibiting students from wearing anything featuring the Confederate flag, swastikas or Ku Klux Klan logos.
The decision came two days after violence in Charlottesville, Virginia, where tiki torch–carrying white nationalists showed up last weekend to fight the removal of a statue of Confederate General Robert E. Lee and triggered a series of demonstrations that ultimately left three people dead. It also coincided with a re-energized effort by activists across the country to take down memorials to the states that seceded from the Union in the 1800s over slavery.
At schools, the debate over how to handle the imagery is not a new one. Educators have been struggling with whether to allow students to wear Confederacy-themed clothing to class for years. Officials say they're attempting to weigh kids' First Amendment rights against the potential threat of spreading intolerance among America's youngest.
"We see the Confederate flag as a distraction, period," Strong says. "I consider that not a big compromise: to not wear a T-shirt to school so another student feels safe."
Google "Confederate flag clothing" and you'll get hundreds of thousands of results, mostly shirts emblazoned with catchy phrases like "...Cause you said I can't" and "If this flag offends you, it made my day." You'll also see dozens of news articles about schools responding to students who show up wearing them.
In Christiansburg, Virginia, for example, several teens were suspended in 2015 after staging a parking-lot rally in shirts, hats and belt buckles with Confederate imagery on them. In Sherburne-Earlville, New York, a girl was disciplined this past May for refusing to cover up a Confederate flag design on her planner. In Tallahassee, a principal was forced to prohibit everything but the American flag after a student keyed five cars flying Confederate banners.
Such incidents are dominating headlines at the same time that schools are becoming more diverse. In 2014, minority students became the majority for the first time, according to the National Center for Education Statistics. About 25 million elementary and secondary school pupils were white, compared with roughly 28 million a decade before. White students made up only 49.5 percent of enrollment in 2014, while 25 percent were Hispanic, 16 percent were black and 5 percent were Asian or Pacific Islander.
In an internal email sent to staffers Thursday about Charlottesville, Education Secretary Betsy DeVos vowed to represent all of the nation's students regardless of skin color.
"The views of white nationalists, neo-Nazis and other racist bigots are totally abhorrent to the American ideal," she wrote. "Our department, and particularly the Office for Civil Rights, exists to ensure all students have equal access to a safe, nurturing, quality learning environment free from discrimination or intimidation."
What DeVos's statement means for students who want to make a Confederate fashion statement is unclear. From a legal standpoint, the issue is a tough one. Lynn Rossi Scott, a Texas-based attorney and president of the Education Law Association, says the debate goes back to the 1969 case Tinker vs. Des Moines Independent Community School District.
In Tinker, a group of teenagers was sent home after refusing to take off black armbands they wore to school to support a truce in the Vietnam War. In a 7-2 ruling, the U.S. Supreme Court ruled that the students' choice to wear armbands was protected by the First Amendment. Kids do not "shed their constitutional rights to freedom of speech or expression at the schoolhouse gate," wrote Justice Abe Fortas. In order for administrators to intervene, they needed to prove students were causing substantial disruption to school operations.
Scott says it applies to the Confederate flag, too. A principal has to look at the local history of the flag in that area—whether it has incited fights at that school before, for example—when making a decision.
"There may be places where a student can wear a Confederate flag and it will not cause a disruption, and therefore that student would have that First Amendment right to do so," Scott says.
Administrators also have to protect their kids from being discriminated against or feeling bullied. That's where the evolving implications of Confederate imagery come in.
In a February letter to the Orange County, North Carolina, school board in support of a rebel flag ban, local NAACP leader Patricia Clayton wrote, "The flag is a racially inflammatory symbol, which is undeniably rooted in slavery and racism."
The rise in white nationalists using the flag to promote their cause has changed how some people perceive it, Scott says. This weaponization may date back to 2015, when white supremacist Dylann Roof killed nine black worshipers in a Charleston, South Carolina, church in hopes of sparking a race war. After that shooting, activists pushed for the removal of Confederate flags from statehouses. Overall, more than 60 Confederate symbols were taken down or changed between 2015 and April 2017, according to the Southern Poverty Law Center.
"There was a time when the Confederate flag did not have the meaning it does now," Scott says. "Say, 30 years ago, if a student wore a Confederate flag, no one would have thought twice about it in Texas. It symbolized a war and the fact that students were in a Southern state. It did not symbolize, at that time, anything to do with race."
But not everyone finds those images equally offensive. Tim Frederick, the superintendent of Mobridge-Pollock School District in South Dakota, says his students don't equate the Civil War–era flag with racism.
"We've talked about it now that it's come forward, and our student body sees it as something that's on an album cover; they see it as something that's on flags that are on the back of pickup windows. Some people may even associate flags with gun rights," Frederick says. "It's just a little bit different."
Frederick says a teen in a Confederate shirt would normally not cause controversy. Mobridge-Pollock High School is 65 percent white, 29 percent Native American, 3 percent Hispanic and 3 percent mixed race, according to a recent district document. Its typical dress code violations are for shorts that are too baggy or tanks that are too strappy, not shirts that are too racially insensitive.
However, Frederick predicts that the Confederate flag issue may now come up more often, given the nation's renewed conversation about race and politics. This week, just days after Charlottesville, South Dakota's secretary of state took down a photo from her website of a Mobridge-Pollock student wearing a shirt with rebel imagery.
"We live in a society, as you know, that's ultrasensitive to the right side, the left side, and being in a public school system, we have to be well aware of that now," Frederick says. "We have to keep our eyes and ears open and try to stay ahead of it a little bit."
For Superintendent Timothy Glasspool in Pennsylvania's Plum Borough School District, the resurging debate is a teaching moment. In December, Glasspool and his colleagues decided that a student in a Confederate flag hoodie was disrupting operations. They banned it.
Then they went to work.
"Our school board revised a variety of policies, including discipline, expression, dress [code] and unlawful harassment, because that's what this symbol is," he tells Newsweek. "We liken it to a symbol of a swastika."
As the new school year gets underway, Glasspool says he wants to create a more tolerant environment and encourage kids and parents to see the issue from a different perspective. Rather than stopping them from wearing shirts with rebel logos, he wants to stop them from even considering buying the shirts because they recognize the implications.
"In a time in our country [where] we really need to come together, we want our children to understand what it feels like from somebody else's point of view," says Glasspool.