School administrators in Crossville, Tennessee, ordered maintenence staff to paint over a local elementary school's gymnasium murals depicting a massive Confederate flag and a man hanging from a tree.
A local man's widely shared Friday Facebook post ignited a vitriolic online debate among residents who say the murals are part of Southern history. Hundreds of comments blast Tullahoma, Tennessee, resident David Clark for bringing attention to the school's longtime "racist" drawings.
"I had been talking with school officials since December with no response," Clark told Newsweek. "This was a last resort."
But Friday, the school district did take action.
Cumberland County Schools Director Janet Graham passed orders through school board assistant Jane Franklin Friday to "fix" large drawings of a Confederate flag and a lynching on the gym wall of South Cumberland Elementary School. Franklin told the Knoxville News Sentinelthat the Confederate flag was painted over by maintenance staff to show the Tennessee state flag and an artist modified the hanging man mural so it appears he's standing on the ground.
The move came after complaints from local residents, with at least one Tennessee man's Facebook post describing the paintings as "racist symbols on full display where children can see them."
"Germany does not display Nazi symbols. This is not heritage, it is racism," read the Friday Facebook post that is amassing hundreds of shares.
The detailed mural showing the hanging man features a Caucasian-toned figure dangling in the air by his blue jersey from a tree branch. It also depicts a nearby covered wagon with a white flag and a second figure in a red jersey holding a Confederate flag. School officials said critics of the painting are overlooking that the hanging man represents the South Cumberland Rebels' athletic rival, the North Cumberland Patriots.
Franklin told the News Sentinel that she didn't expect any outcry over the murals and that they've "been there a long time...I'd say most people don't even notice it."
A Friday Facebook post from a Tullahoma, Tennessee, man whose job title lists him as a janitor at a nearby school, has drawn hundreds of comments ridiculing him for misrepresenting "Southern pride." A Facebook group called "Shelbyville Loves" first posted the images of the gym Thursday, describing it as, "South Cumberland Elementary in Crossville where school spirit and racism appear to go hand in hand."
"I have been in contact with school board and Janet Graham Superintendent since mid December about having them painted over," Clark's post said. "No action has been planned or taken as of today so I am asking people to call and let them know in a respectful manner, how you feel about these racist symbols being on full public display where children can see them."
An overwhelming amount of responses to Clark's Friday Facebook post mocked him for not respecting Southern heritage, with several profanity-filled comments debating whether or not the U.S. Civil War was fought over slavery.
"Y'all get butthurt over spilt milk, grow tf up," reads one Tennessee man's response. "I don't see how its racist when it has nothing to do with race. It's about school spirit."
But others seem baffled how the murals could possibly still be painted on the elementary school's wall in 2018.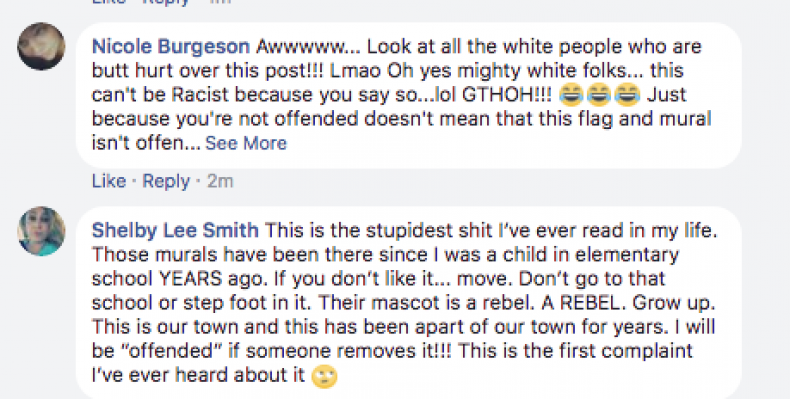 "It is a shame that some people cannot see how hurtful a mural like this would be to African Americans," reads another local resident's comment. "We cannot erase history but we certainly should be able to learn a lesson from history. We should never accept a public display or symbol of hatred, slavery and racism."
South Cumberland Elementary's website states that the school district's policy is "to provide an environment free of discrimination and harassment of an individual because of that person's race, color, national origin, age, sex, pregnancy, religion, creed, disability or any other category protected by state and/or federal law."