Confederate Flag's Place at the South Carolina Statehouse Questioned After Church Shooting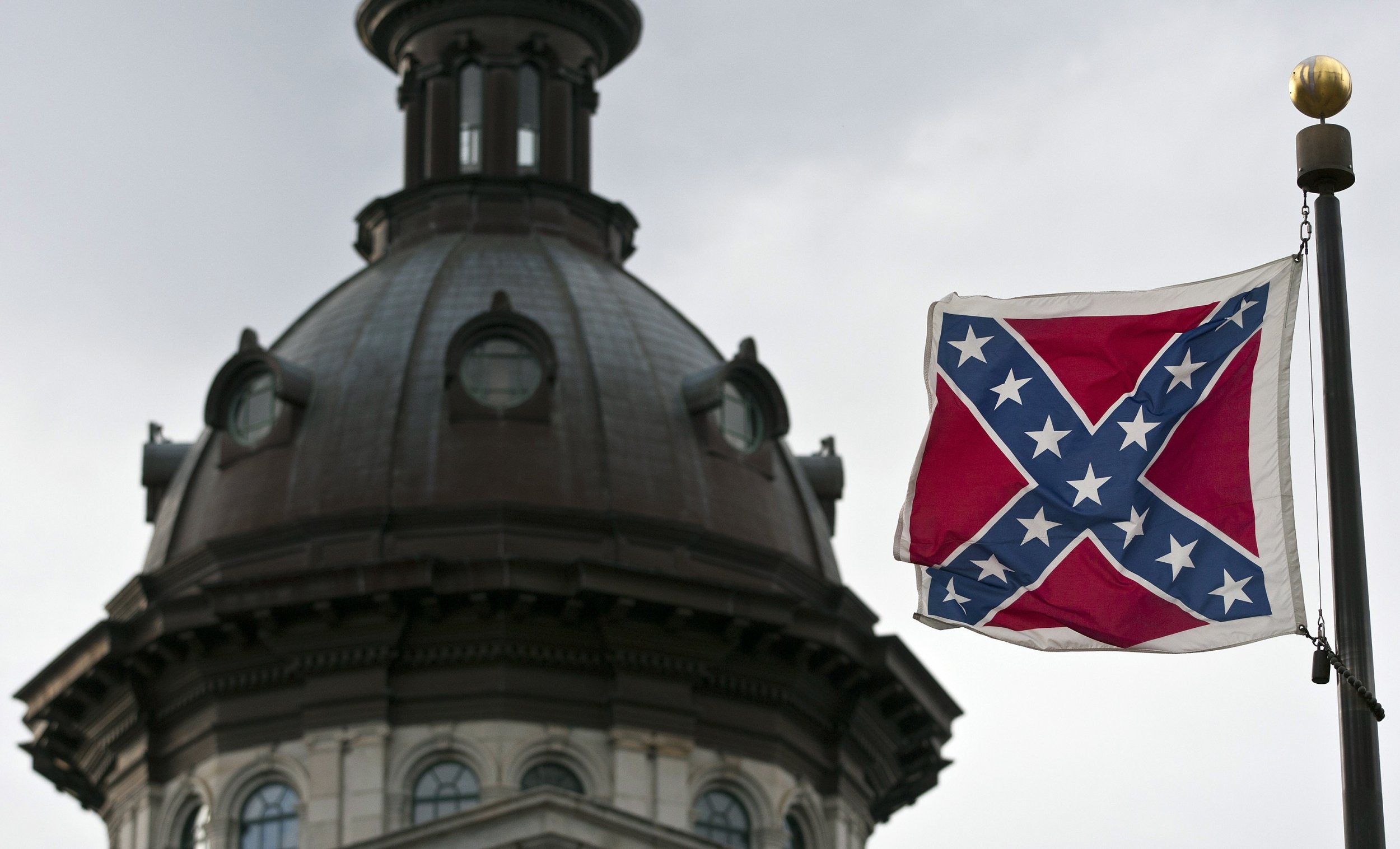 The country is reeling from a Wednesday night attack at Emanuel African Methodist Episcopal, a historically black church in Charleston, South Carolina, by a white shooter. But while Charleston Police Chief Greg Mullen and Mayor Joseph Riley said at a press briefing that the mass shooting is being treated as a hate crime, a Confederate flag still flies on the grounds of the statehouse in Columbia. Though the debate in South Carolina over the controversial flag is far from new, it has been stoked by Wednesday's shooting.
Edward E. Baptist, a professor of history at Cornell University who focuses on 19th century U.S. history and particularly the history of slavery in the South, took to Twitter with his thoughts about the flag Thursday morning.
"SC's stars and bars flag started as the battle flag of proslavery traitors who refused to accept an election's results. In the course of Civil War, the flag became the symbol of not only slavery and treason, but the murder of black soldiers," he wrote in a series of tweets. He continued:
In the 1950s, the battle flag was revived not just as a symbol of resistance to federally mandated desegregation. The stars and bars was also a symbol of terror: of the violent intimidation of African Americans who dared assert their rights. The stars and bars promised lynching, police violence against protestors and others. And violence against churches. SC's state flag is a flag of slavery. But it is also a flag of terrorism. That terror is among other things anti-religious and particularly, anti-Christian. Churches have been bombed & burned for what it symbolizes. Ministers, worshippers, people singing hymns have been attacked time and time again by those who serve it and those who wave it. So here we are again. SC may lower the pro-terrorism, proslavery, anti-religious flag to half mast for a day. But they plan to raise it again.
Twitter was flooded with comments about the Confederate flag in connection with the Charleston shooting, with many saying that—whether at full mast or half-mast—the flag's presence was problematic.
In October of last year, South Carolina Governor Nikki Haley defended the presence of the flag on the statehouse grounds. "What I can tell you is over the last three and a half years, I spent a lot of my days on the phones with CEOs and recruiting jobs to this state," Haley said. "I can honestly say I have not had one conversation with a single CEO about the Confederate flag."
On Thursday, the Supreme Court ruled in a 5-4 vote that Texas could reject specialty license plates showing the Confederate flag without violating the First Amendment. Although nine other states allow license plates featuring the flag and "honoring the Sons of Confederate Veterans," according to The New York Times, Texas called the flag offensive.