Confederate General's Descendants Ask Georgia Governor To Remove His Statue
The descendants of former Confederate General John B. Gordon, who once served as the governor of Georgia, have asked the state's current governor to take a statue memorializing Gordon down from its post on the State Capitol grounds in Atlanta.
The call for the statue's removal came from 44 of Gordon's living relatives, who said the statue only serves to "celebrate and mythologize" white supremacy in modern times.
A letter the family members sent to Governor Brian Kemp over the weekend read, "The continuing presence of this statue on public property serves to negate and undermine the past and ongoing struggle of Georgians to overcome and reverse the legacy of slavery and oppression of black Americans," the Atlanta Journal-Constitution reported Monday.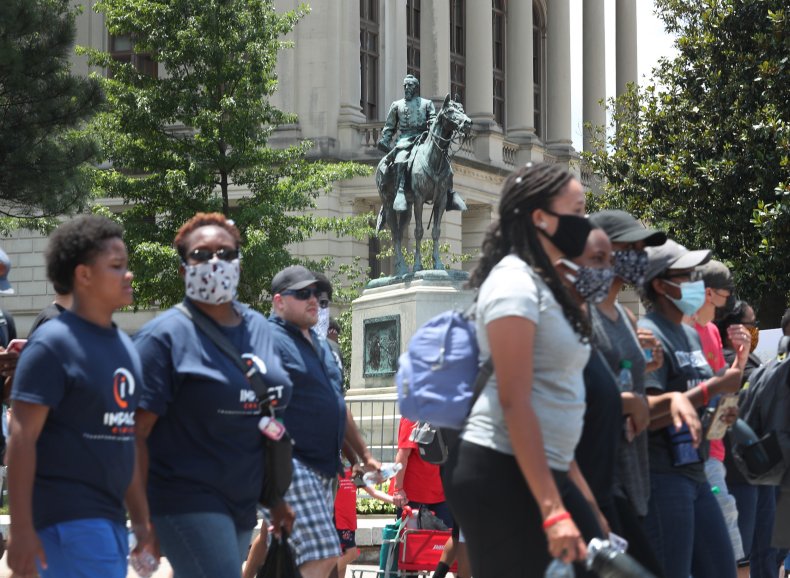 The statue, which depicts Gordon mounted on his horse while dressed in a Confederate uniform, has been standing outside the State Capitol Building since 1907. Earlier this month, Georgia House Minority Leader Bob Trammell, a Democrat, also called on Kemp to take the statue down.
Pressure on state leaders like Kemp has been rising in recent weeks as protesters across the country called for an end to systemic racism in America. The protests began in response to the death of George Floyd, a Black man who died on May 25 while in police custody, and have continued in the weeks since as additional cases of Black Americans harmed or killed as a result of police violence came to light. These incidents led to widespread discussions about the need for reform in policing policies and within the criminal justice system.
It didn't take long for protesters to begin targeting statues of historical figures with ties to racist ideals, many of which remain in public spaces in liberal and conservative states alike. In many cases, protesters have vandalized and forcibly removed statues of Confederate soldiers, Christopher Columbus and even George Washington, though some local leaders have taken steps to take controversial statues down before protesters had a chance to take action themselves.
In Atlanta, Gordon exists as a particularly controversial figure—not only was he a general in the Confederate army, he was also a rumored leader of the Ku Klux Klan, according to the Atlanta Journal-Constitution.
Despite those who support the removal of Gordon's statue, a state law Kemp signed last year expanded protections of monuments throughout the state and mentioned specifically that Confederate monuments were covered in the new protections. According to the legislation, no monument intended for public display can be removed unless an alternative location that is comparably prominent is identified and secured for its placement.
Kemp's office did not respond to Newsweek's request for comment in time for publication.