Confederate Monument Removed in Florida as U.S. Anti-Racism Protests Continue
A statue commemorating Confederate leader Robert E. Lee was removed from its base in Fort Myers, Florida on Monday.
The move may be related to protests against police brutality and racism that have erupted throughout the U.S. after the May death of Minneapolis resident George Floyd. Confederate monuments across the country were damaged in ensuing demonstrations.
According to information from Florida station WZVN, the statue was removed by the Sons of the Confederacy with permission from the city.
Newsweek reached out to the Florida Division of the Sons of Confederate Veterans and the Fort Myers Police Department for comment. This story will be updated with any response.
Confederate monuments are viewed by some as inherently racist and representative of the South's role in the Civil War and its history of slavery. Others believe that the removal of the monuments would be a step toward eradicating part of American history.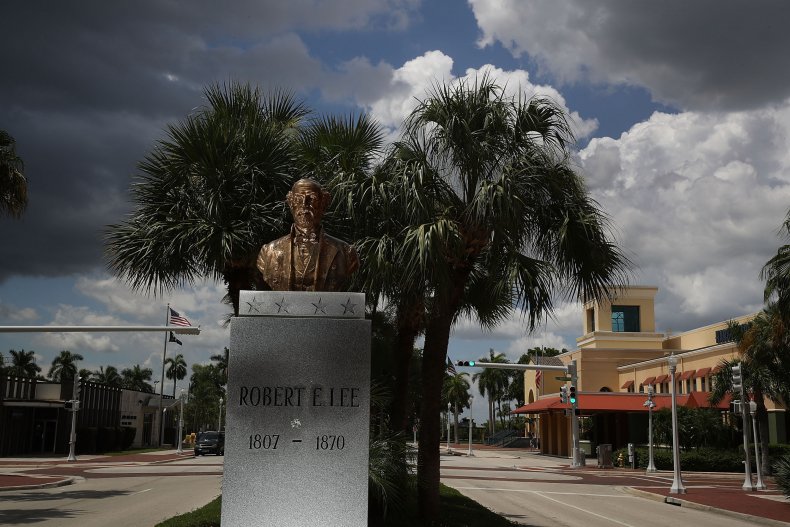 Florida Congressional Democratic Candidate Dr. Cindy Banyai said Monday that the statue of General Lee in Fort Myers should be permanently removed.
"This small effort would demonstrate the commitment of Southwest Florida leaders to dismantling systemic racism, first from the public image, then from the institutions themselves," read a statement from Banyai's campaign.
The statue has been the subject of vandalism in the past. In March 2019, the bust was found unscrewed from its pedestal and placed on the ground. The following day, it was back in place after being reinstalled by the Sons of the Veterans of the Confederacy.
Protestors targeted other Confederate monuments during protests sparked by George Floyd's death. Floyd, an African-American, was detained by Minneapolis police on suspicion of forgery. Video taken by a witness showed white officer Derek Chauvin kneeling on Floyd's neck. After being taken to a local hospital by first responders, Floyd was pronounced dead.
Anger over Floyd's death, along with the killings of black Kentucky EMT Breonna Taylor and Georgia jogger Ahmaud Arbery, drove protesters to the streets calling for justice.
Protesters in Birmingham, Alabama attempted Sunday to destroy the statue of Charles Linn, a founding father of the city and a member of the Confederate Navy. Participants placed a rope around the statue's neck and attempted to dislodge it by using a pickup truck.
In Richmond, Virginia, demonstrators defaced both the Stonewall Jackson statue and the Robert E. Lee memorial on Sunday. The Daughters of the Confederacy headquarters building was also set ablaze.
President Donald Trump said Monday he would stop the riots by authorizing the military to step in. Trump called the protests "acts of domestic terror."
"The destruction of innocent life and the spilling of innocent blood is an offense to humanity and a crime against God," Trump said.