Confederate Monuments Removed Overnight in Baltimore, With More to Go Across U.S. After Charlottesville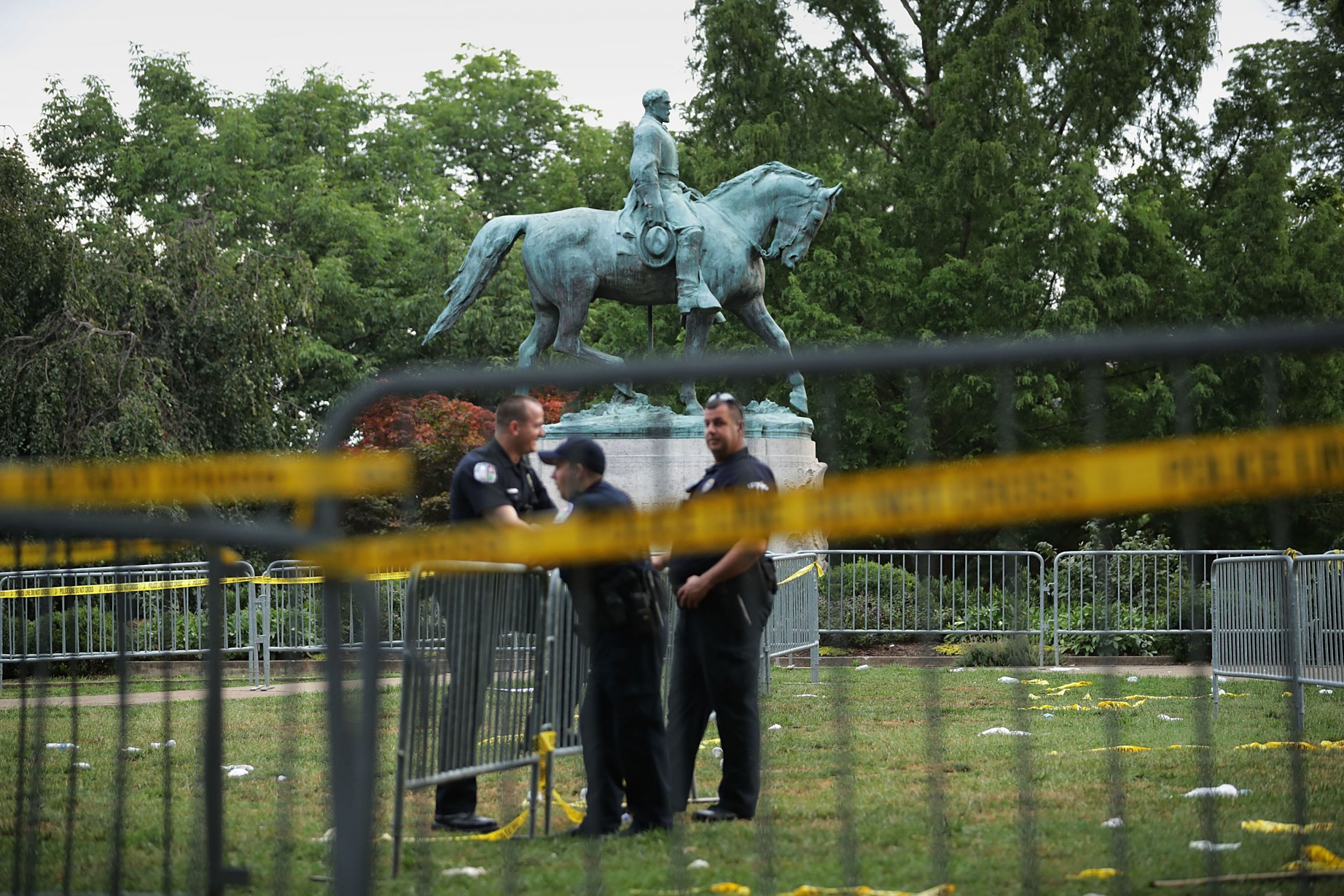 Confederate monuments have been taken down in Baltimore overnight, with more slated to be removed in other towns and cities across the U.S. after a violent white nationalist protest in Charlottesville.
CBS Baltimore reported that the four Confederate statues were being removed early Wednesday in the dead of night, after the city council voted unanimously Monday that they should go. Films and pictures on social media show the statues being removed from their plinths.
Baltimore Mayor Catherine Pugh watched as the statues were loaded onto trucks by heavy machinery and driven away, reported The Baltimore Sun.
"It's done," she told the publication Wednesday morning. "They needed to come down. My concern is for the safety and security of our people. We moved as quickly as we could."
The move comes after an extraordinary press conference Tuesday by Donald Trump in Trump Tower, New York, in which the president likened the planned removal of a statue of Confederate General Robert E. Lee in Charlottesville, Virginia, to the removal of a statue of Founding Father George Washington.
The removal of Confederate statues is "changing history," he said.
"I wonder, is it George Washington next week?" Trump asked, drawing an equivalence between Washington and the generals who fought to defend the rights of states to retain slavery.
White supremacists protested the planned removal of the Robert E. Lee statue in Charlottesville Saturday, and 32-year-old Heather Heyer was killed when a white nationalist allegedly plowed a car into a crowd of counterprotesters.
Other towns and cities across the U.S. are also moving to rid public spaces of monuments honoring the Confederacy.
In Florida, a statue named Old Joe that had been standing since 1904 was removed Monday in Gainesville. Protesters took matters into their own hands Monday in Durham, North Carolina, toppling a statue of a Confederate soldier erected outside the city's courthouse in 1924.
The mayor of Lexington, Kentucky, announced plans Saturday to relocate two Confederate statues in the city. "Lexington was one of America's largest slave markets," Mayor Jim Gray said.
"It's just not right that we would continue to honor these Confederate men who fought to preserve slavery on the same ground where men, women and even children were sold into a life of slavery."
In Nashville, Tennessee, protesters Monday demanded the removal of a bust on display of Nathan Bedford Forrest, a Confederate general and founder of the KKK.
North Carolina Governor Roy Cooper called Tuesday for Confederate monuments to be removed from public spaces in the state in a blog post. "Some people cling to the belief that the Civil War was fought over states' rights. But history is not on their side," he wrote. "We cannot continue to glorify a war against the United States of America fought in the defense of slavery. These monuments should come down."
In Texas, Virginia, Atlanta and Alabama, authorities are reportedly considering the removal of Confederate monuments.
According to civil rights nonprofit organization the Southern Poverty Law Center, there are 1,500 symbols of the Confederacy on U.S. public lands, mostly in the South, including statues, monuments and schools named in honor of the Confederacy.
The presence of the monuments became increasingly contentious after white supremacist Dylann Roof murdered nine people in an African-American church in Charleston, South Carolina, in June 2015. In pictures on social media, Roof had posed with Confederate emblems.